Best Ways to See the Swamps of New Orleans (Photos, Tours & More)
Mike Fisher
March 24th 2020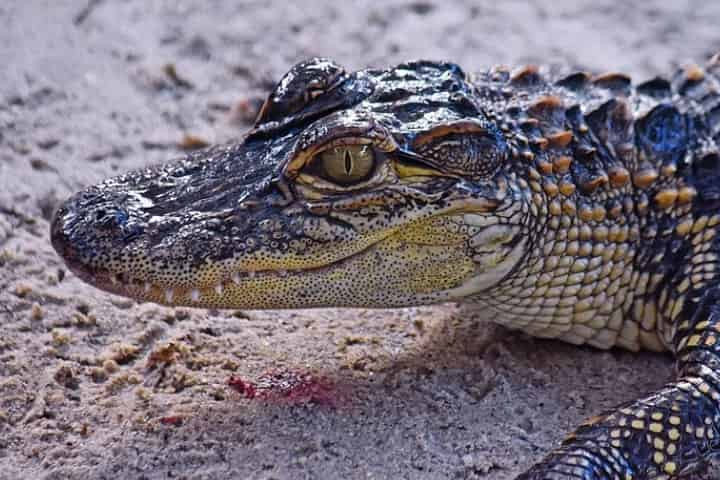 Southern Louisiana is arguably the most eclectic portion of the United States. From the famous parades of the French Quarter, to the grand estates of Plantation Country, the region emanates history, culture, and mystery.
Perhaps one of the most stunning sights to behold are the many swamps and bayous peppered throughout New Orleans and the surrounding areas. But sometimes it's hard to know the best ways to see the swamps of New Orleans.
Widely considered a can't miss New Orleans attraction, swamp tours exhibit the best of NOLA culture. Keep reading to learn about every major swamp near the Crescent City, and maybe then you'll be able to decide what is the best way to see the swamps of New Orleans!
Table of Contents
Why Visit the Swamps of New Orleans?
What Animals Live in the Swamps of New Orleans?
Are Swamp Tours Safe for Kids?
What is the Best Way to See the Swamps of NOLA?

Airboat and Swamp Boat Tours
With an Enthusiastic Tour Guide
Kayak Tours
Hiking through the Wilderness

What are the Best Swamps of New Orleans to Visit?

Honey Island
Manchac
Barataria
Maurepas

Is Visiting the Swamps of New Orleans Worth it?
---
Why go on a Swamp Tour?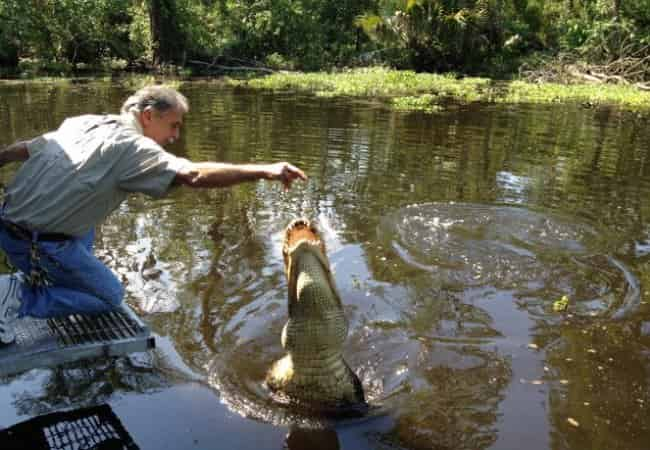 Pictured above is a swamp tour guide feeding one of the local alligators
Swamp tours are great for families, couples, friends, and work retreats. Spend an afternoon in pre-historic wetlands surrounded by exotic plants and animals including alligators, snakes, turtles, nutria, and a wide assortment of stunning birds. Tour guides are tried-and-true Louisiana natives, schooled in the history of each swamp.
Want to learn more about the Creole lifestyle, or the infamous swamp monster "the rougarou?" Want to see the world as it was centuries ago, untouched by supermarkets, condominiums, and your neighborhood Walmart? Then a swamp tour is right up your alley!
You may also be wondering why you need to check out the swamps when New Orleans proper has so much to offer. A fair question, for sure, but we assure you that taking a trip out into the peace and quiet is exactly you need to survive an extended stay in NOLA. As such, one major reason to get out to a New Orleans swamp tour is simply to escape the hustle and bustle of the city.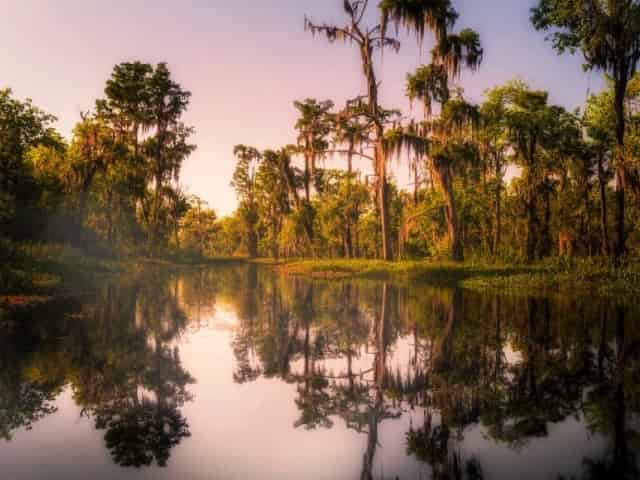 Pictured above are the calm and peaceful waters of the bayou, which make for the perfect escape from reality
We all know that life is hectic, and vacations can be the same way. It is therefore essential that you take a second for yourself to stop and smell the Magnolias. This is especially true in a destination like New Orleans, where you are running around to all the restaurants that your friends and family told you that you needed to visit (we have a few suggestions for terrific eats, as well).
A boat ride into the Louisiana swamps will leave you feeling inspired and invigorated with blasts of fresh air and beautiful light displays as the sun dances through the moss-covered Cypress trees. Many tour companies provide pickups from downtown, as well, so no need to worry about driving anywhere or getting lost. The time alone will give you a chance to re-energize and refocus so that you can tackle Bourbon Street and really enjoy some fresh beignets!
What Animals Live in the Swamps of New Orleans?
Rest and relaxation aside, the number one reason to take a New Orleans swamp tour is the water and wildlife. As you explore the swamps and streams of the Louisiana Bayou, you will encounter a variety of plants and animals, from mammals and reptiles, both terrestrial and aquatic. The Louisiana swamp ecosystem itself is quite complex and features some very interesting coexistent behavior and symbiotic relationships.
One of the coolest animals you'll see is the alligator, but that's just the tip of the iceberg. Louisiana swamps are full of incredible, rare, and downright scary animals, as well! Thousands of species of birds, turtles, fish, snakes, insects, and rodents call the swamp home. Common creatures you may encounter include the following: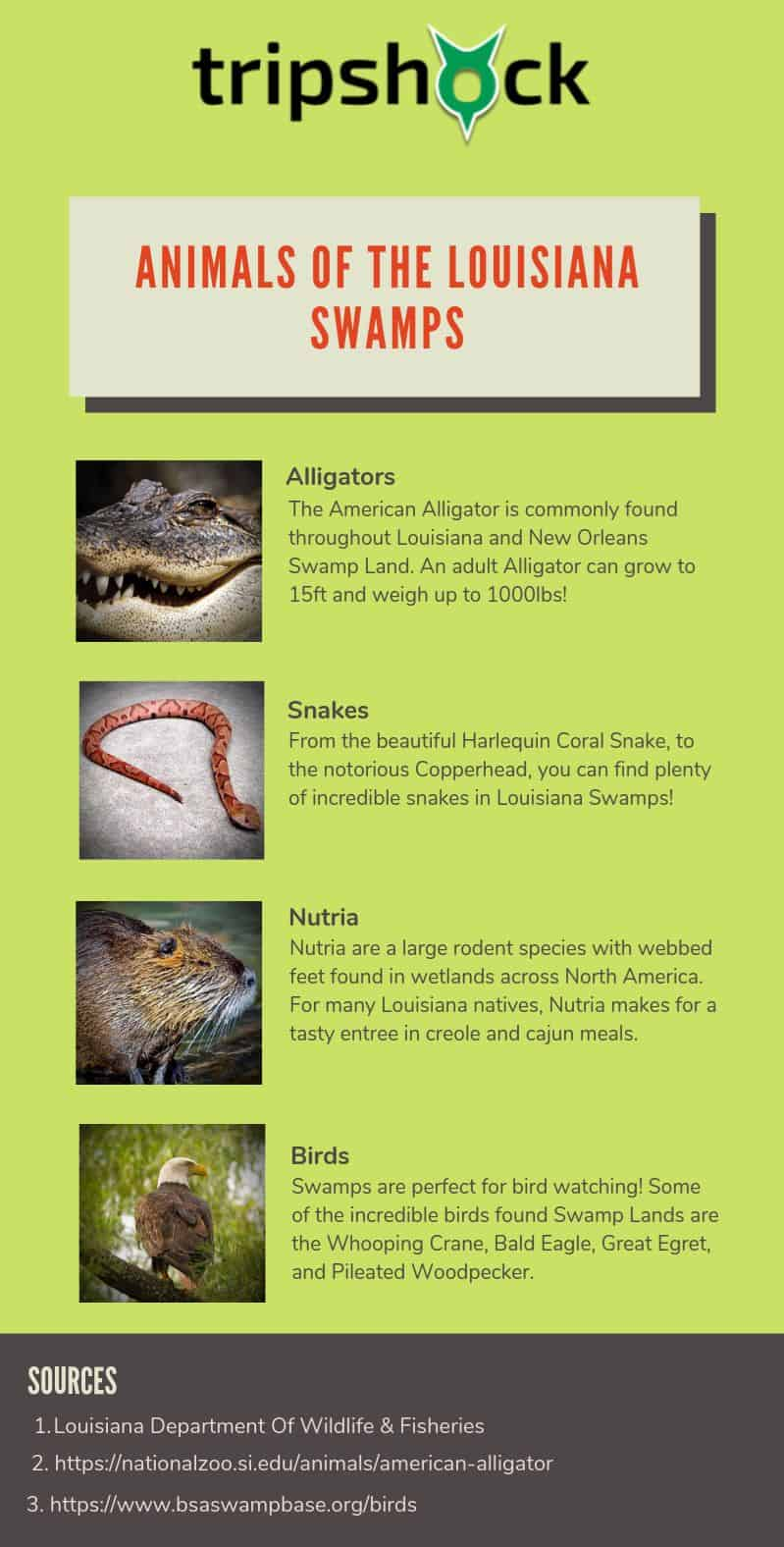 Mammals
Louisiana black bear is the state mammal for Louisiana
One obvious characteristic of swamps is that there is more water than land. Moreover, the land that does exist may not actually be land at all, and instead squishy patches of muck with only enough density to support the growth of vegetation like grass or moss. This can be a dicey situation for mainly terrestrial mammals. As such, those mammals that are native to the New Orleans swamps are mostly fleet of foot, good swimmers, or climbers.
Mammals that rely mostly on walking and running on land include:
Louisiana Black Bear
Nine Banded Armadillo
Virginia Opossum
Wild Boar
Mammals that climb or fly to cope are:
Eastern Fox Squirrel
Raccoon
Mexican Free-Tailed Bat
Finally, those mammals that love to get wet and swim include:
Beaver
Mink
Northern River Otter
Nutria
Birds
Plentiful and diverse, birds make up a large chunk of the animal population in Louisiana's swamps. The list of resident birds in the swamps is many, as each genus features a number of species per taxon. A few of the more popular bird types include:
Bitterns
Cormorants
Cranes
Darters
Ducks
Herons
Ibises
Kingfishers
Owls
Perching Birds (Tree Swallow)
Rails
Stilts
Storks
Woodpeckers
Herons are especially cool, as they stand almost one hundred percent still while waiting for their next strike on unsuspecting fish swimming at their feet! Also, if you are lucky, you may get to see an Owl or two or perhaps some great American Bald Eagles!
Like the alligator (more on them in a moment), the Bald Eagle population has increased significantly due to years of local and national protective programs and policies. Since the swamps are home to several birds of prey, be sure to keep your eyes and ears peeled for these awesome avians: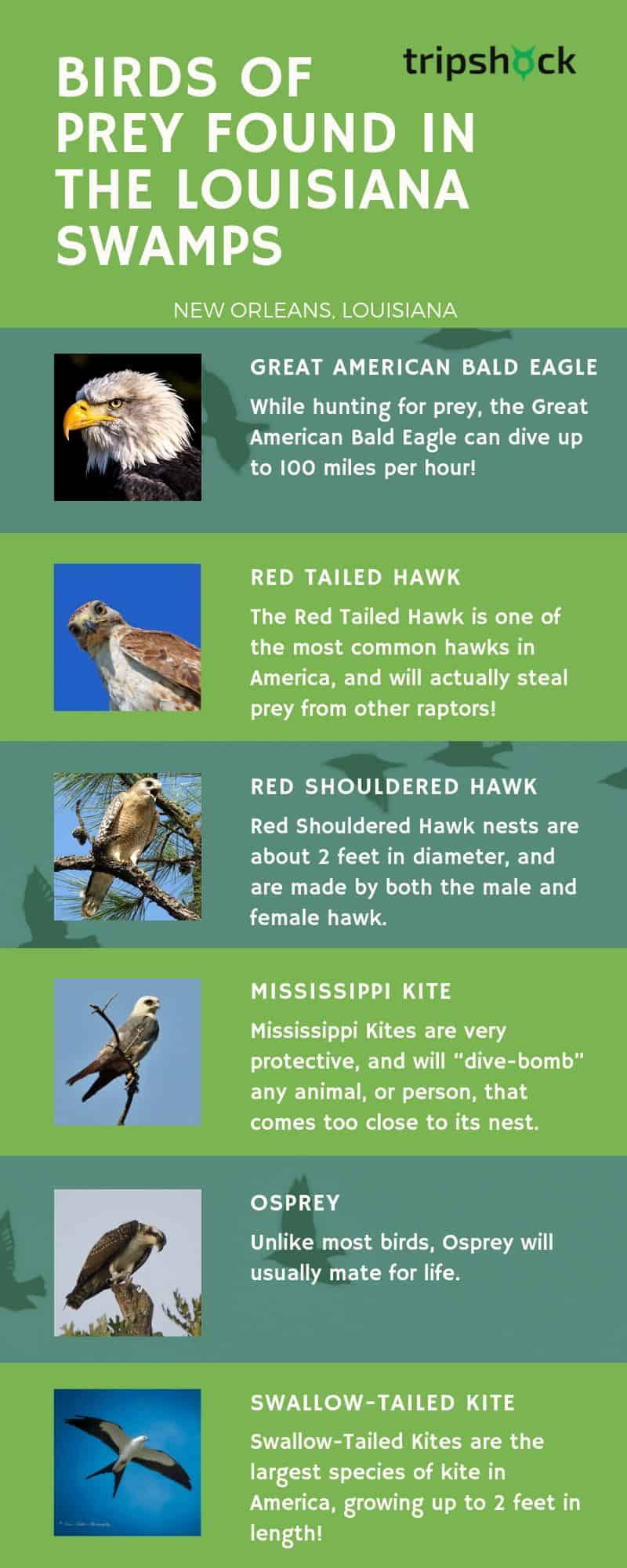 If you see a giant bird perched in the canopy striking a regal pose, chances are it's a bird of prey. Many of these birds will also make an iconic shriek!
Reptiles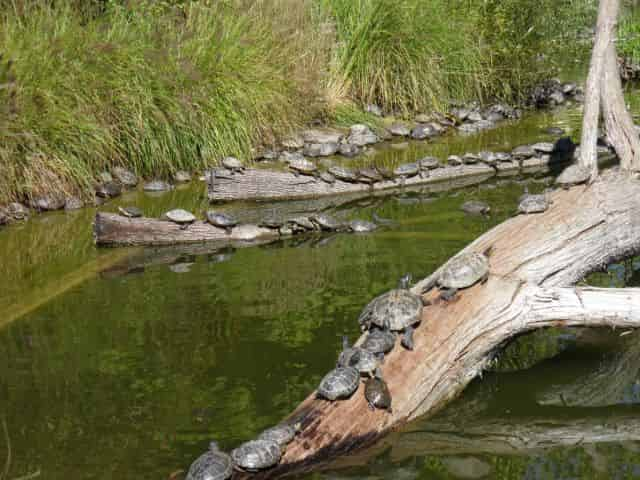 Louisiana swamps are the perfect place for its resident reptiles to catch some rays
Warm waters, mild winters, and plenty of humidity make the swamps of Southern Louisiana the perfect reptilian habitat because it means ideal temperatures and plenty of critters to feast on throughout the year! Indeed, you will be amazed at how each different season offers a fresh and exciting take on a classic New Orleans swamp tour. For example, in the summer you will see plenty of gators as these cold-blooded beasts roam in the sun in search of food. In the winter, when reptiles are less active, birding becomes a major attraction as the leaves fall and improve visibility.
As we have mentioned throughout this article, the king of the swamp is without question the American alligator. The biggest reptile in all of North America, these fantastic beasts can grow up to 11 feet long and weigh as much as 800 pounds! Having endured a rough history of hunting and habitat loss, the American alligator was designated as an endangered species in 1967.
The collective impacts of laws such as the Endangered Species Act, Clean Water Act, and a variety of local laws and regulations helped the gator populations replenish to the point where they were removed from the endangered species list by the United States Fish and Wildlife Service (USFWS) in 1987. Today, Louisiana is home to more gators than any other state with right around 2 million. There are an estimated 5 million wild American alligators nationally.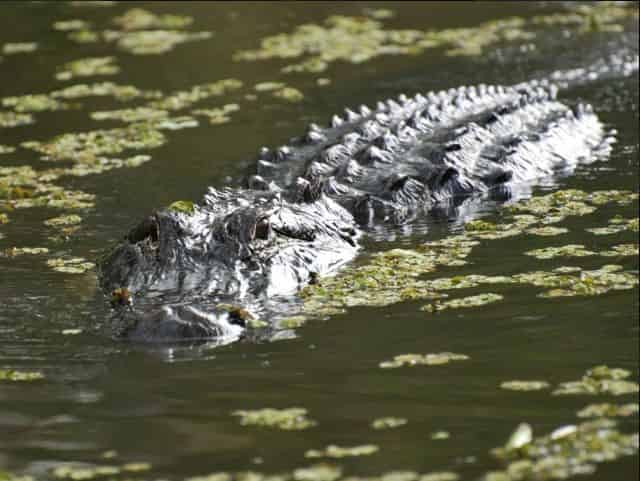 The American alligator is the largest reptile in the country
And yes, speaking of alligators, these scaly swimmers can be seen floating up and down the swampy waters, lounging about, and waiting for their next meal. Truly a marvel to behold, these prehistoric reptiles are more or less used to swamp tours, and are thus eager to swim up and around the bigger boats, as many different tours and tour guides will actually feed the gators - a fantastic display!
Other reptilians you will find out on a New Orleans swamp tour includes a variety of snakes and turtles. With respect for snakes, some are more dangerous than others. Among the most treacherous are both the Cottonmouth and Copperhead. Familiarize yourself with these species markings and colors so that you know to keep clear. A general rule of thumb when dealing with snakes is that if it has vertical pupils, rather than circular, the snake is probably venomous.
You will also find one of two turtles:
Alligator Snapping Turtles
Red Eared Sliders
Alligator Snapping Turtles are big, wicked carnivores. Big claws, a sizable tail, and the jaws to take off your finger, you can actually hear the smack of their mouth when they strike!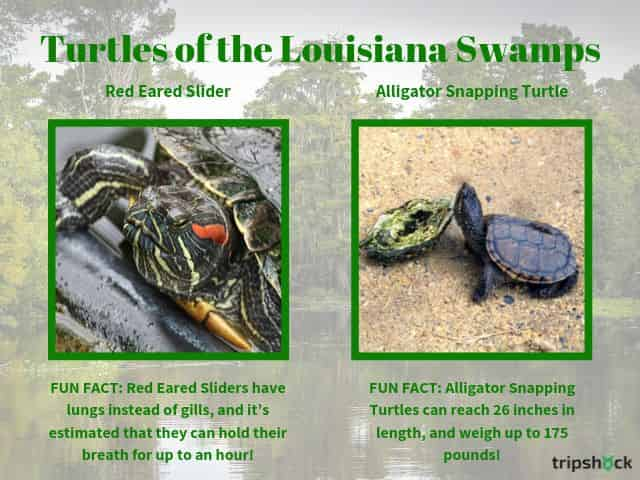 Meanwhile, as the most popular domesticated turtle species, Red Eared Sliders are much more along the lines of what you envision when you picture a standard turtle. These omnivorous species look and act much different than the snappers, and are often found hanging out with their buddies soaking up the sunlight on a log. Be sure to bring your camera on your next New Orleans swamp tour for incredible photography, and maybe even share them with us on Facebook!
Are Swamp Tours Safe for Kids?
One of the best features of this unique excursion is the all-ages appeal. Visiting the swamps of New Orleans is suitable for children 1 - 100. Experience the swamps on a laid-back, slow moving pontoon cruiser, or opt for the thrill of a high speed airboat ride!
Swamp tour vehicles can be large enough to accommodate groups of over 100, or small private parties of under 6. However you want to experience the swamp (up-close and personal, or with plenty of space between you and the gators) there is a tour you'll love! Check out some of the boats you'll ride on a swamp tour: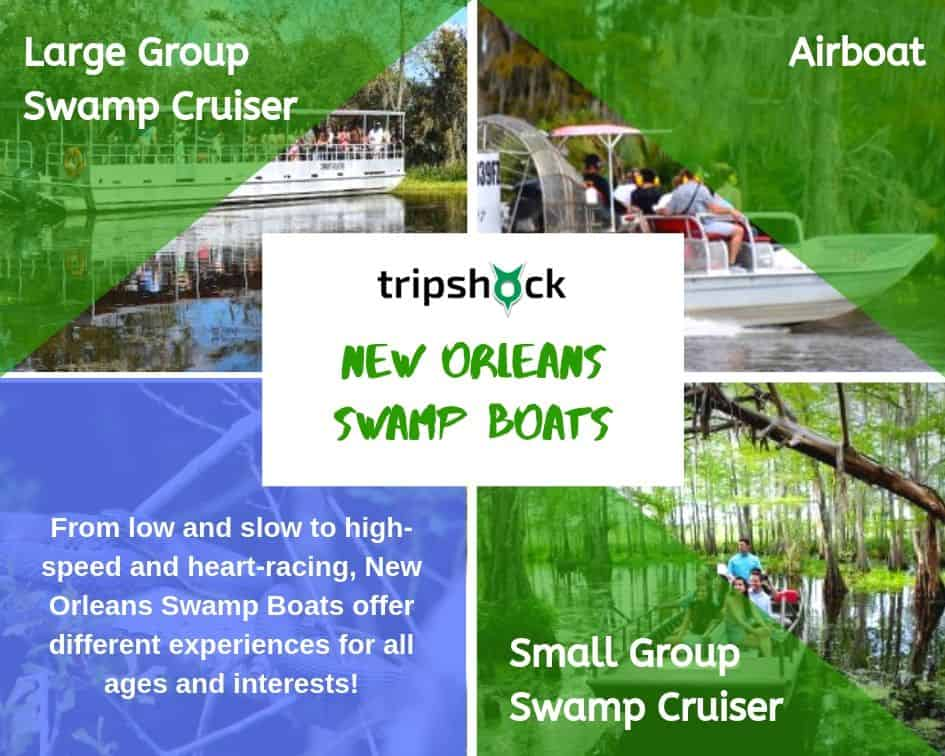 What is the Best Way to See the Swamps of NOLA?
With so many great choices, it can be hard to determine which way is the best way to see the swamps of New Orleans. Between swamp boats and airboats, and tours that include transportation and those that do not, there are a few things to think about before choosing the tour that's best for you. Before booking your excursion, it's important to consider:
Location
Transportation
Type of Boat You'll be Riding
Tour Guide
If the Tour is Combined with Activities/Attractions like Plantation Tours
History
Featured Animals
As you can see, there are a variety of factors determining which tour type is right for you. Let's look at some of the different ways to explore the swamps of New Orleans, so you can choose the tour that is best for you!
Airboat and Swamp Boat Tours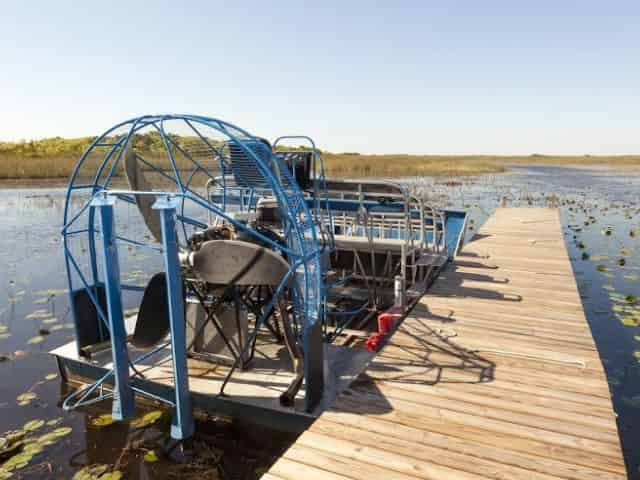 Slide and glide through the bays and bayous and take in the beauty of the swamp on an unforgettable airboat tour
When you think about New Orleans swamp tours and the wild Louisiana Bayou, an image of an airboat cruising through the cattails probably comes to mind. Airboats are one of several boat designs you will encounter when taking a swamp tour (as well as smaller John Boats and Swamp Pontoons--or as we like to call them, Swamptoons) and are one of the coolest rigs you will ever see! Basically, an airboat is a flat-bottomed vessel that is propelled by a massive, airplane-like propeller encased by a fan cage and powered by a monster of an engine.
Besides swamp tours, these airboats are used as sports vehicles by fishermen, hunters, and conservationists alike, as the lack of an underwater engine allows them to navigate the shallow Delta waters without getting stuck. A smooth ride and one with its own signature feel, an airboat tour is one of the best ways to behold settings like Honey Island Swamp, Louisiana. Trust us, this tour is an absolute must, and it's an affordable and fun activity you will want to hit every time you make it back to the Big Easy!
With an Enthusiastic Tour Guide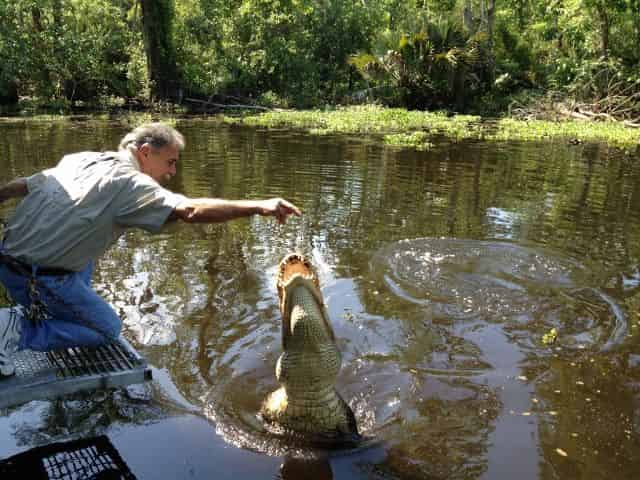 New Orleans swamp tour guides are fun and fearless
Animated, hilarious, and daring are a few words we would use to describe our beloved New Orleans swamp tour guides. If the wildlife and fresh air aren't enough to get you out of the city and on the boat, then definitely make the trip to chat up an airboat tour guide. For real, these guys are fearless! They know the swamps inside and out and will confront snakes and gators like it, "ain't no thang."
What's really cool is that most tour guides and swamp tour companies are owned and operated by historic families that have lived among the swamps for generations. Step aboard a swamp tour and enjoy funny stories, interesting factoids, and some serious Creole courage!
Kayak Tours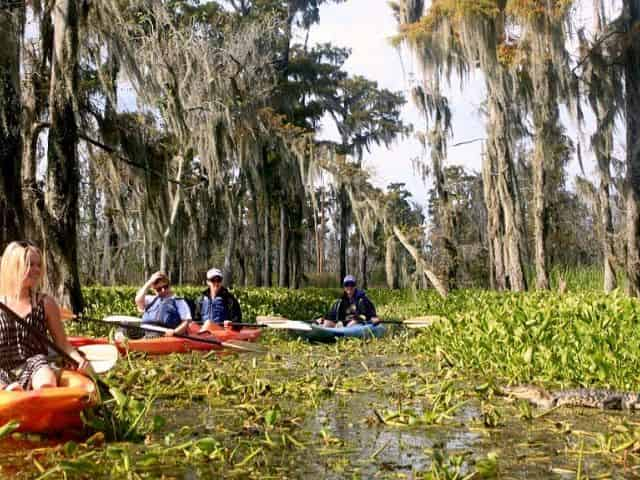 Get up close and personal with nature on a guided kayak tour through the Louisiana swamps
Exploring the New Orleans swamps on a traditional airboat is always a ton of fun. Another waterborne method and one that has seen a tremendous uptick in popularity among adventurers are kayak tours. Nimbler than a big boat and more personable than a Creole swamp tour guide, kayaks are, for lack of a better pun, a boat-load of fun (sorry, had to do it). Both active and exciting, be your own captain as you explore the waters, creeks, and swamps at your own speed.
Kayak adventures are the perfect idea for the adventurous couple or active family. An ideal way to burn off the excess calories from that last fried shrimp Po Boy, paddle away as you and your crew explore the untouched bayou for all that it's worth. Swerve through the Manchac or Honey Island swamps and beyond! Or, break out into the bigger, wide-open waters of places such as Little Lake, the Pen, Lake Salvador, and more!
Travelers enjoying the Paddle and Oak Alley Plantation Combo Tour offered through TripShock.com
Kayak tours and rentals give paddlers the incredible opportunity to watch wildlife from up close. Look down and see the fish swim around you, watch turtles lounge on logs, and perhaps even catch a glimpse of the occasional American alligator. A beast that is not to be trifled with, please be aware of your surroundings at all times. And while the chances of being attacked by an alligator are similar to those of being struck by lightning, it is still a possibility.
If you do see an alligator, please remain calm, give the gator his or her space, and paddle away. This is especially true in late spring during mating season.
Hiking through the Wilderness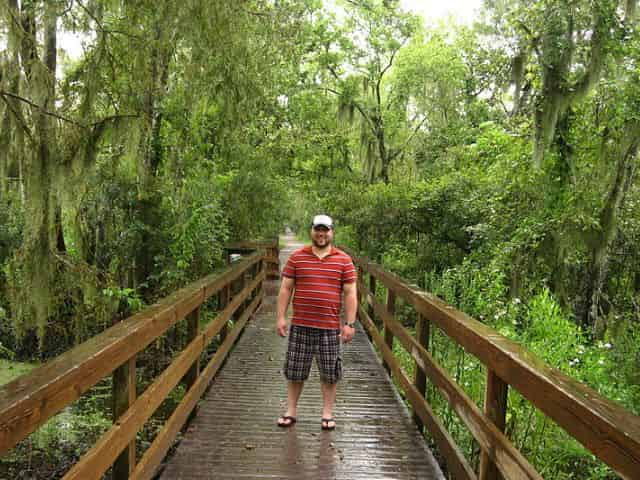 Image of the Barataria Preserve by Ken Lund via Flickr
Another way to embrace the natural splendor of the Louisiana Bayou is on foot. If you have been paying attention up to this point, then you probably understand that the wetlands can be a precarious place—especially if you do not know where you are going. A clear path forward can quickly turn into marshlands, and with marshlands come critters like snakes, bugs, and of course alligators. Not fun! As such, the safest, most enjoyable way to explore is on one of several guided hikes by the National Park Service.
The Jean Lafitte National Historical Park and Preserve is one of the most popular destinations for nature lovers in the entire state and a great swamp tour for families. More specifically, the guided New Orleans swamp tours at Jean Lafitte will take you through the Barataria Preserve, which is on the southern side of the park. We love these tours because:
They are cost-effective (free)
They are conveniently located (about 30 minutes south of the city center)
The National Park staff really knows their stuff
The Barataria Preserve visitor's center will be your home base for guided tours and wildlife education. There you will also find a variety of displays that explain how the park's boardwalks were originally planned and built. You can also find informational literature on the local ecosystems, resident species, and maps of the park and its many incredible hiking trails. This will be the starting point of your tour(s) on foot with a Park Ranger.
What are the Best Swamps of New Orleans to Visit?
Louisiana is home to 3 million acres of wetlands, meaning there is a lot of swamp in NOLA to explore. And now that you have a better idea of how you want to explore the swamp, the next item on the agenda is choosing which one you'd like to visit. Below are some of the most popular swamps of New Orleans, so you can choose the one that's best for your group!
Honey Island
Located in St. Tammany Parish, Honey Island is one of the South's most popular swamp destinations. Named after a since-depleted honeybee population, Honey Island Swamp is a true sight to behold with hanging moss, Lily-pad coated waterways, and a healthy population of giant green alligators!
Millions of travelers flock to Honey Island for its untouched wildlife habitats that are home to alligators, wild boars, bears, and a large variety of seabirds! If you're a fan of the supernatural, Honey Island Swamp is rumored to be home of the BigFoot-like "Honey Island Swamp Monster." With sightings dating back decades, the monster is a bonafide legend in NOLA and southern Louisiana! The top reasons to visit Honey Island Swamp include:
One of the most pristine marshland environments in the country
Several exotic animals reside here
Home to the mythical Honey Island Swamp Monster
Featured Honey Island Swamp Tour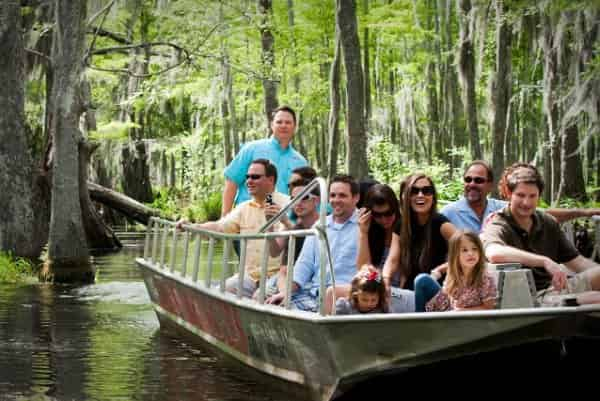 Pictured above is a group enjoying a tour through the bayou with Cajun Encounters
Owned and operated by NOLA natives, the Honey Island Swamp Tour with Optional Transportation from Cajun Encounters offers an authentic and thrill-filled tour of Honey Island. The narrated boat tour uses a more intimate 22-passenger boat to get you closer to the wildlife than ever before! Use Promo Code SWAMP43 to SAVE 10% on tickets when booking online.
Manchac
The Manchac Swamp spans several small towns in Louisiana's Cajun country. The historical swamp is a favorite among travelers, with stunning wildlife, plant life, and unsullied waters.
Many natives still live in harmony with the swamp-lands, with waterfront homes and hunting posts scattered throughout. Locals love to tell the story of the voodoo queen Julia Brown's curse, creating a sense of magic and danger while exploring the many bayous and inlets of the Manchac Swamp. The top reasons to visit Manchac swamp include:
One of the largest swamps in the NOLA region
Several exotic animals reside here
Home of voodoo queen Julia Brown and her swamp curse
Featured Manchac Swamp Tour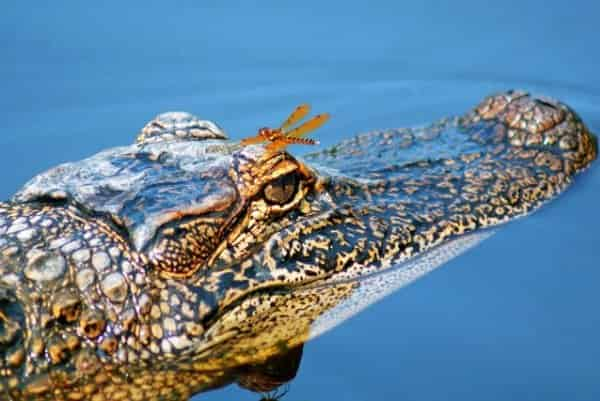 According to a recent Traveler Story, holding a baby alligator was the highlight of their tour
This one-of-a-kind adventure through the Louisiana back-country is considered by many to be one of the best swamps of New Orleans! Both fascinating and educational, witness the dozens of swamp creatures including alligators and bald eagles aboard a spacious river cruiser!
Learn about the unique culture of wetlands inhabitants, and the history of the Cajun town Frenier. SAVE 20% on tickets automatically, and an additional 10% with Promo Code SWAMP43 when booking online.
Barataria
Part of the Barataria Preserve outside Marrero, LA, Barataria Swamp is home to incredible swamp animals including over 200 species of birds.
The swamp is named after a notorious French pirate and smuggler and his swashbuckling crew nicknamed the Baratarians. As part of a much larger waterway, it's not uncommon to see airboats zipping through the waters of the Barataria Swamp. The top reasons to visit Barataria swamp include:
Part of the Barataria Preserve system of swamps, bayous, and hiking trails
Several exotic animals reside here including over 200 species of birds
Site of pirate activity in the 19th century and beyond
Featured Barataria Swamp Tour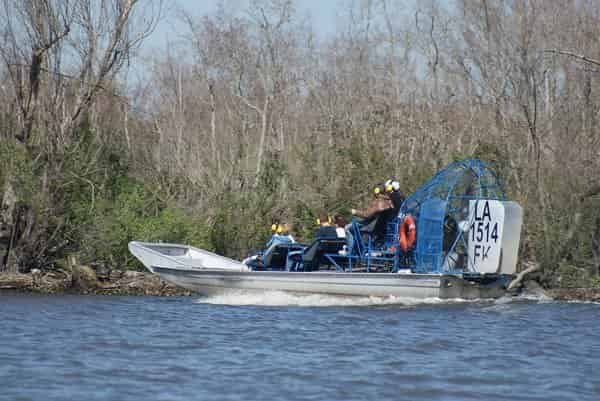 With coupons available for airboat adventures through the swamp, you can see incredible views of Spanish moss, amazing wildlife, and Cypress trees at the best rates online
1/2 thrilling and 1/2 educational, this all-ages tour offers a high speed ride through the swamps of Barataria. Get up close to gators and more wildlife, and learn from the Louisiana native who will guide and narrate this back-country excursion. Use Promo Code SWAMP43 to SAVE 10% on tickets when booking online.
Maurepas
Located approximately 25 miles west of New Orleans, Maurepas is mostly flooded cypress tupelo swamp. Some of the most stunning trees and fauna including Red Maple, American Elm, and Sugarberry inhabit this unique marshland west of NOLA.
The swamp is used heavily for recreational purposes including hunting, fishing, and birding. Bird watchers can enjoy the sights and sounds of rare birds including Osprey, Egrets, and Black-bellied Whistling Ducks (Louisiana Wildlife & Fisheries).
The extraordinary nature found in this marshland makes Maurepas one of the top swamps of New Orleans to visit! The top reasons to visit Maurepas Swamp include:
Home to hundreds of diverse animal and plant species
Memorizing views of a flooded cypress tupelo swamp
Ever-changing landscapes appear different day-to-day based on water levels and season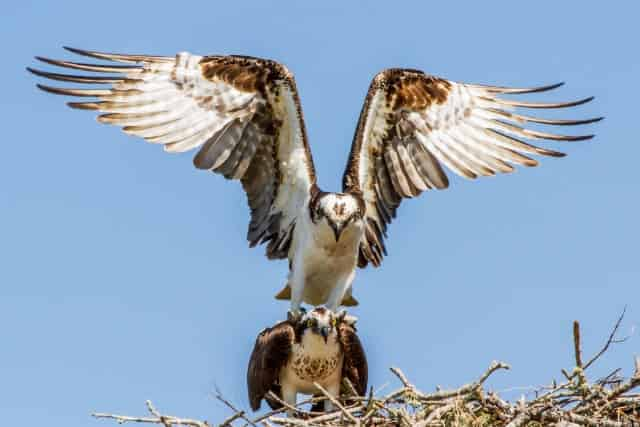 The Osprey is found in Maurepas Swamp - Image by pxhere.com
---
Is Visiting the Swamps of New Orleans Worth it?
The streams and swamps of Louisiana bayou territory are home to some of the prettiest scenery in the country. Indeed, nestled between downtown New Orleans and historic Plantation Country is a rugged wilderness boasting fantastic scenery that only Mother Nature can deliver.
With thousands of incredible animals, fascinating history, creole and cajun culture, and wonder and excitement around every corner, we can all agree that visiting the swamps of New Orleans is definitely worth it! Now that you've learned about the most popular swamps of Louisiana, which tour do you think is best for you? From rare bird species, to legendary swamp monsters, there is a tour for every age and interest!
Be in the know!
be informed about our latest offers
You can unsubscribe at any time