Surviving Three Days in New Orleans with a Teenager
Mike Fisher
December 9th 2019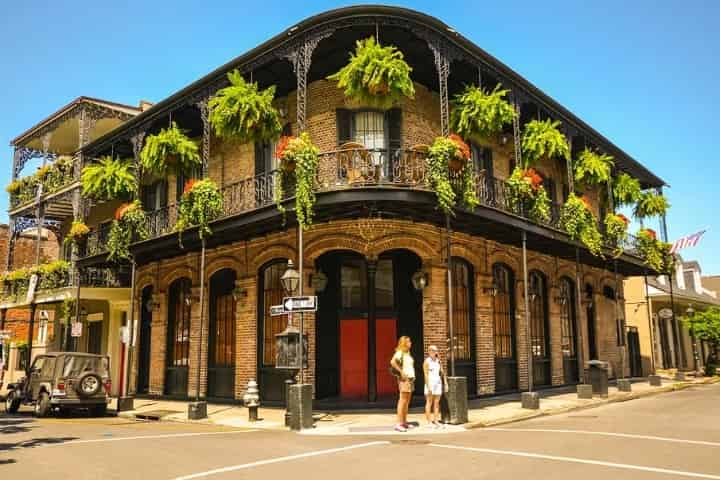 You love your teenage son or daughter to the moon and back. But let's admit it, sometimes they can be a bit… difficult. The Snapchat and Instagram generation would probably rather stay home with their friends or send pictures and chats than go somewhere with mom and dad. When you go on a family vacation, however, it should be about having fun with your loved ones, relaxing, and taking it slow!
Surviving a vacation to New Orleans with a teenager can be tough, but if you follow these steps, you have a great chance of not only making it to the end, but also creating a great atmosphere for everyone that decides to tag along for the trip! Keep reading and discover the best New Orleans things to do to survive three days in the Big Easy with a teenager.
Table of Contents
Family-Friendly New Orleans
Day 1: First Things First

Zoo, Aquarium, Butterfly Garden, and Insectarium
Helicopter Tours
Classic Carriage Rides

Day 2: Louisiana Countryside Done Right

Visit Plantation Country
See the Swamps

Day 3: Going Out with a Bang

New Orleans Bus Tours
Roll Down the River
---
Family-Friendly New Orleans
New Orleans, LA, is so much more than beads and booze on Bourbon Street. You may be surprised to learn that despite the party atmosphere, NOLA is actually a city full of culture, history, beauty, and intrigue, that all ages and interests can appreciate.
With so many family-friendly things to do in New Orleans, appeasing even the pickiest of teenagers can be accomplished. With that being said, below are the top activities for kids and teens to make the most out of your next Cajun family vacation!
Day 1: First Things First
When first arriving in New Orleans, it can be a bit intimidating. With so many incredible sights to be seen from the second you arrive in the city, choosing where to start can be a challenge. We recommend spending your first day in the French Quarter with one of these memorable and magical activities:
Zoo, Aquarium, Butterfly Garden, and Insectarium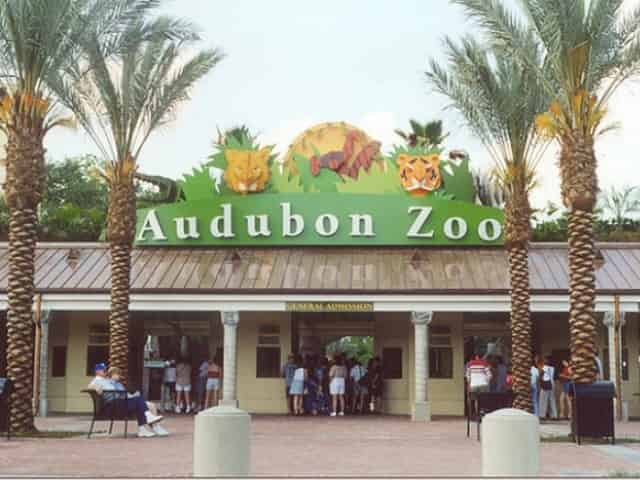 Pictured above is the entrance to the Audubon Zoo in New Orleans, the perfect place to see lions, tigers, gorillas, and more, with your favorite people
New Orleans offers a ton of options for the whole family, both young and old. When talking about teenagers, however, it's important to find engaging options to help keep their attention. That's why we recommend starting out the day early at the New Orleans Zoo, Aquarium, Butterfly Garden, and Insectarium.
Located in the heart of New Orleans, these parks feature stunning exhibits that are sure to captivate and bring smiles to everyone's faces including:
Jaguar Jungle - Zoo
Watoto Farm - Zoo
Reptile Encounter - Zoo
Amazon Rainforest - Aquarium
Gulf of Mexico Exhibit - Aquarium
Stingray Touch Pool - Aquarium
Bug Appetit - Insectarium
Butterfly Garden - Insectarium
...and that's just a few of the excellent exhibits you can explore at the Audubon parks. Watch the gorillas monkey around (pun intended) or observe sharks as they circle and swim around the massive aquarium, the options are endless!
Use the "Book Now" button below to book a New Orleans Zoo, Aquarium, Butterfly Garden, and Insectarium combo ticket at the best rates online:

Once you leave the Zoo and Aquarium, you will be right next to the French Quarter, which is the perfect place to continue your New Orleans adventure! If you decide to explore the French Quarter by foot, below are a few popular landmarks to check out: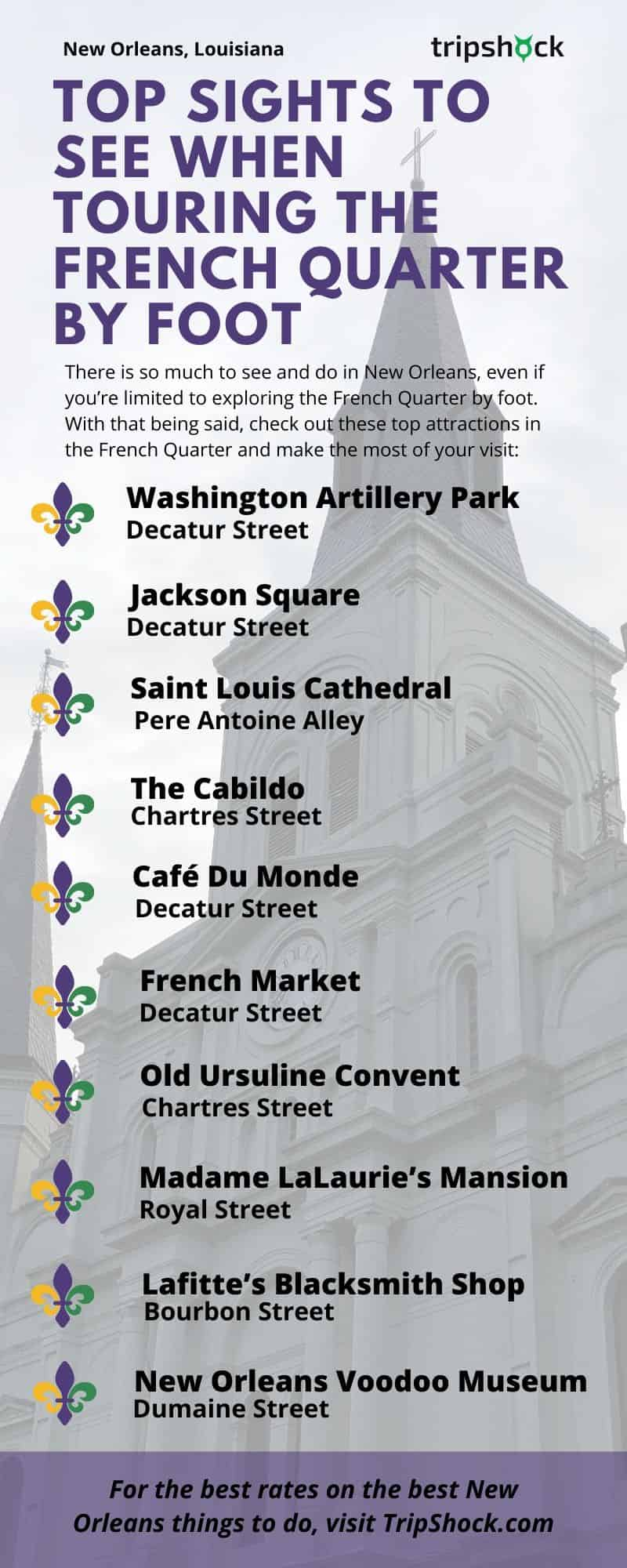 Helicopter Tours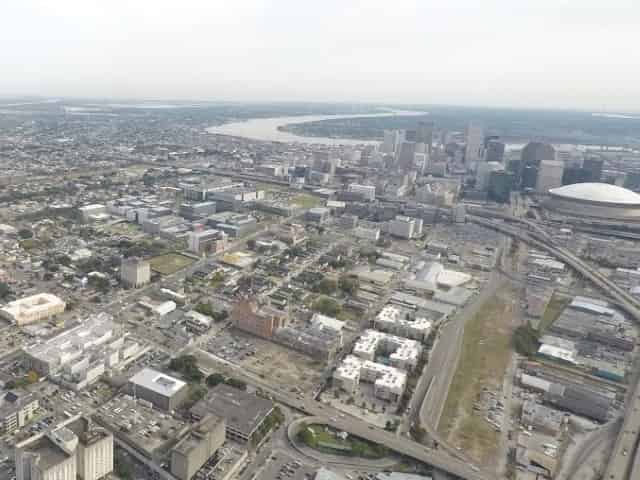 Catch an awesome aerial view of New Orleans from one of the city's high-flying helicopter tours
One of the best ways to see the French Quarter in all of its glory is on a thrilling New Orleans helicopter ride! See the Crescent City from the clouds on a once-in-a-lifetime adventure. Be sure to check out popular landmarks including:
French Quarter
Superdome
Jackson Square
City Park
Lake Pontchartrain
Mississippi River
and MORE!
Even the most hard to please teen won't be able to keep the smile off their face when seeing incredible sights like the ones above from a helicopter.
Use the "Book Now" button below and see the city from the sky on a New Orleans helicopter tour:

Classic Carriage Rides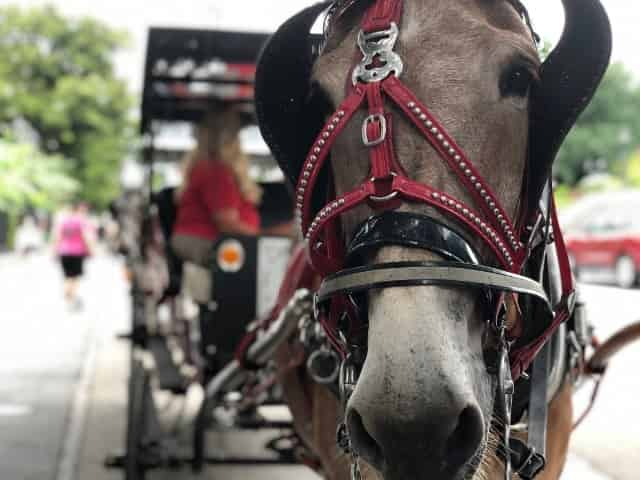 Trotting through the French Quarter on a mule-drawn carriage through Royal Carriages is a New Orleans tradition
It doesn't get more NOLA than taking an old-fashioned, mule-drawn carriage ride through the French Quarter. An expert tour guide will lead you and your family up and down the streets and fill you in on everything you need to know. From the area's rich history to the best restaurants and tourist attractions around, carriage tours are one of the best ways to get the inside scoop on this unique and wonderful city!
Select the "Book Now" button below and roll through the French Quarter on a New Orleans carriage tour:

Day 2: Louisiana Countryside Done Right
Having hit the French Quarter on the first day, you and the family have limitless options from here on out. How does a little fresh air and scenery sound? Hit the Louisiana countryside and explore the massive and majestic plantation homes, and the wild and wonderful swamps and bayous!
Visit Plantation Country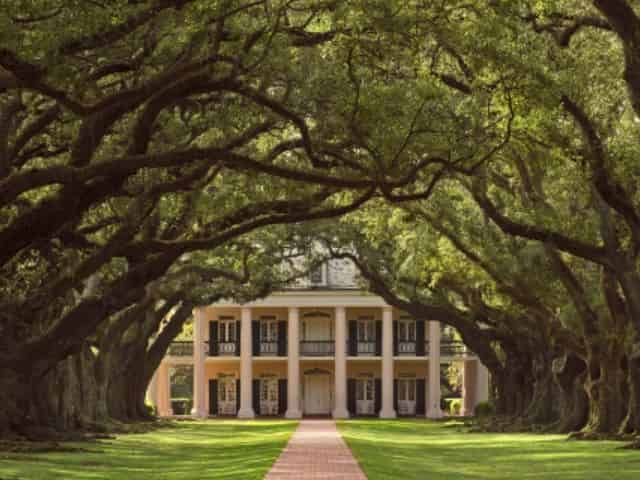 Pictured above is Oak Alley Plantation, a beautiful Louisiana plantation home, lined with majestic oak trees
A plantation tour will take you beyond the aesthetics and back in time, where you will learn about the history of the Mighty Mississippi. Hear stories about an enormous sugar agribusiness, the lives of the slaves that powered it, and the impact that plantations had on the growth of New Orleans.
Some tours even offer transportation to and from, which makes visiting a plantation super convenient and hassle-free! Below are the different types of plantation tours, so you can choose the one that's best for you and your group: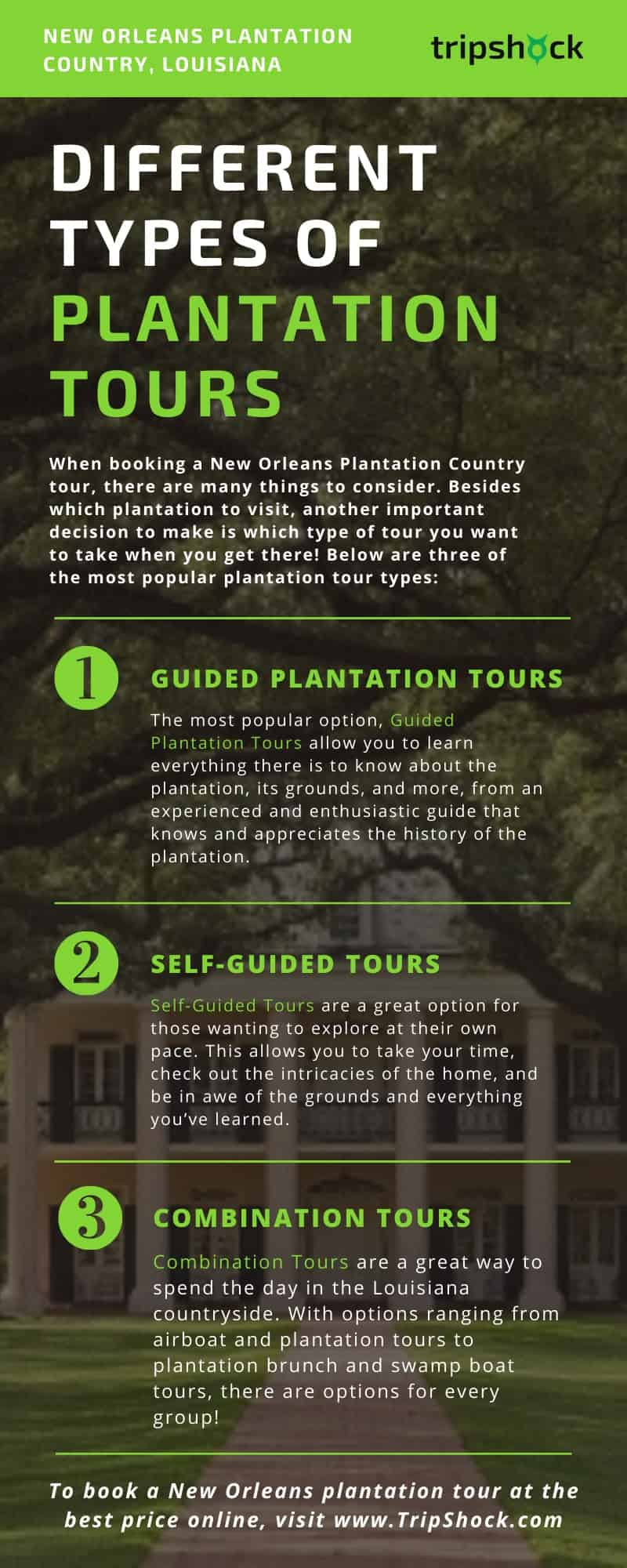 Historic Mississippi River Plantations are home to some of the most beautiful landscapes in the entire country. Add spectacular gardens, one-of-a-kind architecture, and some good old New Orleans cooking, and you've got yourself a real crowd pleaser. New Orleans Plantation Country is also the perfect place for your teen to snap some pictures to impress their friends and keep the "likes" rolling in!
Select the "Book Now" button below and take in the history on a New Orleans plantation tour:

See the Swamps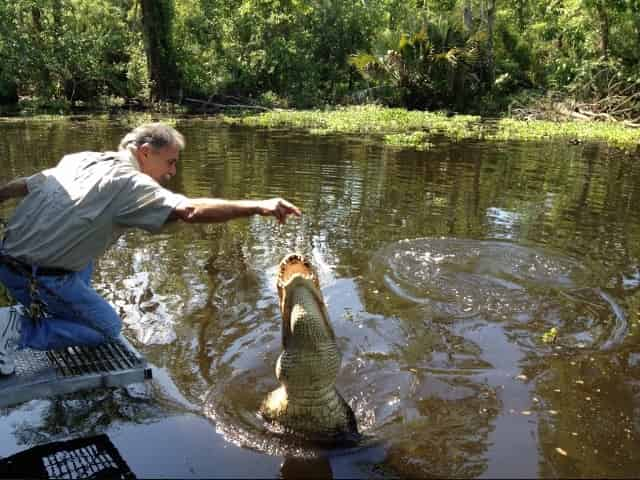 According to a recent Traveler Story, witnessing an alligator jumping for joy (and a snack) on a New Orleans swamp and bayou tour is absolutely amazing to see
Another sweet New Orleans Plantation Country experience is taking a bayou and swamp tour! Bayou and swamp tours are a great idea for families with teens because one, they're on a boat which is super cool no matter who you are, and two, a tour of the bayou gets you up-close-and-personal with amazing wildlife including:
Alligators
Snakes
Turtles
Deer
Otters
Aside from these incredible creatures, the Lousiana swamps and bayous are also home to many birds of prey. Don't forget to look out for these beautiful birds on your swamp tour: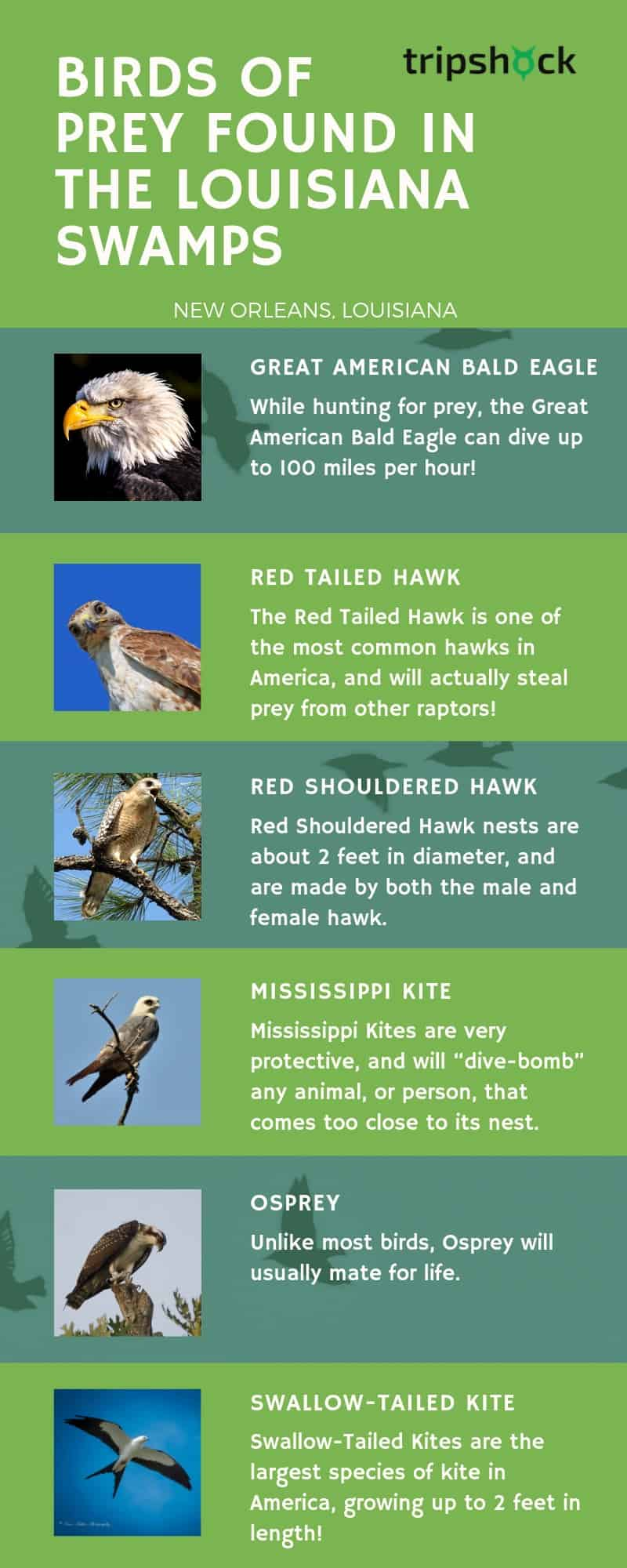 We promise that both you and your teen will be pleasantly surprised by Louisiana's wild side!
Select the "Book Now" button below and book a wild and wonderful New Orleans bayou and swamp tour:

Day 3: Going Out with a Bang
Bourbon Street and the French Quarter? Check. Plantation Country and the Mississippi Bayou? Check. Now it's time to explore the Big Easy's nooks and crannies and have some serious fun along the way!
New Orleans Bus Tours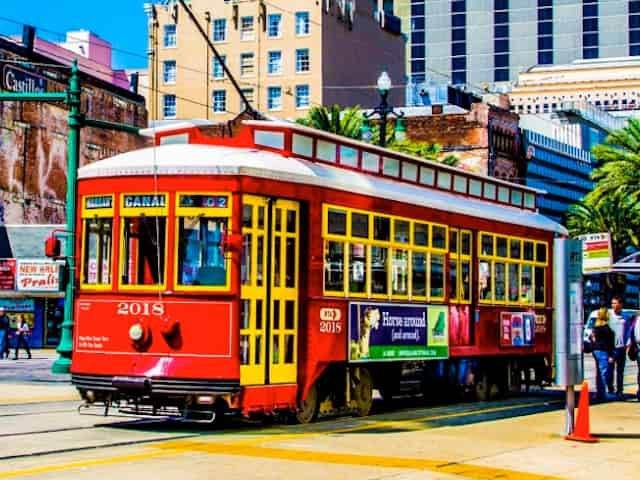 With so many New Orleans bus tours available, like the one pictured above, choosing the best sightseeing bus for you and your family has never been easier
One way to get a lot of excitement and even more photo opportunities for you and your teen is on a New Orleans bus tour. See a variety of popular districts, sights, and destinations across town including:
Mardi Gras World
St. Louis Cemetery No. 1
National World War II Museum
Even better, many of these buses run almost around the clock, all year long. So rest assured, the bus lines will get you where you want to be!
Click the "Book Now" button below and book a New Orleans bus tour, today:

Roll Down the River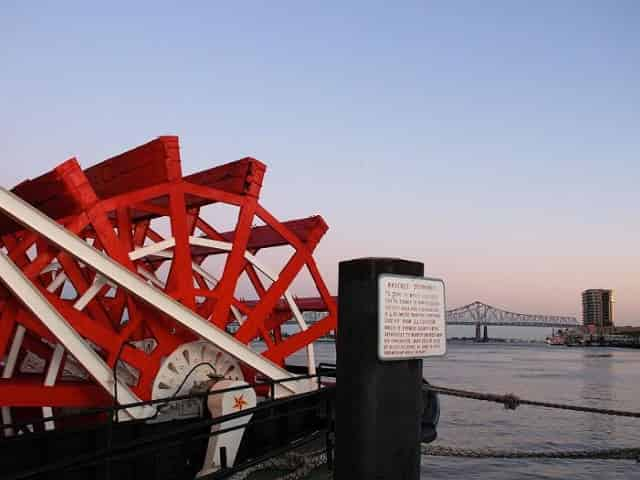 Pictured above is one of New Orleans' famous paddlewheelers docked at the Mississippi River
Finally, as the third day is winding down, we recommend going out in style and grabbing your family a seat on a dinner cruise down the Mississippi! An absolute New Orleans essential, historic paddlewheelers like the Natchez and Creole Queen will have you and yours dancing to world-class Jazz musicians, and stuffing your face with some of the yummiest Creole cuisine there is!
Book a dazzling dinner cruise in New Orleans by clicking the "Book Now" button below:

---
As a fun, yet relaxing capper to your New Orleans adventure, we hope that as you and your teen cruise down the river, and the lights begin to shine throughout the city, you will look back over the last three days and think to yourselves, "when are we coming back!?"
Remember, you can always find 100s of incredible things to do online with TripShock.com New Orleans Attractions.
Be in the know!
be informed about our latest offers
You can unsubscribe at any time