5 Best Ways to See New Orleans - River Boat, Carriage & MORE
Mike Fisher
February 26th 2020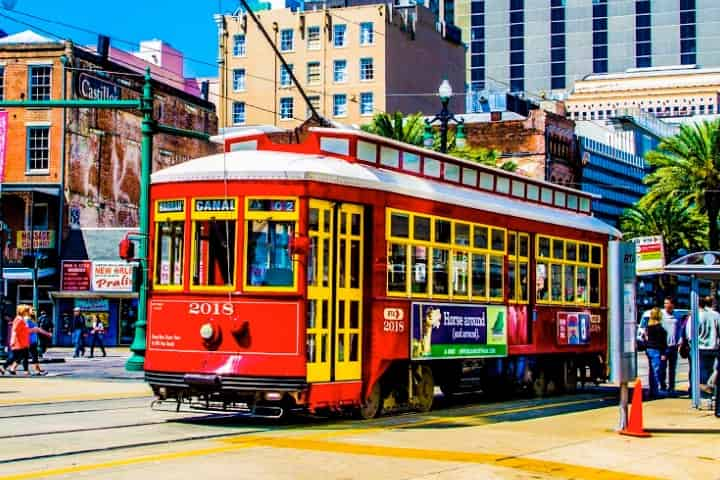 NEW ORLEANS, LOUISIANA: From Bourbon Street to beignets at Jackson Square, the best tours of New Orleans will bring you face-to-face with some of the most iconic and impressive tourist attractions in the world! For sure, when you visit the Big Easy, you can't help but admire the ambiance and energy brought about by the endless parade of street musicians, artists, and the wafting smells of mouth-watering Po Boys. But what are the best ways to see New Orleans?
While the abundance of awesome New Orleans activities is great for action-packed days and nights, it can also be dizzying when trying to figure out what exactly to do and how to get there. That's why we here at TripShock recommend taking one of several incredible guided tours, dished up and served hot by local New Orleans professionals!
No matter what you're into, resident experts are ready to accommodate and educate you and your party on everything you need to know to make your trip to the Crescent City unbelievable. So sit back, grab a bag of Zapp's chips, and crunch on our definitive guide on the 5 Best Ways to See New Orleans!
Table of Contents
Different Ways to Explore the City

Explore on Foot
Browse via Bus
Hop On Hop Off Bus Tour
Explore New Orleans by Water
See the French Quarter from the Sky
Traditional Horse & Carriage

Choosing the Best Way to See New Orleans
---
Different Ways to Explore the City
From the mighty Mississippi River to the Louisiana swamps and bayous, and everything else in between, there's a lot to explore when it comes to the Crescent City! But one thing is for sure, if you're going to NOLA, you need to take a city tour. Providing the most comprehensive understanding of the area, city tours are a great way to see the highlights of New Orleans in a short amount of time.
With so many areas to explore, however, there are a lot of different ways to go about touring the city. With that being said, below are a few of our favorite ways to see New Orleans. Each offers an incredible Big Easy experience!
Explore NOLA on Foot
Tour group attentively listening to their engaging and informative guide on a nighttime walking tour with New Orleans Ghost Adventures Tours
The easiest, most personable, and arguably the best way to see New Orleans is on foot. Stop here, look over there, and really enjoy your time as you stroll the lively streets of the city! Rather than wander aimlessly, why not make the most of your time and sign up for one of the dozens of incredible New Orleans walking tours?
Get the inside scoop and enjoy in-depth conversations on topics such as history, music, food, architecture, culture, and the natural world. As the birthplace of Jazz, musical tours are among the most popular. Local tour guides explain everything from Zydeco to Armstrong, and many of them are actually professionals who will play for you live and in person!
Another popular option is exploring the city's reputation as one of the most haunted places in America! Visit cemeteries and haunted houses all while being entertained by enchanting tales from beyond the grave! Bring your camera and snap that perfect photo of you and yours with Casper and the other ghosts to share with the rest of the world!
Finally, one of the most powerful and wondrous parts of many New Orleans city tours is discussing the impacts of Hurricane Katrina and hearing personal stories from those that endured the storm and helped rebuild.
Other popular French Quarter sights you may stumble upon during a New Orleans walking tour include: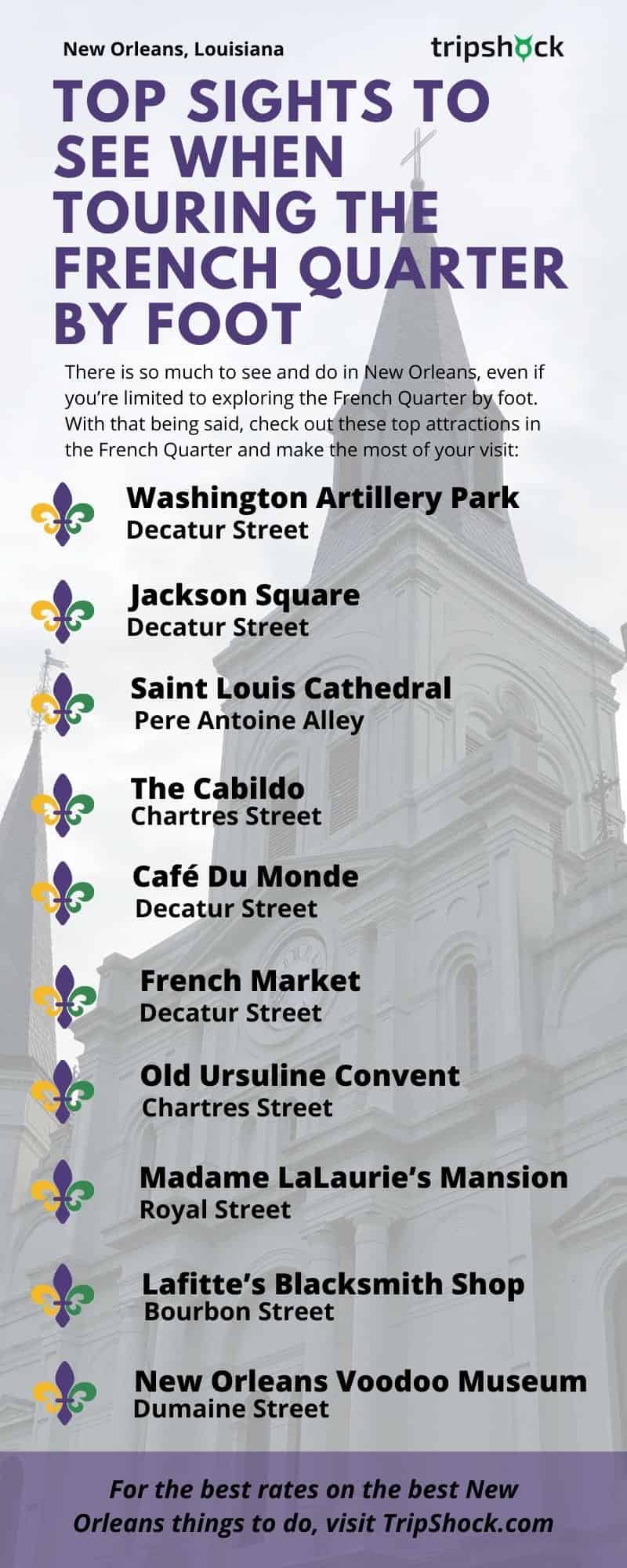 Browse via Bus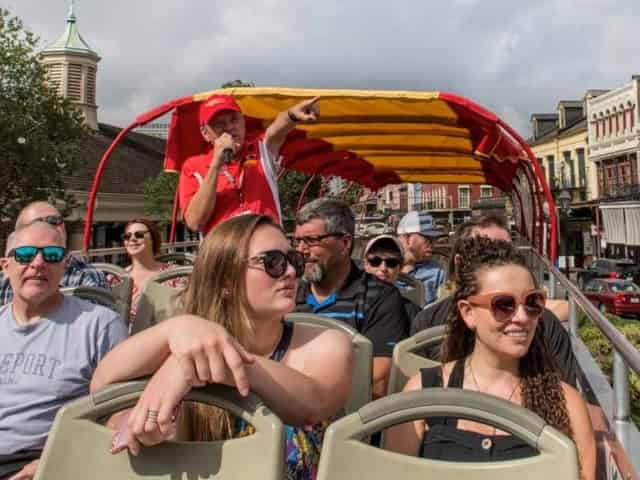 Pictured above is a tour group enjoying a New Orleans Double Decker Bus Tour through City Sightseeing New Orleans
As flexible as an Olympic gymnast, a New Orleans bus tour lets you take in the city at your own pace, according to your schedule. Explore the city streets, avenues, and attractions as your tour guides and drivers educate you on everything New Orleans.
Looking for a great bite to eat? These tours have you covered. Want to learn more about the history and mystery of the French Quarter? No problem. Interested in relaxing and enjoying a casual cruise around the city? You're in luck!
Even better, some New Orleans bus tours, like the one pictured above, offer the classic double-decker bus experience with open seating up top so you can enjoy the sounds and smells of the city! Go where you want to go and spend as much time as you want at your favorite destinations. When you're ready, your bus will be back to swoop you up and go!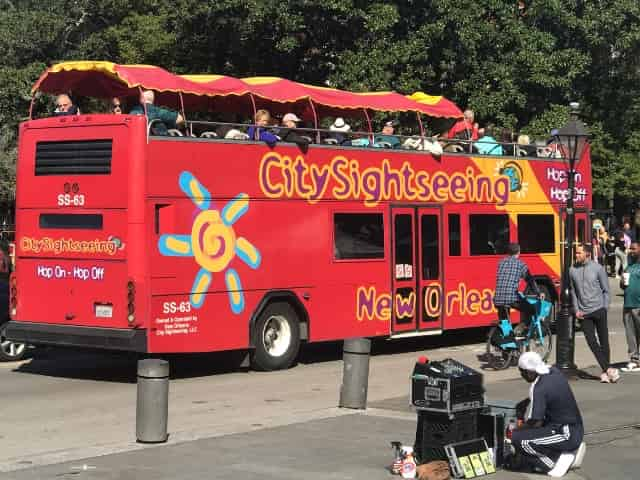 The New Orleans Double Decker bus driving by Jackson Square in the French Quarter
The multiple districts of New Orleans, Louisiana, can complicate travel to the "Crescent City." Visiting Jackson Square, the French Quarter, Garden District, and more essential hot spots require knowledge of New Orleans known only by the residents themselves.
Hop On Hop Off Bus Tour
If you're having trouble deciding which New Orleans sightseeing bus is best, the Hop-On Hop-Off bus tour is perfect place to start! These bright red, double decker buses circle the city, stopping at all of the major destinations (complete list below).
A bus hits every stop at intervals of 30 minutes, but also gives riders the option to hang out on the bus and enjoy the sights, sounds, and expert guided narration (a full rotation through all 18 stops takes about 2 hours). Tickets not only include the narrated bus tour, but depending on which ticket type you select, may include the following:
Free walking tours
Free self-guided tours
Restaurant and attraction discounts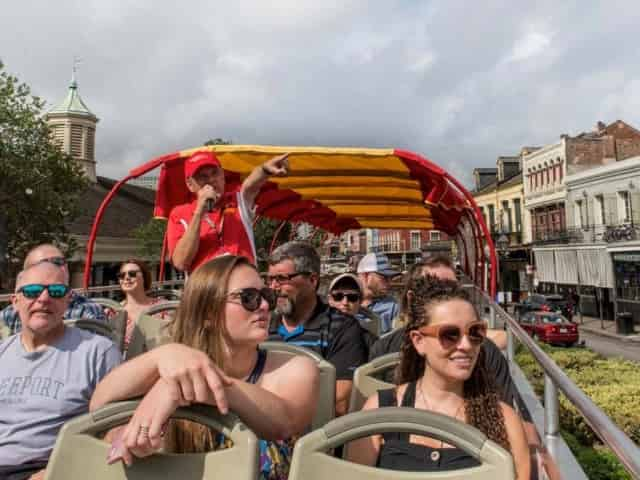 Pictured above are visitors to the Big Easy enjoying the sights and sounds of the city from the comfort of a New Orleans double decker bus tour
One of the best parts of sightseeing on a New Orleans double decker bus tour is that you get a very comprehensive view of the city. From Jackson Square, to the Central Business District, to Magazine Street, the Hop-On Hop-Off bus tour takes you all over NOLA so you don't miss a thing! There are 18 total stops along the bus tour route:
Jackson Square
French Market
Esplanade
Treme
St. Louis Cemetery at Basin St. Station
Canal Street
Riverfront at Harrah's Casino
Central Business District
Louisiana Superdome
The National WWII Museum
Garden District on Magazine Street
Magazine Street (Magazine St. & Washington Ave.)
Magazine Street (Magazine St. & Ninth St.)
St. Charles Avenue (Louisiana Ave. & St. Charles Ave.)
St. Charles Avenue (2020 St. Charles Ave.)
Mardi Gras World
Arts District
Harrah's Casino on S. Peters Street
Each stop offers its own attractions including creole dining, eclectic shopping, scenic views, entertainment, and more! The full route map is listed below: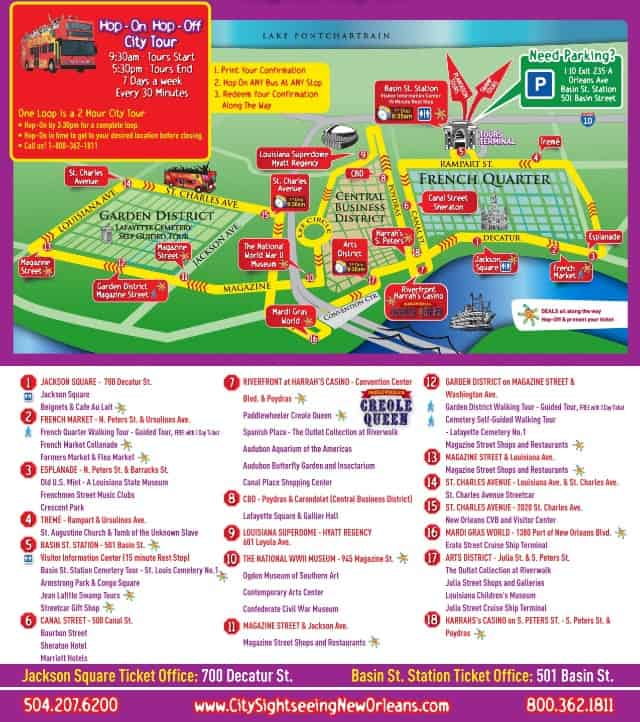 Explore New Orleans by Water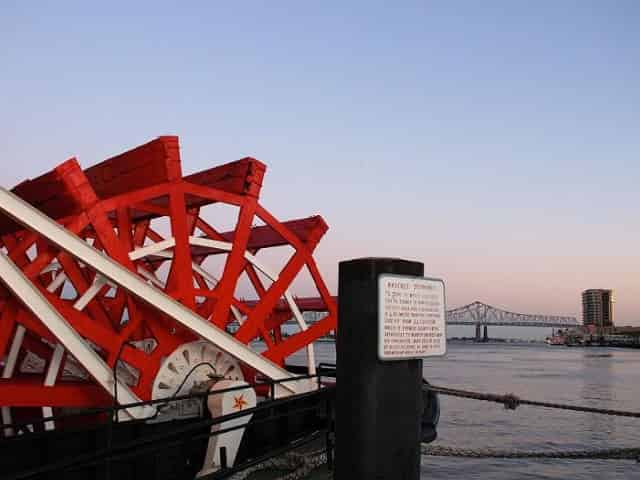 According to a recent Traveler Story, the Steamboat Natchez, pictured above, is a great way to relax and see the city
The Mighty Mississippi and her port in the Gulf of Mexico are the primary reasons why New Orleans blossomed into the vibrant city it is today. So, naturally, how better to appreciate the history, the water, and the moment than on a New Orleans river cruise?
Snag your spot on one of several seriously sweet New Orleans boat tours and explore the scenery, as well as major historical topics such as the Battle of New Orleans in 1814 and the Jean Lafitte National Historical Park and Preserve.
Or, if you're looking for something a bit more current, we encourage you to check out a dinner cruise for a night of authentic New Orleans cuisine, dancing, and live jazz! One of our best sellers and an absolute riot of a good time, a dinner cruise aboard the Creole Queen or Steamboat Natchez is as essential to your trip as a stroll down Bourbon Street!
See the French Quarter from the Sky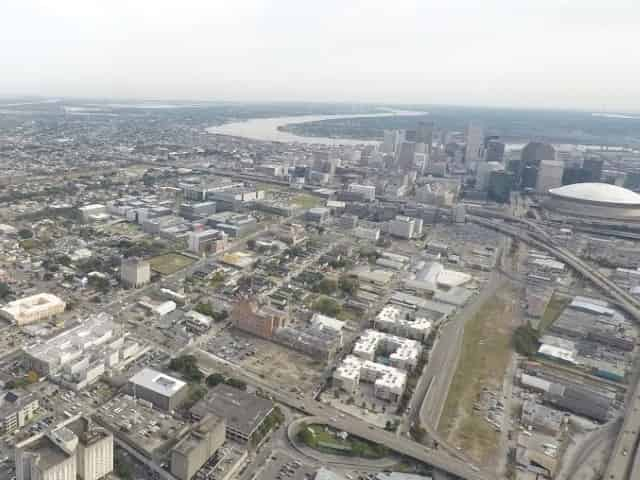 Pictured above is an amazing aerial view of New Orleans taken from a helicopter tour
Fly higher than a Creole Cooper's Hawk and explore the Big Easy on a New Orleans helicopter tour! One of our favorite tours anywhere and one of the best ways to take in the entire region, this is one trip that you absolutely do not want to miss.
Professional pilots will show you incredible sights including:
Haunted Cemeteries
The Garden District
The French Quarter
Audubon Park
and MORE!
Perhaps the best thing about taking a helicopter tour is seeing the city in relation to the natural world around it, specifically the water. Watch as the Mississippi River meanders from north to south through the city and empties into the Gulf of Mexico!
Traditional Horse & Carriage
Pictured above is a mule-drawn carriage ready to hit the streets through Royal Carriages
Clip and clop through the French Quarter on a fantastically fun New Orleans carriage ride! Carriage rides and tours are one of the best ways to see the city. After all the walking and shopping you've already done through the French Quarter, why not take it easy and be chauffeured?
Not only that, with just a few steps to get in and out of the carriage itself, carriage tours are a great way for those with limited mobility to see the French Quarter. Plus, there is truly something for everyone with multiple tour types including:
Nighttime Carriage Tours
French Quarter Tours
Cemetery Tours
Private Tours
This is also a great activity for every age and interest. From couples in New Orleans looking for a romantic night out, to bachelorette parties checking out the city in style, carriage tours are great for every occasion!
---
Choosing the Best Way to See New Orleans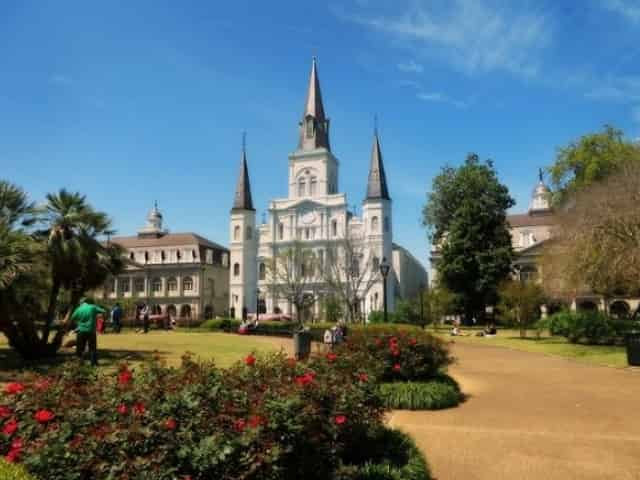 Pictured above is Jackson Square, a must-see destination for any New Orleans traveler
Now that you have a better understanding of the different types of city tours, all that's left to do is take your pick! From getting an up-close-and-personal experience with the city on a walking tour, to riding in style on a New Orleans carriage, the options are practically limitless!
No matter how you decide to explore the Big Easy, you'll be happy you did. New Orleans is a city full of life, fun, history, and culture, and a trip to NOLA is incomplete without diving in and exploring this interesting and incredible city.
Be in the know!
be informed about our latest offers
You can unsubscribe at any time