Spring Break in Florida During COVID-19 - Activities With Less People
Suzanne Bratton
March 19th 2020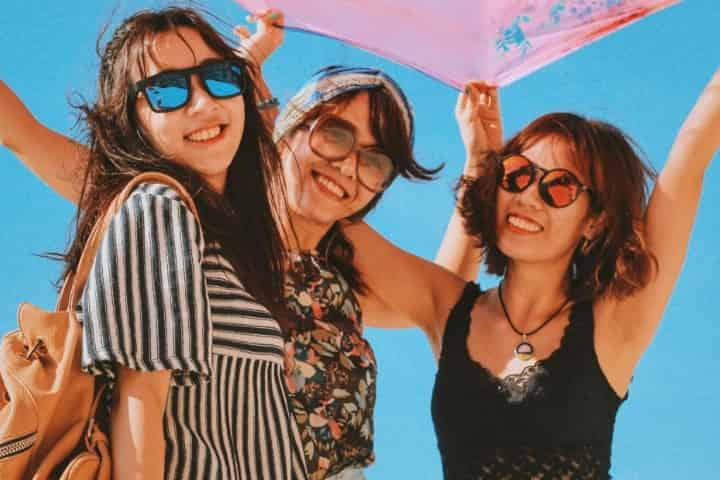 Spring break season is upon us, which usually means lots of people at the beach, fun in the sun, live music, parties, and shenanigans! With the coronavirus disease, or COVID-19, plaguing cities all over the world, you may be wondering what this means for your spring break travel plans. While traveling outside of the country or taking a cruise may not be an option for you due to travel bans and restrictions, traveling within the United States is still an option.
Florida is an iconic spring break location, from Panama City Beach in the Florida Panhandle, to St. Pete Beach on the Gulf Coast, to Miami Beach all the way down in South Florida, the opportunities for spring break fun and festivities are practically endless! Worried about spending spring break in Florida during COVID-19? Keep reading and discover the top tours and attractions with less crowds of people on your next trip to Florida.
Table of Contents
How to Enjoy Spring Break in Florida During COVID-19
Spend a Day at the Beach
Enjoy Small Group or Private Activities

Fishing
Jet Ski Rentals
Helicopter Tours
Kayak Tours
Paddleboarding
Windsurfing

Have a Great Night In
NOTICE: Information in this article is subject to change due to the restrictions set in place by the CDC and US Government.
---
How to Enjoy Spring Break in Florida During COVID-19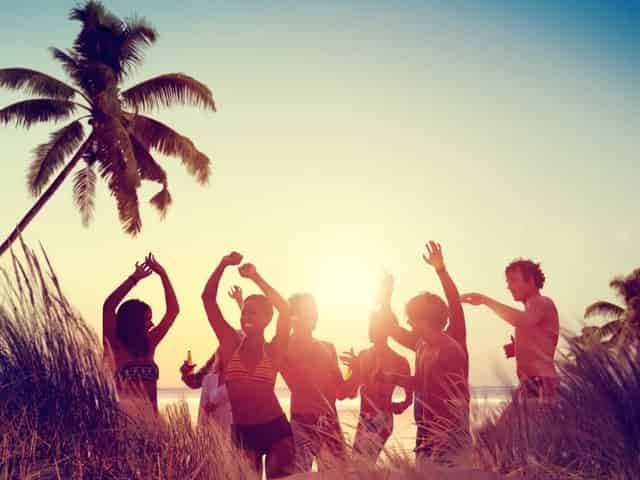 Pictured above is a group enjoying their spring break in beautiful, sunny Florida
COVID-19 is a respiratory disease that started in Wuhan, China, and is making its way across the world. This disease can be spread in multiple ways like through the air from a cough or sneeze, through close contact with others, or by touching your face before you've washed your hands. Check out these facts about the coronavirus disease, as preparedness is an important step in combating this virus: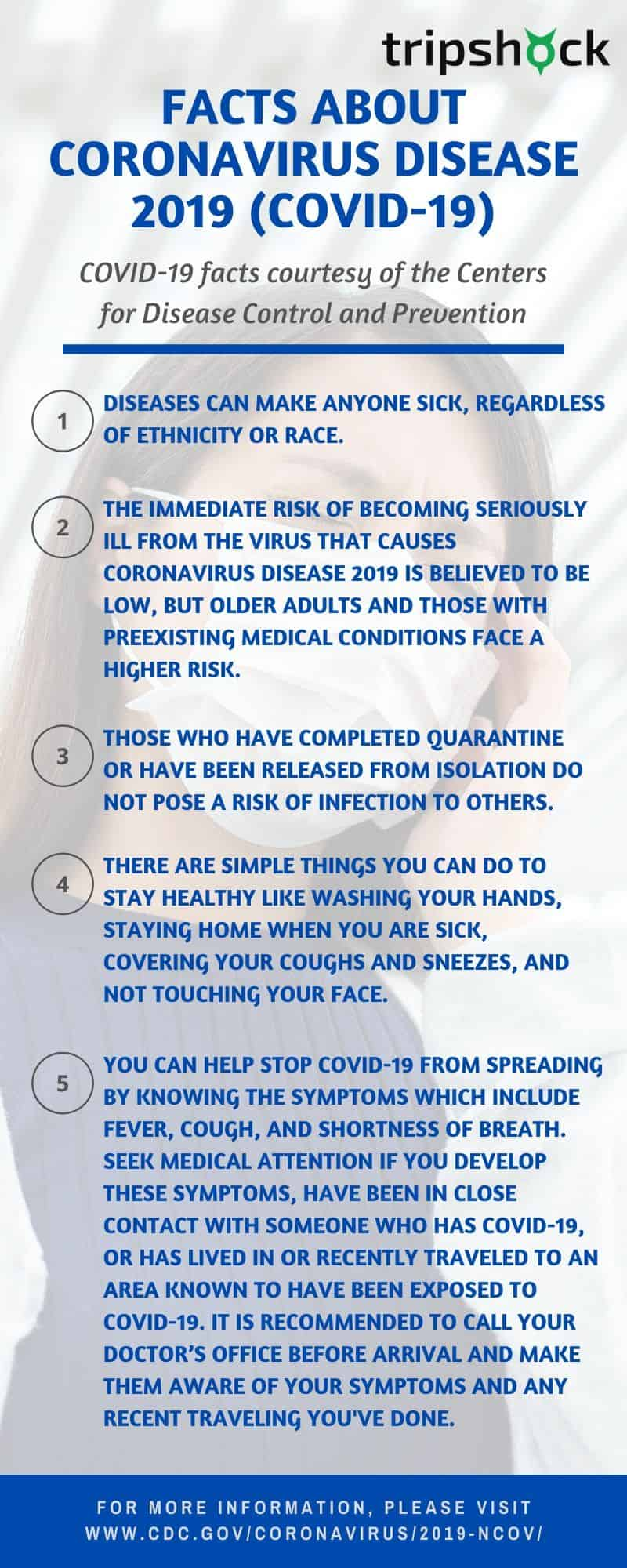 With that being said, you may be asking yourself, "how am I going to spend spring break in Florida during COVID-19?" Well, one of the best things to do is to avoid large crowds, and we've created a list for your convenience of the top small group/private activities in Florida, so you can make the most of your spring break! For more tips on safe travel, check out our recent blog covering ways to travel that lower your risk of infection.
Spend a Day at the Beach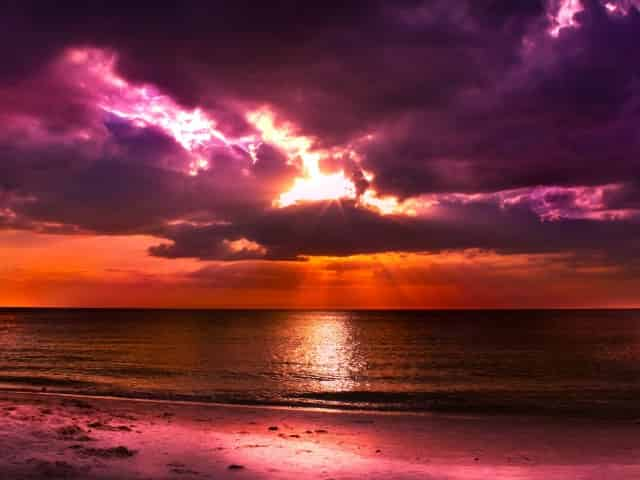 Pictured above is a stunning sunset from the beaches of St. Pete Beach, FL
COVID-19 or not, it just isn't spring break in Florida without hitting the beach! Salt air, vitamin D, and beautiful water, a day at the beach may just be exactly what the doctor ordered. Florida's beaches come in all shapes and sizes, with plenty of different access points to choose from. With that being said, doing a little bit of research will go a long way.
While sand, sun, crystal-clear water, and gorgeous waterfront views can be expected at most beaches, some tend to be more populated than others. A little bit of research may yield some amazing options like secluded beaches and secret spots. This means you can hit the beach, set up shop, and not worry about being exposed to crowds of people. With the proper planning, your spring break in Florida during COVID-19 can still mean sand and sun instead of illness and being stuck indoors.
Enjoy Small Group or Private Activities
Aside from hitting the beach, which is a Florida spring break MUST, Florida is also home to a ton of small group or private activities including watersports and aerial tours. These tour types are a great way to enjoy spring break, while also avoiding heavy crowds and limiting exposure to COVID-19. Keep reading and discover the top small group and private activities in Florida to make this spring break in Florida one for the books!
Fishing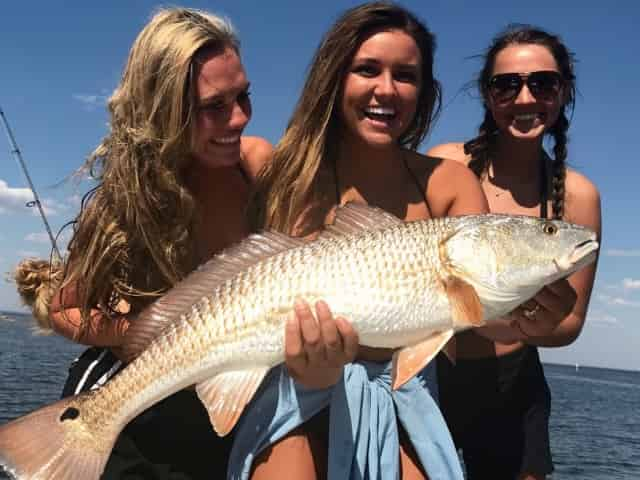 Above is a group of girls showing off the giant Redfish they caught during spring break in Florida
Fishing is another Florida must, and is the perfect way to enjoy spring break in the sunshine state during COVID-19. With private fishing charters available, you can rest assured that each trip out to reel in the big one will be a small group of your choosing. Most charters can hold up to six passengers, a captain, and deckhand. Another great thing about fishing in Florida is all of the options that are available including:
Inshore Fishing
Offshore Fishing
Shark Fishing
Kids Fishing
Night Fishing
Trolling
Bottom Fishing
And MORE!
Most charter companies will fillet and bag your catch for you, as well. This means that you can also avoid the crowds at the busy restaurants around the city by dining on fresh seafood that you reeled in yourself! Fresh caught fish is definitely a dish you don't want to miss when visiting Florida for spring break!
Jet Ski Rentals
Zip through the waves on a St. Petersburg jet ski rental for a fast and furious spring break adventure
Make a splash as you zoom, zip, and zag through Florida's magnificent waters on your very own jet ski rental. This adrenaline-pumping adventure is perfect for thrill-seekers looking to add some excitement to their spring break! Jet skis will typically accommodate either one, two, or three passengers, making this the perfect activity to enjoy during COVID-19, as it will be just yourself and either one or two of your favorite people on board.
Jet skis are also another great way to get in touch with nature and feed your wildside. Be sure to keep an eye out for our flippered dolphin friends, stingrays, turtles, tropical birds, and more! Not only that, this is one of the best ways to get views of the area's natural landscapes, as well as breathtaking views of the city from the water. If you're searching for available rentals, find the top Jet Ski rentals in St. Pete online from TripShock.com.
Helicopter Tours
One of the top romantic activities in St. Petersburg, FL, a helicopter tour is something you don't want to miss
This high-flying adventure is the perfect activity to get the best views of the city! Stare down from the clouds at Florida's beautiful, crystal-clear waters, high rise condos, and be sure to look out for amazing wildlife including:
Dolphins
Sharks
Pelicans
Seagulls
Sea Turtles
Stingrays
Manatees
And MORE!
You never know what you'll see from a helicopter tour, but you can rest assured you'll be getting an amazing bird's eye view! Typically accommodating two or three passengers, this is another great activity to make the most of spring break in Florida during COVID-19. Fight the crowds from the clouds from the comfort of an unforgettable and breathtaking helicopter tour!
Kayak Tours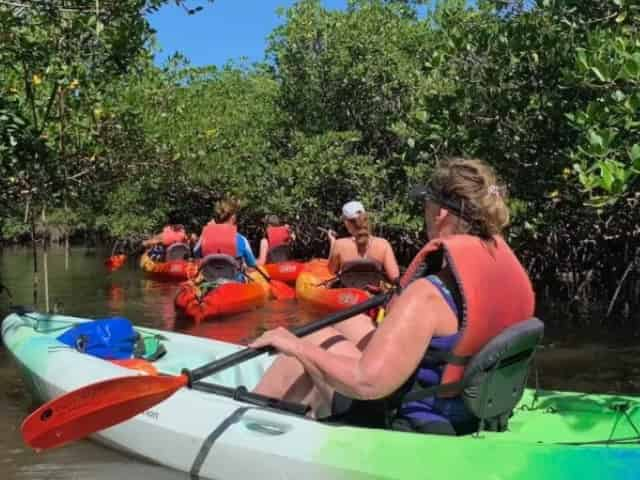 Paddle the scenic waterways of St. Petersburg on a kayak and get an up close and personal encounter with nature
Kayak tours are another great way to escape the hustle and bustle of the city and avoid the masses during COVID-19. Not only that, it gets you out of the city and into an aquatic wonderland full of amazing animals, beautiful scenery, and nature at its finest. Kayaking comes in all shapes and sizes. Either rent a kayak on your own and paddle off into the sunset, or join in on one of these magic and memorable tours:
Fitness Kayak Tours
Scenic Kayak Tours
Glass Bottom Kayak LED Illuminated Night Tours
And that's just to name a few! Kayak tours truly give you an intimate experience with the beautiful nature that surrounds you. You'll be amazed at the sights, sounds, and animal encounters you may experience along the way.
Paddleboarding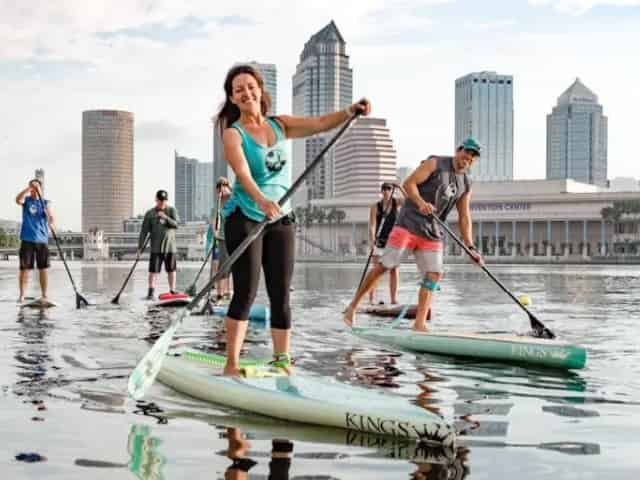 The perfect way to spend spring break in Florida, paddleboarding through the waterways in St. Petersburg gets you out on the water and tests your athletic abilities
Test your fitness and balance on a paddleboard rental and get active while you keep cool on the water! This is another great option for those looking to take it slow and enjoy the ride. Most paddleboard tours are customizable in duration, location, and size, meaning there is a paddleboard tour perfect for each person in your group! Plus, the vantage point from a paddleboard is ideal for spotting dolphins, manatees, and other marvelous marine life.
Thinking of trying Paddleboarding? View photos, prices, reviews, and availability for Paddleboarding Tours for children and adults in St. Pete, FL.
Windsurfing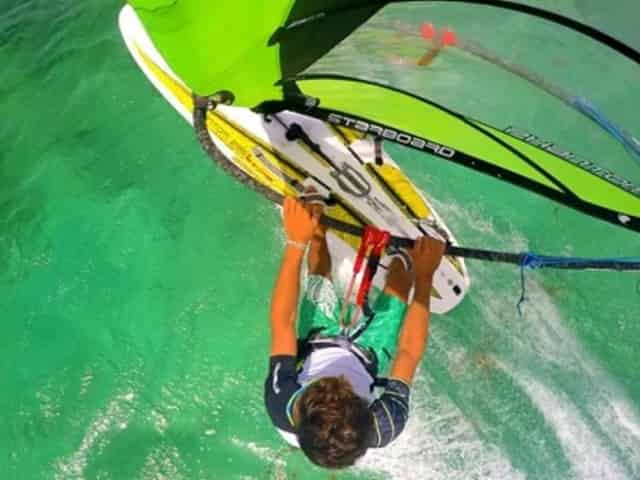 Windsurfing with North Beach Windsurfing School is the perfect watersport for adrenaline junkies
Calling all thrill seekers, this is the activity for you! Feel like a majestic great blue heron while you fly and glide across the water as you windsurf through the waves. With private and small group tours available (groups of 2-6 people) this is a great way to embody the spirit of spring break in Florida, even during COVID-19. Since windsurfing is a little more extreme than most activities, there are a few restrictions to be aware of:
Participants must be able to swim
Participants must weigh 65 pounds or more
There is a maximum of one person per board
Participants must be at least 13 years old
Windsurfing is not handicap accessible
While this may sound intimidating, have no fear! Each windsurfing lesson comes complete with windsurfing gear, lifejackets, and professional instruction, so you'll know exactly what to do when you hit the water.
Have a Great Night In
Pop some popcorn, grab your favorite people, put in a movie, and let the good times roll
Last but not least, sometimes the best nights of all are the ones spent with your favorite people watching a movie together, laughing, and enjoying quality time. Aside from that, it's easy to get waterlogged or sunburnt during spring break in Florida, and spending the evening in your condo or hotel may be just what you need to get your vacation back on track!
This is also truly the best way to avoid the public, maintain social distance, and keep yourself safe and healthy during COVID-19. If you've already cooked up the fresh fish you caught during your private fishing charter, this is a great time to utilize UberEats, DoorDash, and other delivery services to have your favorite Florida meals brought right to your front door. Other great activities that make for a perfect night in include:
Playing board games
Playing charades
Watching a game show
Playing multiplayer video games
Arts and crafts
---
However you decide to spend your spring break in Florida during COVID-19, as long as you take the proper precautions, avoid large crowds, and stick to booking small or private activities only, you can still make this spring break one for the books! From fishing the deep blue sea, to soaring high in the sky on a helicopter tour, to taking it easy on your very own kayak rental, there's something for everyone when spending spring break in Florida.
St. Petersburg-St. Pete Beach News
Keeping you informed
Be in the know!
be informed about our latest offers
You can unsubscribe at any time