Where to Swim with Dolphins in Florida? Try These 3 Destinations
Suzanne Bratton
December 31st 2019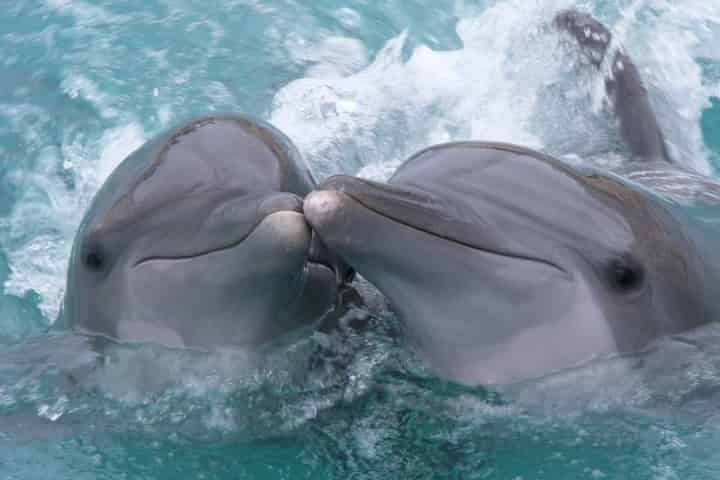 Panama City Beach, Florida, is the perfect vacation destination for beaches, boating, and bottlenose dolphins! It's not uncommon to see one of America's sweethearts (the dolphin) frisk and frolic in their natural habitat. With an estimated 10,000 dolphins in the coastal areas of the Gulf alone, your chances of seeing a dolphin during your beach getaway is extremely high.
If seeing one of these majestic mammals from a boat or from shore just isn't enough, don't worry! Panama City Beach offers plenty of up-close encounters with dolphins, so swimming alongside Flipper and friends is something you can mark off the bucket list!
Wondering where to swim with dolphins in Florida? Discover 3 destinations and have a whale of a time in the water with your new flippered friends.
Table of Contents
About the Local Dolphins
Where to Swim with Dolphins in Florida?

Gulf World Marine Park
In the Wild on a Tour
Gulfarium Marine Adventure Park

What to Know Before You Go
---
About the Local Dolphins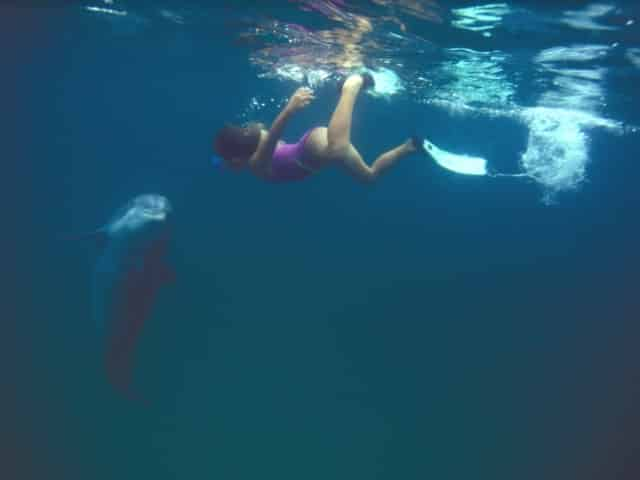 According to a recent Traveler Story, swimming with dolphins is a once-in-a-lifetime experience
Panama City Beach and the beautiful Gulf of Mexico is home to a vast array of marine life, which is just one of the many reasons people love exploring the Gulf Coast. With captivating creatures like manatees, sharks, stingrays, and sea turtles calling this area home, you never know what amazing sights you'll see! Something you can almost always count on seeing in Panama City Beach, however, are dolphins.
You may be surprised to discover there are actually nine different species of dolphins in the Gulf of Mexico. The bottlenose dolphin, however, is the only species you'll find near the coast. So, if you're wondering where to swim with dolphins in Florida, the coastal region of beautiful Panama City is the perfect place to start! Check out these fun facts about bottlenose dolphins, and be better prepared for your next dolphin encounter: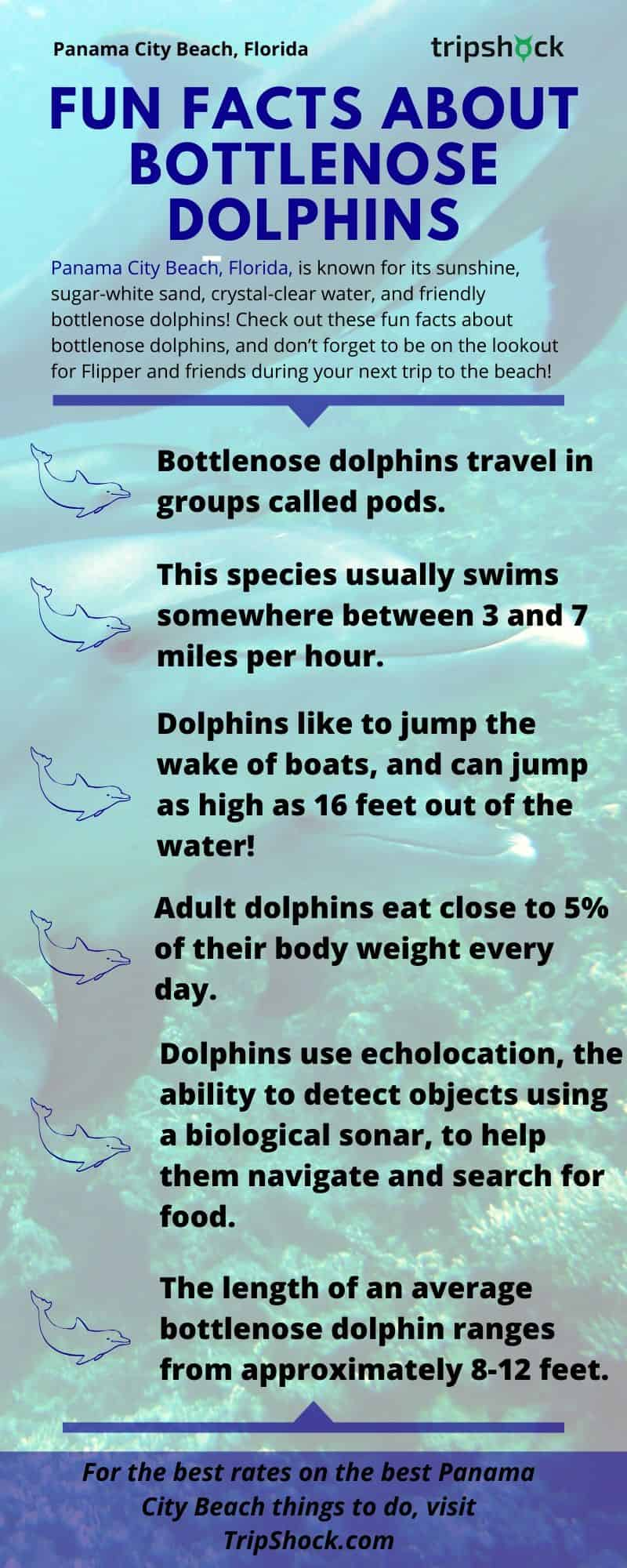 Where to Swim with Dolphins in Florida?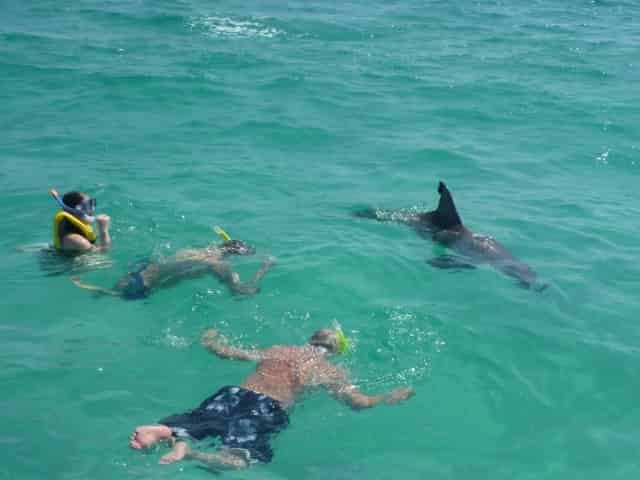 Pictured above is a group snorkeling on a dolphin swim tour in Panama City Beach with Water Planet
Panama City Beach is the perfect place to swim with dolphins in Florida. Besides the abundance of wild dolphins in the area, Panama City is also home to marine parks with dolphins who are just as excited to see you, as you are to see them!
This also means there is a perfect dolphin swim experience for everyone! From getting a kiss and a hug from a skilled and spirited dolphin, to swimming next to a dolphin mom and her calf in the wild, there is an extraordinary encounter perfect for all interests and skill levels.
Gulf World Marine Park
Royal Swim participant hugging a dolphin at Gulf World Marine Park
Gulf World Marine Park is a Panama City Beach staple, and one of the best places to swim with dolphins in Florida! In a controlled environment with a skilled trainer and dolphin, guests get to experience a true one-on-one, unforgettable encounter with one of these incredible creatures. Popular dolphin swims include:
Dolphin Swim Adventure
Royal Swim with Dolphins
This is a great option for those who are wanting to swim with dolphins, but are not ready to take the plunge into the Gulf. Not only that, Gulf World Marine Park truly provides the experience of a lifetime by teaching you behaviors, so you can really interact with the dolphins. Depending on which dolphin swim you select, you may experience one, or all, of the following behaviors:
Foot push
Dorsal tow
Kiss
Hug
Handshake
Hand target
Free time with various activities
While there are some age and height restrictions, this is one of the best options for families. Not only will kids have a blast and make a splash with their new dolphin friends, but they will love exploring Gulf World Marine Park itself.
The park is actually home to not only bottlenose dolphins, but also the only collection of rough-toothed dolphins in long-term care in the country. Other animals you may see when strolling through Gulf World include:
California sea lions
Harbor seals
Penguins
Tropical birds
Stingrays
And MORE!
While Gulf World Marine Park is home to some incredible animals, and is one of the best aquariums to swim with dolphins in Florida, it is so much more than that! Since its beginning in 1969, Gulf World has worked to rehabilitate injured marine life, and facilitate marine research on both a local and national level. It is truly a place of pleasure and purpose, or porpoise, if you will!
In the Wild on a Tour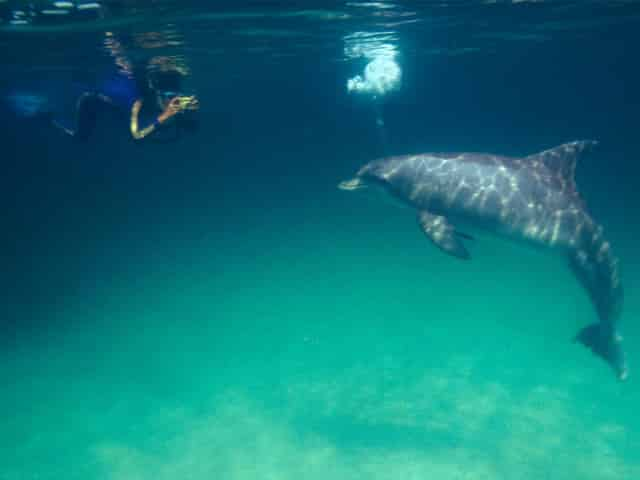 Swimming with dolphins, pictured above, is more affordable than ever with Panama City Beach dolphin swim coupons
If you're wanting to swim with dolphins in Florida, but want to take in the area's natural beauty, as well, then you're in luck! The great thing about swimming with dolphins in Panama City is that there are plenty of options, and you aren't limited to an aquarium.
Panama City Beach, FL, is actually one of the few places in Florida that offers tours where you can swim with dolphins in their natural habitat. An experienced and helpful guide will teach you all the do's and don'ts for swimming with dolphins in the wild, and make sure you're prepared to experience this wonderful and whimsical moment.
Once you're ready, your captain will take you to locations where dolphins are known to swim. At the signal, all that's left to do is dive in and witness these magical creatures in all of their glory! There's nothing that compares to getting up-close-and-personal with one of these gentle giants, and watching them peacefully and gracefully swim and play in their natural habitat.
Panama City Beach dolphin swim tours also allow you to take in the awe-inspiring nature that surrounds you. Stunning Shell Island with its white-sand beaches, beautiful emerald water, and magnificent wildlife, makes for the perfect place to swim with dolphins. Aside from dolphins, you may also encounter other Gulf Coast locals such as:
Fish
Sea turtles
Starfish
Sea urchins
Sand dollars
With such a diverse ecosystem, the Gulf of Mexico is brimming with beautiful wildlife and scenery just waiting to be explored! And rest assured, while dolphin sightings are not guaranteed, as they are wild animals, there is a 99% success rate for dolphin sightings. This means that once you book your Panama City Beach dolphin swim tour, you can get ready to flip out with Flipper!
Gulfarium Marine Adventure Park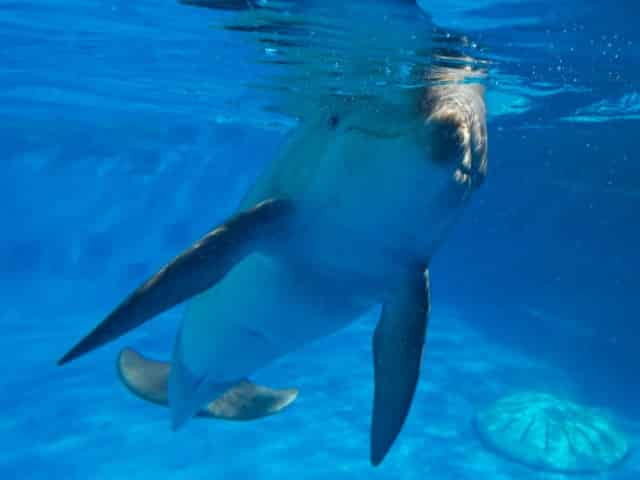 Pictured above is a friendly dolphin at the Gulfarium Marine Adventure Park on Okaloosa Island
The Gulfarium Marine Adventure Park is an aquarium on Okaloosa Island, and is a favorite among locals and visitors alike! It is about an hour away from Panama City Beach, pending traffic, and makes for a perfect day trip to another beautiful part of the Gulf Coast! It's also another great place to swim with dolphins in Florida.
Similar to Gulf World, the Gulfarium offers dolphin encounters with a trained dolphin and its handler. Popular dolphin encounters at the Gulfarium include:
Discover Dolphins Encounter
VIP Trainer for a Day
These programs differ a bit from those at Gulf World, in that they are geared more towards education and obtaining a better understanding of dolphins as a whole. For example, depending on which package you select, you will be able to:
Touch and feed a dolphin
Learn about their anatomy
Give behavior signals
Work side-by-side with a mammal trainer
General admission is included with most encounters, so not only can you pet a dolphin, but you can explore the Gulfarium, as well! From awesome trainer chats to thrilling animal shows, and beyond, the Gulfarium hosts a wide variety of animal encounters, sure to please everyone in your group! Other critters you may come across include:
Sea lions
Otters
Penguins
Alligators
Turtles
Sharks
And MORE!
In 2015, the Gulfarium celebrated its 60th anniversary, making it one of the world's oldest marine animal parks. Since its beginning in 1955, the Gulfarium has worked hard to not only put on some incredible shows, but also to help rehabilitate injured animals. According to gulfarium.com, they've accomplished some pretty incredible things throughout the years such as:
They were the first marine park to perform underwater shows in SCUBA gear.
The Gulfarium was the first to record a dolphin jumping over 20 feet.
They were the first to successfully raise a stranded baby bottlenose dolphin.
The Gulfarium was the first place to develop a synthetic milk formula for bottlenose dolphins, and that formula is still being used today!
History and conservation aside, the Gulfarium Marine Adventure Park is fun for everyone! Bring the family and enjoy dazzling dolphins, silly sea lions, and so much more!
What to Know Before You Go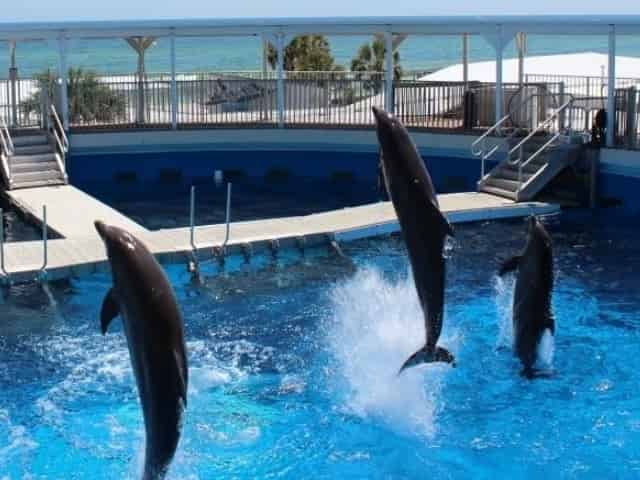 Dolphins jumping for joy at the Gulfarium Marine Adventure Park in Fort Walton Beach, FL
When it comes to swimming with dolphins, it is almost impossible to fight the urge to dive in and swim away into the sunset. You must fight this urge, however, for both the dolphin's safety, and yours. To make swimming with dolphins the most magical and memorable experience it can be, there are a few things to keep in mind:
Do not feed any dolphins unless instructed by a certified trainer to do so.
If you're in the wild, do not touch the dolphins. If you are at a marine park, only do so when instructed.
Be prepared. After booking, check your TripShock voucher for important information, what to bring, and restrictions.
Be sure to let your reservation agent know at the time of booking of any medical conditions, restrictions, allergies, accessibility needs, etc.
Pay attention to your instructor, as they will provide you with essential information.
Another important thing to consider is traffic. Especially during spring and summer, traffic in Panama City Beach can be trying. It is recommended to leave early, and allow yourself enough time to arrive to your dolphin swim about 30 minutes in advance.
For the marine parks, weather usually isn't an issue, but if you're swimming with dolphins in the wild, you will want to check the weather before arrival. In case of severe weather, it is recommended to try and keep a flexible itinerary, in case there is a need to reschedule.
---
Whether you're jumping in the gorgeous Gulf of Mexico and viewing nature at its finest, or hanging out at the Gulfarium or Gulf World witnessing just how smart these dazzling dolphins really are, you're in for a treat! Your family will never forget the time they went to swim with dolphins in Florida, and created life-long memories with Flipper himself!
Be in the know!
be informed about our latest offers
You can unsubscribe at any time