TripShock Listings
Customer Service Guide (Home) > TripShock Listings
The purpose of TripShock listings are to help travelers choose the perfect experience. From vivid imagery, to verified reviews, to the details YOU care about, tour listings on TripShock offer a credible and complete snapshot of each experience available on the site.
Learn more about TripShock listings below:
Listings Basics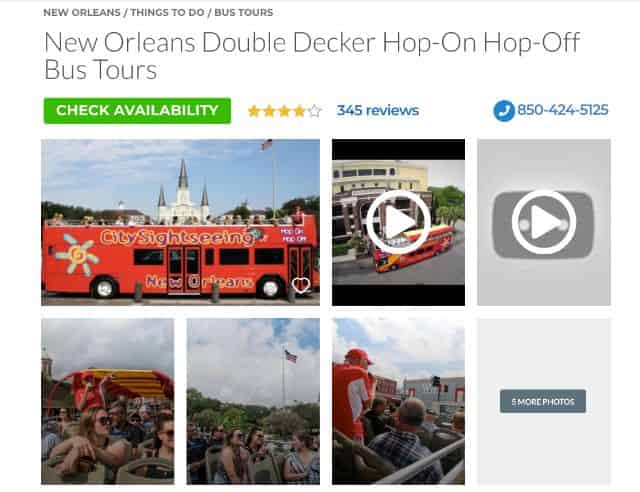 The New Orleans Double Decker Hop-On Hop-Off Bus Tours Listing on TripShock
Listings are broken up into sections that include the most pertinent information for that experience. Although we try and keep listings similar for the best user experience, they can vary based on activity category, type, and tour provider.
Most listing will include the following important features (images for reference below):
Breadcrumb - The breadcrumb allows website users to instantly navigate back to similar tours, other things to do within the destination, and the destination visitors guide.
Reviews - Verified reviews help travelers learn more about the experience.
Images/Video -Images and video posted on each listing are checked for quality and accuracy.
Overview - The "Overview" section sums up the experience and any other pertinent details.
Activity Highlights - A short bulleted list will highlight the tour for quick browsing.
What's Included - What is included with booking.
What to Bring - What to bring on your tour.
Restrictions - This may include age limits and health warnings.
Additional Information - Any additional information to which a traveler should be aware.
Cancellation Policy - Terms for cancelling or making changes to your experience.
Location - Address or landmark from which the tour departs or takes place.
Pricing & Availability - Up-to-date pricing and availability displays here.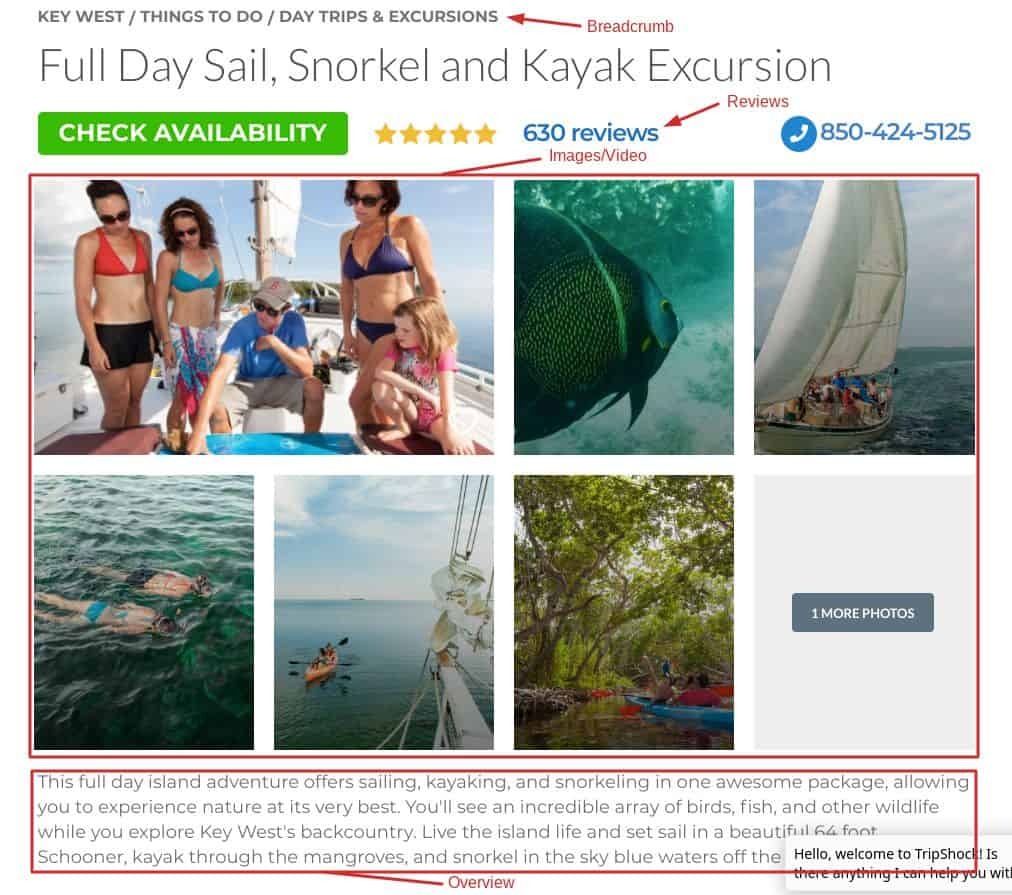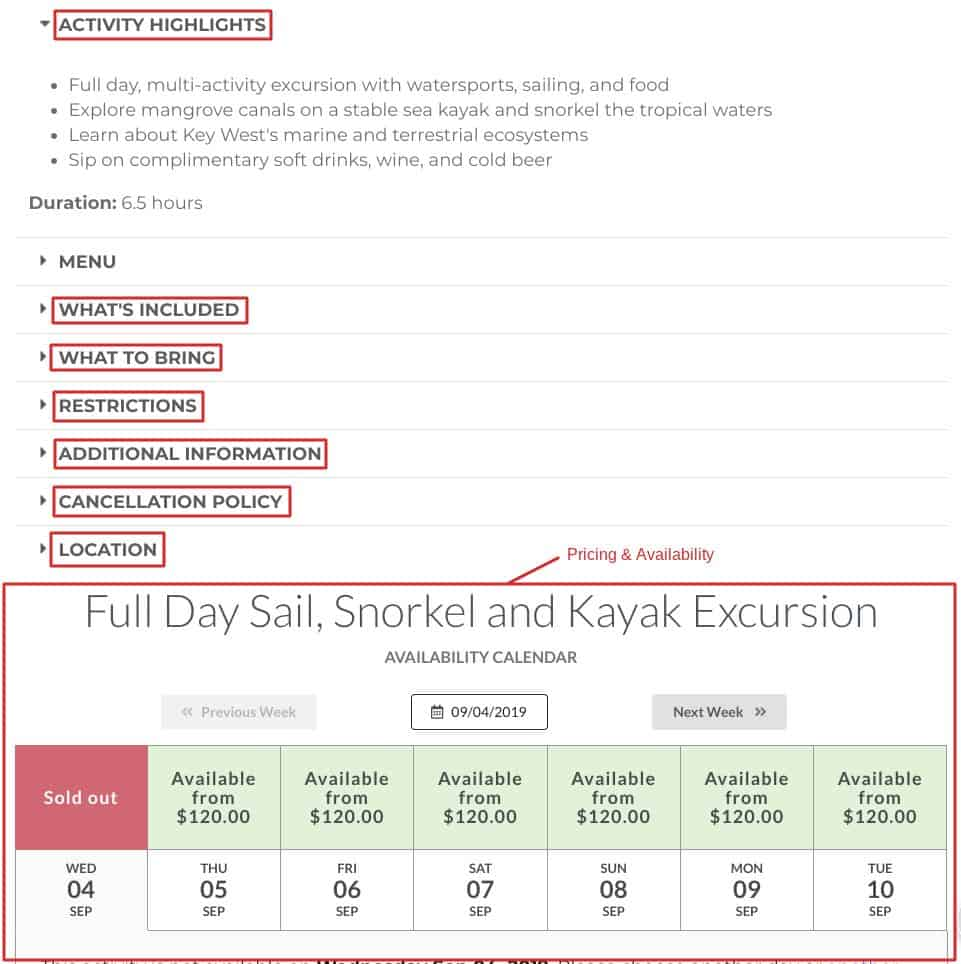 Overview of the Full Day Sail, Snorkel, and Kayak Excursion listing
---
Pricing & Availability
The current pricing and availability is found at the bottom of each TripShock listing. From the pricing table you can...
Adjust dates
Views days/times the tour is available
View ticket types, pricing, and number of tickets available
Choose which tickets, and how many to purchase per booking
Discover the next available date (only valid on days that the tour is marked "Sold out")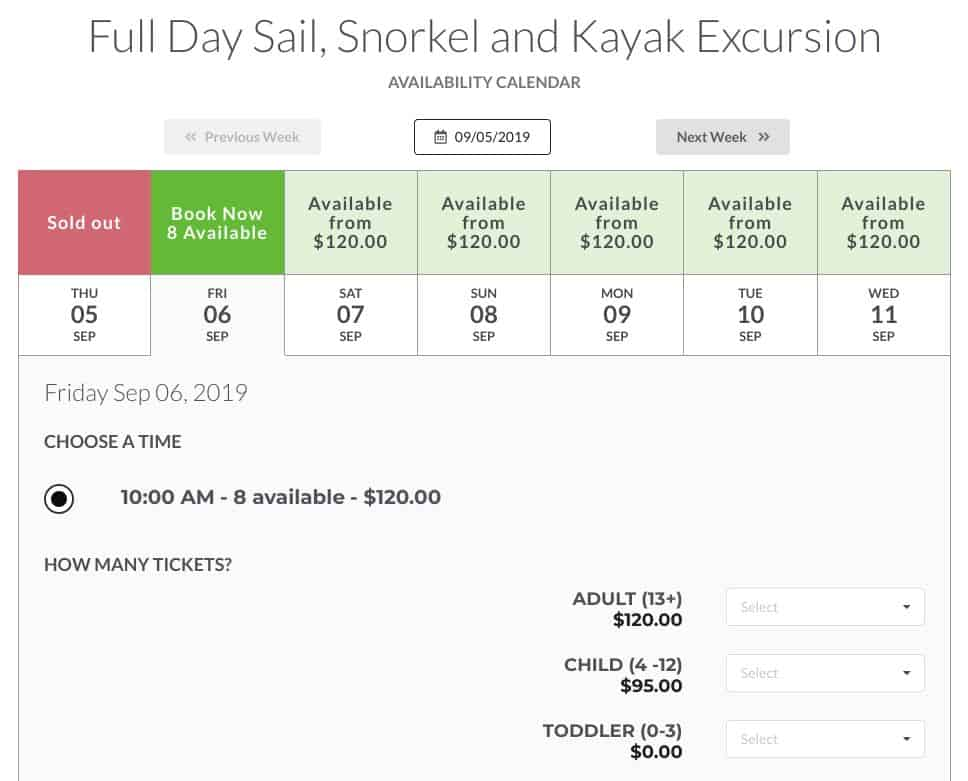 ---
Cancellation Policy
The cancellation policy is determined by the tour provider and TripShock. The tour provider's policy may differ from the one posted on their TripShock listing. In all cases, TripShock's posted policy will override the tour provider's. TripShock cancellation policies vary from tour to tour, so it is important for travelers to read through the entire cancellation policy before booking.
All TripShock users must agree to the cancellation policy BEFORE booking, and are bound by that policy in the event of a vendor cancellation, customer cancellation, or no-show.
If you have any questions about a posted cancellation policy on TripShock, please contact our reservations department at 850-424-5125, or email us at [email protected].