Your Guide to Downtown Pensacola Nightlife
June 27th 2022
Mike Fisher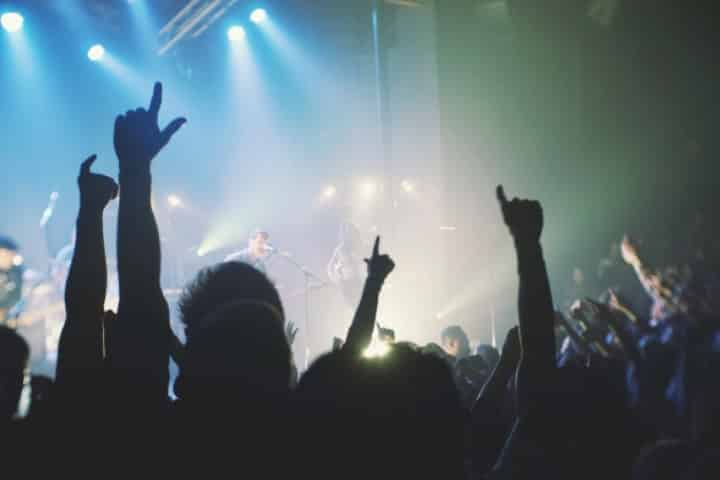 Pensacola, Florida, is a great place to live, dine, and shop. Find your way down to the Inner Harbor Channel for sweet waterfront venues and scenic views, head on over to one of several parks in town to stretch out, or enjoy a nice wine tasting. And when the sun goes down, that's when the Downtown Pensacola nightlife scene starts to really heat up!
Anywhere on Palafox south of Garden Street you will find the liveliest spots in the city. Pensacola has many options, from lounges, to dive bars, to late night eateries, and more. This is Your Guide to Downtown Pensacola Nightlife scene for serious fun out and about!
Table of Contents
Bars and Pubs
Seville Quarter
Gallery Night
---
Bars and Pubs
Pictured above is O'Riley's Irish Pub. Image courtesy of orileyspub.com.
The local bars and pubs are just one of the many reasons to visit Pensacola, FL, along with the beaches, shopping, attractions, and things to do. Calling all you lads and lasses! You had better believe the pub scene is a huge part of the downtown Pensacola Nightlife experience. With great options like McGuire's, O'Rileys, O'Zone, Union Public House, and Old Hickory, well.. you get the picture. Each spot offers its own extravaganza of food, fun, and beverage.
Looking for a traditional pub experience? Check out O'Riley's Irish Pub Downtown and enjoy a game of darts, Irish fare, and a sweet patio! How about a hip spot for live music and a cool atmosphere? Look no further than McGuire's. Grab top-notch food like steak, ribs, and other hearty favorites. Fish and chips? You know it. Enjoy your meal and some live music as you admire the walls of one dollar bills. No matter where you end up, you'll be feeling lucky that you're partying it up downtown!
Pub Crawls in Pensacola
Joining in on a pub crawl is a great way to experience downtown Pensacola nightlife! A great activity for singles, friends, and even couples visiting Pensacola, Follow a guide through the city streets and get an insider's look at Pensacola and their tasty libations. This is also a great way to take the stress out of planning a night out, as your guide will take care of the planning for you, making sure you visit all the must-see stops along the way.
Speaking of checking out the city, Pensacola city tours are another great way to explore downtown Pensacola and beyond! From bus tours to cemetery tours, there is a city tour available for every age and interest. Pensacola is full of history and amazing things to do, and city tours allow you to explore this in a fun and unique way.
Seville Quarter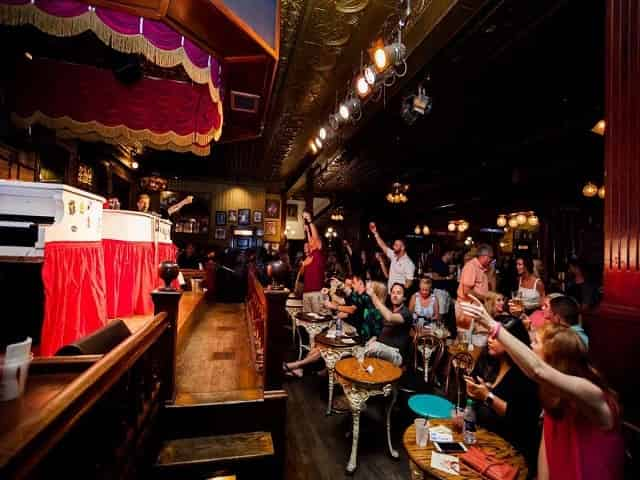 Pictured above is the nightclub in Seville Quarter, one of the top places to go for live music in Pensacola. Image courtesy of sevillequarter.com
The Seville Quarter is 7 rooms of fun and rocking good times. To really experience downtown Pensacola nightlife, pop on into this classic nighttime destination for "Historic Pensacola with a Bourbon Chaser." There is so much history packed inside of this building, you'll feel as if you're in the 19th century! You can spend the whole night here, so come on in for a deluxe dinner of po boys, seafood baskets, and pizza to get started! Enjoy the early evening sampling classic cocktails and great beer on tap while relaxing with friends, fellow patrons, and friendly staff.
Then, get ready to party hardy and dance at Phineas Phogg's Balloon Works two-story dance club! Take a break from the dance party and catch your breath with a game of pool in the pool hall, visit the saloon, or step outside into the Party Plaza for some of the biggest live music acts on the Emerald Coast! Want an intimate atmosphere to chat over cocktails? Yeah, the Seville Quarter has you covered there, too!
Pensacola Gallery Night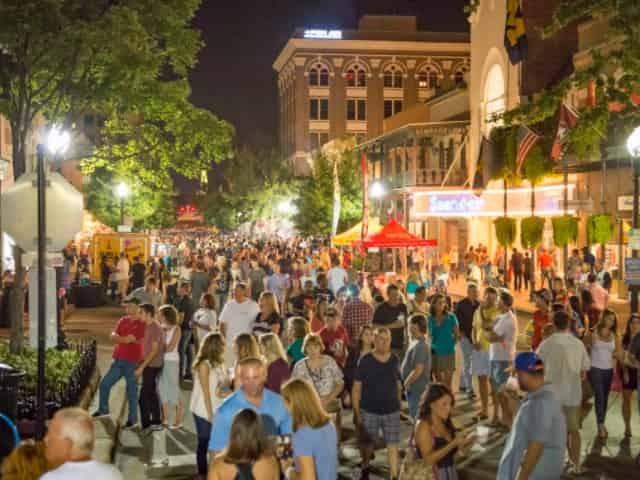 Pictured above are the crowds gathering for Gallery Night in Downtown Pensacola! Image courtesy of visitpensacola.com.
Pensacola has become an outstanding destination for artists. Both the University of West Florida and the Pensacola Museum of Art have provided a foundation that nurtures and promotes creativity and craft goods. As such, with so much interest in regional artwork and artists, Downtown Pensacola established Gallery Night one Friday a month where streets shut down starting at 5 PM.
Galleries and boutiques alike open their doors and allow free entry to show off all of their colors, crafts, and flare. Kids of all ages are welcome to this event, making it an amazing attraction for visiting families with children. Meanwhile, restaurants and bars have live music, extend hours, and provide food and drink specials just right for the occasion! And while the festivities technically wrap up at 9 PM, the downtown party goes all night long! If you are only going to hit the town one night a month, this is it!
Be in the know!
Be informed about our latest offers
You can unsubscribe at any time