Shark Fishing - TripShock's Official Fishing Guide
Official Guide (Home) > Private > Offshore > Shark Fishing
Shark Fishing is one of the most thrilling, adventurous, and "jaw-some" sports in the world! Not only do you get to test your luck and skills at fishing, but you get to test it with one of the most incredible animals in the sea! When Shark Fishing, the captain will usually travel a few miles offshore, chum the water, and wait until you can hear the theme from the movie Jaws playing. You don't actually hear the theme song from Jaws, but what you do hear is the sound of the reel running just before the battle begins!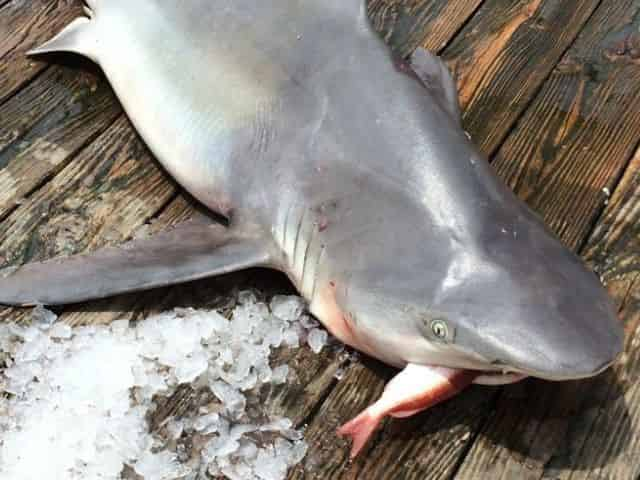 Shark Fishing Charters are also available at night if you want to set the mood for an eerie and exciting charter! If a Nighttime Shark Fishing Charter is something that interests you, you can find one near you on Tripshock.com!
It is important to keep in mind that the price for a Shark Fishing Private Charter is per hour, with a 4-hour minimum. This will cover 3-6 anglers, depending on the boat, and it will just be you, your party, the captain, and crew on board. The bait, tackle, and fishing license is also included.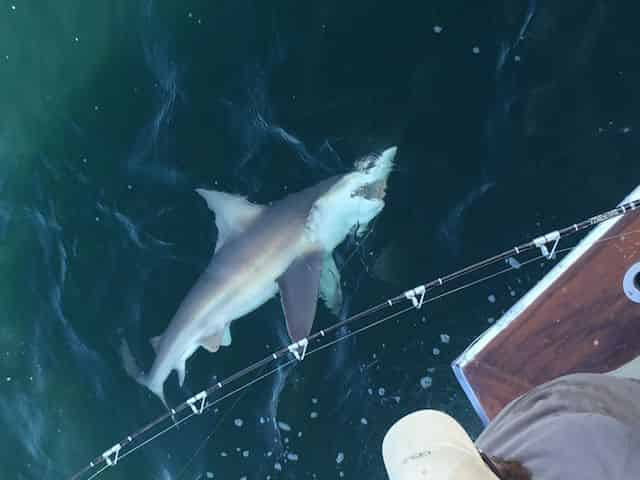 How Long Should I Fish? Shark Fishing Duration
One of the many great things about booking a Shark Fishing Trip is the flexibility, and being able to customize a trip just for your group. For example, if you want to be out on the water all day, you are not limited to the 4-hour minimum. You can book a 6, 8, or 10-hour trip if you prefer, and spend the whole day! It is recommended to book at least a 6-hour trip for an optimal experience.
It is important to keep in mind that with a Shark Fishing Charter, there will be some travel time to get to and from the fishing location. Once you're at the fishing location, the captain will chum the waters for you. So while there is a little bit of patience involved, it is worth it to see one of these majestic beasts up close and personal.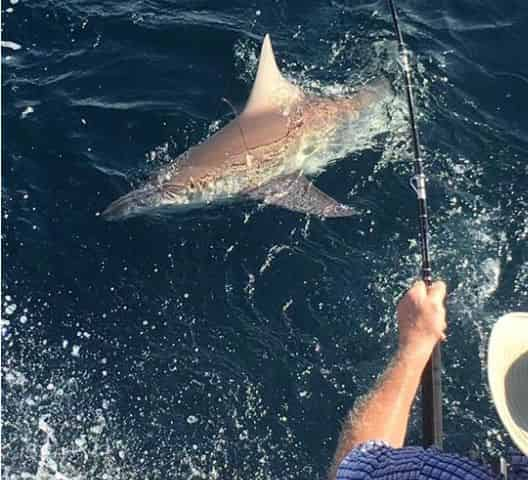 To learn more about the different species of sharks, click here
If this sounds overwhelming, don't fear! The experienced captain and crew will be there every step of the way. Besides getting you to and from the fishing location, they will chum the water, bait the hook, help battle the aquatic beast, and even release the shark back into the wild.
What's Included? Equipment, Amenities, and More
There are generally two types of boats you will use on a Shark Fishing Private Charter. The first is a Center Console. This is a great option because these boats are adaptable to most fishing situations. The Center Console is a type of single-decked, open hull boat where the console of the boat is in the center of it. The second is a Cabin Cruiser. A Cabin Cruiser is a type of power boat that typically has a cabin and restrooms on board. These are important things to consider when booking longer trips, as Center Consoles do not have restrooms on board.
Depending on the type of Shark Private Fishing Charter you select, the equipment used will vary from captain to captain. Even though the bait and tackle used may be different, the experienced and helpful crew will help make sure you are using it to its full potential! Keep in mind the equipment used is expensive, and the customer is liable if any equipment is lost or damaged.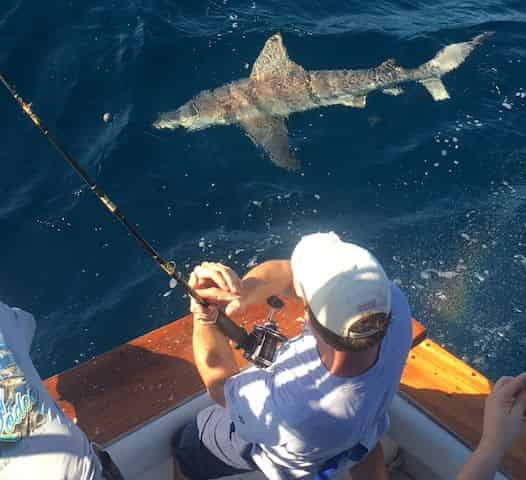 Restrictions and Rules
Please keep in mind that some sharks can weigh hundreds of pounds, and there is a lot of reeling and resistance involved after catching one. If you or anyone in your group has knee, back, neck, or shoulder injuries, it is recommended to check with your physician before booking. Please make your booking agent aware of any special needs so they can be properly accommodated.
These trips are typically not recommended for children under 6 and pregnant women, and the customer must be at least 18 to fish without parental consent. If there are children in your group under the age of 6, you may want to consider a Kid's Fishing Charter instead.
What Should I Bring?
On your Shark Fishing Private Charter, it is recommended to bring:
gratuity for the crew
wash rag
hat
sun glasses
raincoat for possible seaspray and light rain
suntan lotion
hand sanitizer
small cooler with food and drinks (just no glass)
camera for the perfect shot with Jaws!
And as far as your catch goes, anything that is able to be kept will be filleted for you upon request.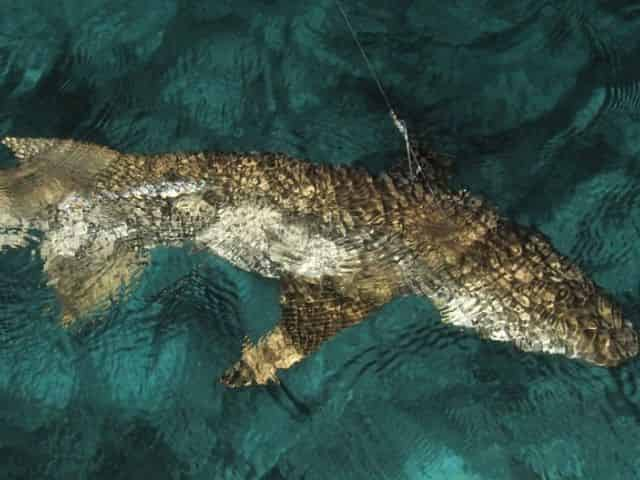 What types of Shark can I Catch?
Be aware that many Shark Fishing Charters are catch and release, because there are certain species that are not able to be kept. The most common species you will encounter are...
Black Tip Shark
Bull Shark
Hammerhead Shark
Lemon Shark
Tiger Shark
If there is a specific species you are wanting to keep, it is recommended to check out one of these links to make sure it is in season:
*Some fish are only in season for a limited amount of time. If there is a specific species you are wanting to target, it is recommended to book in advance.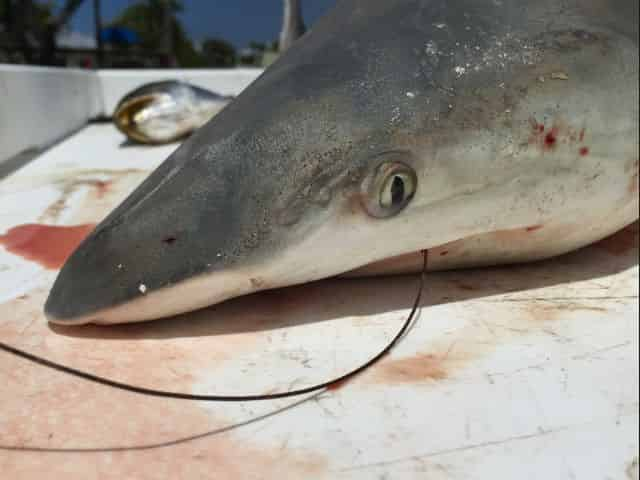 Fishing Permits
It is crucial when fishing offshore to consider what type of fishing permit the charter boat has. A Shark Fishing Private Charter will have either a State Fishing Permit or a Federal Fishing Permit. The type of permit your charter holds will impact which species you are allowed to bring home. Below are guidelines which breakdown the differences:
---
Calling all thrill-seekers; this is the ultimate experience for you! From the sound of the reel running, to seeing one of the most dangerous and incredible animals just inches away, this adventure is sure to get the adrenaline pumping! TripShock is the number one online booking site for tours and activities. If you are looking is a Shark Fishing charter near you or your vacation destination, you'll find it on Tripshock.com!