Vouchers
Customer Service Guide (Home) > Vouchers
Unfortunately, in this day and age, receiving a golden ticket from TripShock does not grant you entry into Willy Wonka's Chocolate Factory, but it does mean something equally delicious! Receiving this ticket, also known as a "voucher," means you're that much closer to experiencing unforgettable activities and creating memories that will last a lifetime!
Learn more about TripShock vouchers below:
What is a Voucher?
After speaking with one of TripShock's amazing customer service representatives, or even booking yourself online, you may wonder.. what's next?
Don't worry, TripShock has you covered! Shortly after booking, each customer will receive a text and e-mail with a link to their voucher.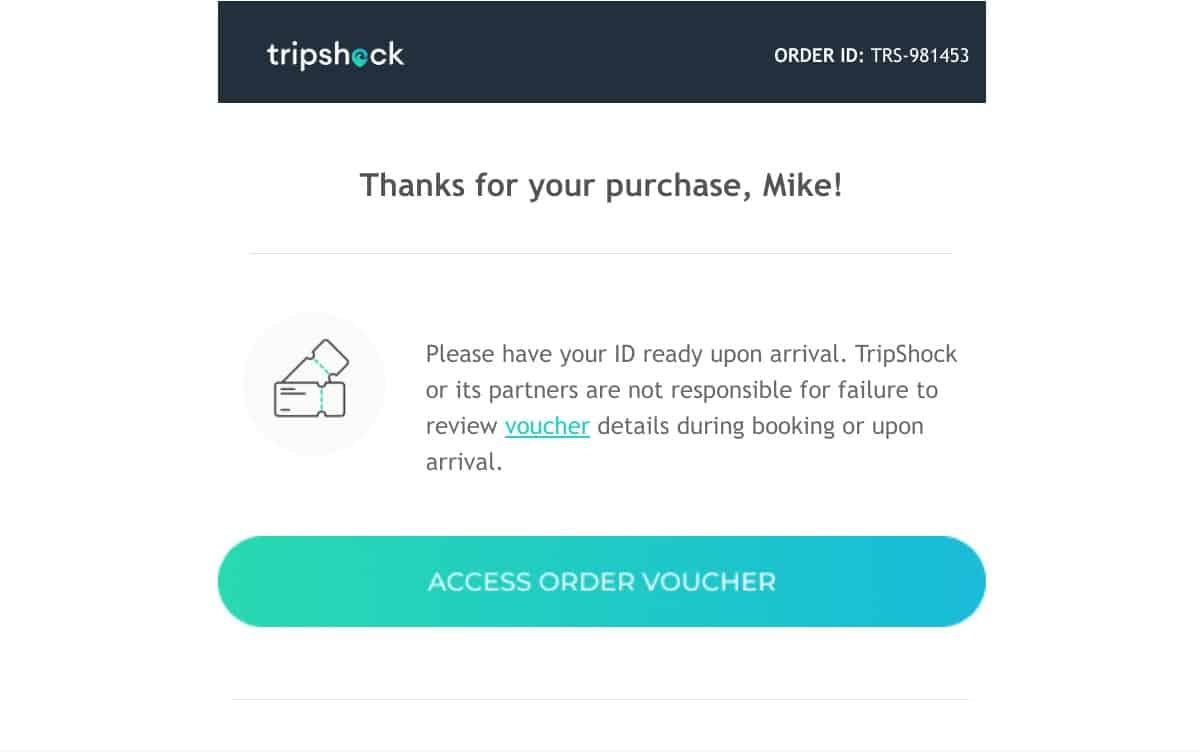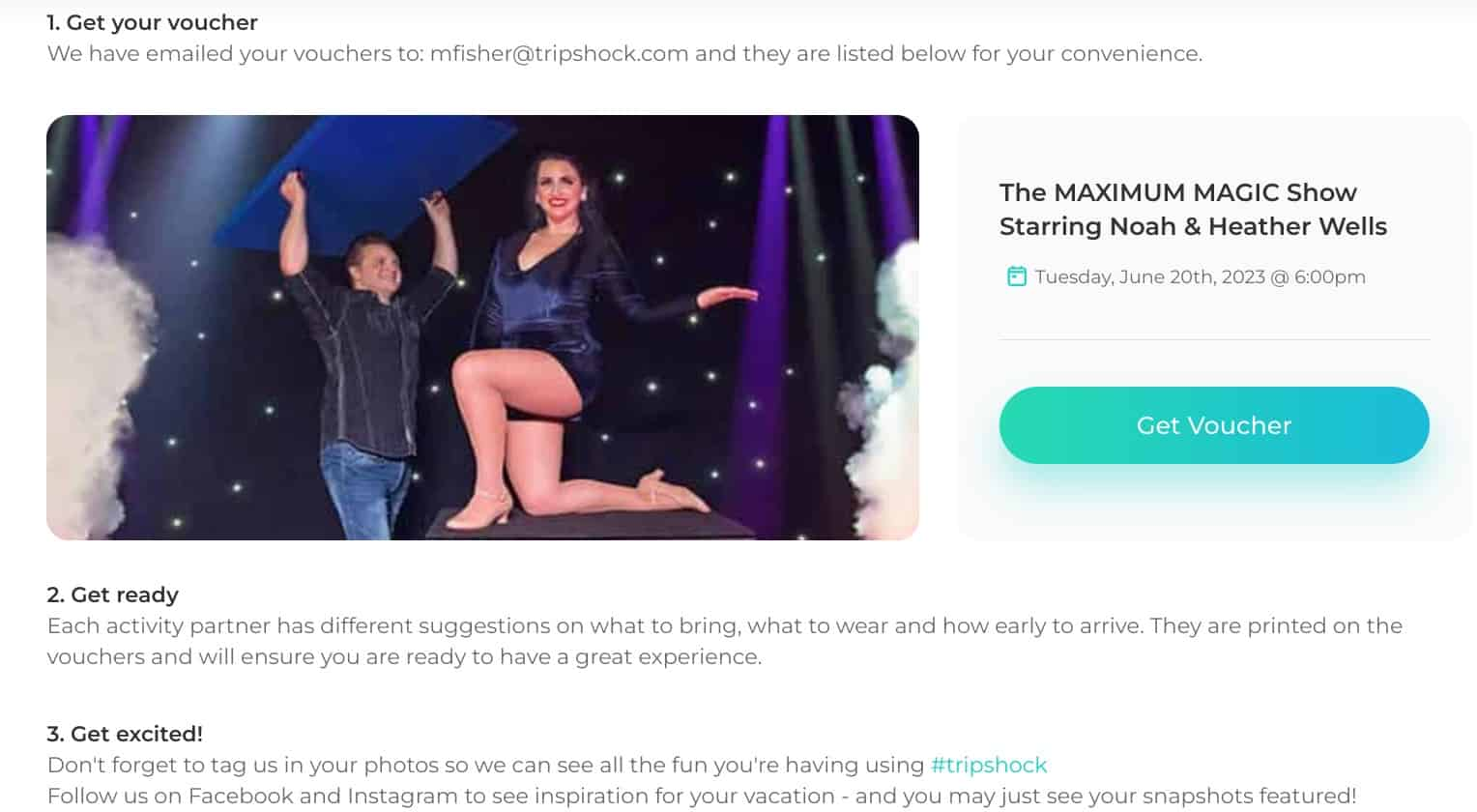 The Maximum Magic Show Listing on TripShock
What's on a TripShock Voucher?
This voucher is your, "golden ticket," if you will, as it has all of the details of your reservation including...
Vendor name
Vendor address
Vendor telephone number
Day and time of tour
In a nutshell, your voucher will include any important information you need to know before heading out on that Destin Deep Sea Fishing Charter or watching dolphins jump and frolic in their natural habitat on an Orange Beach Dolphin Cruise!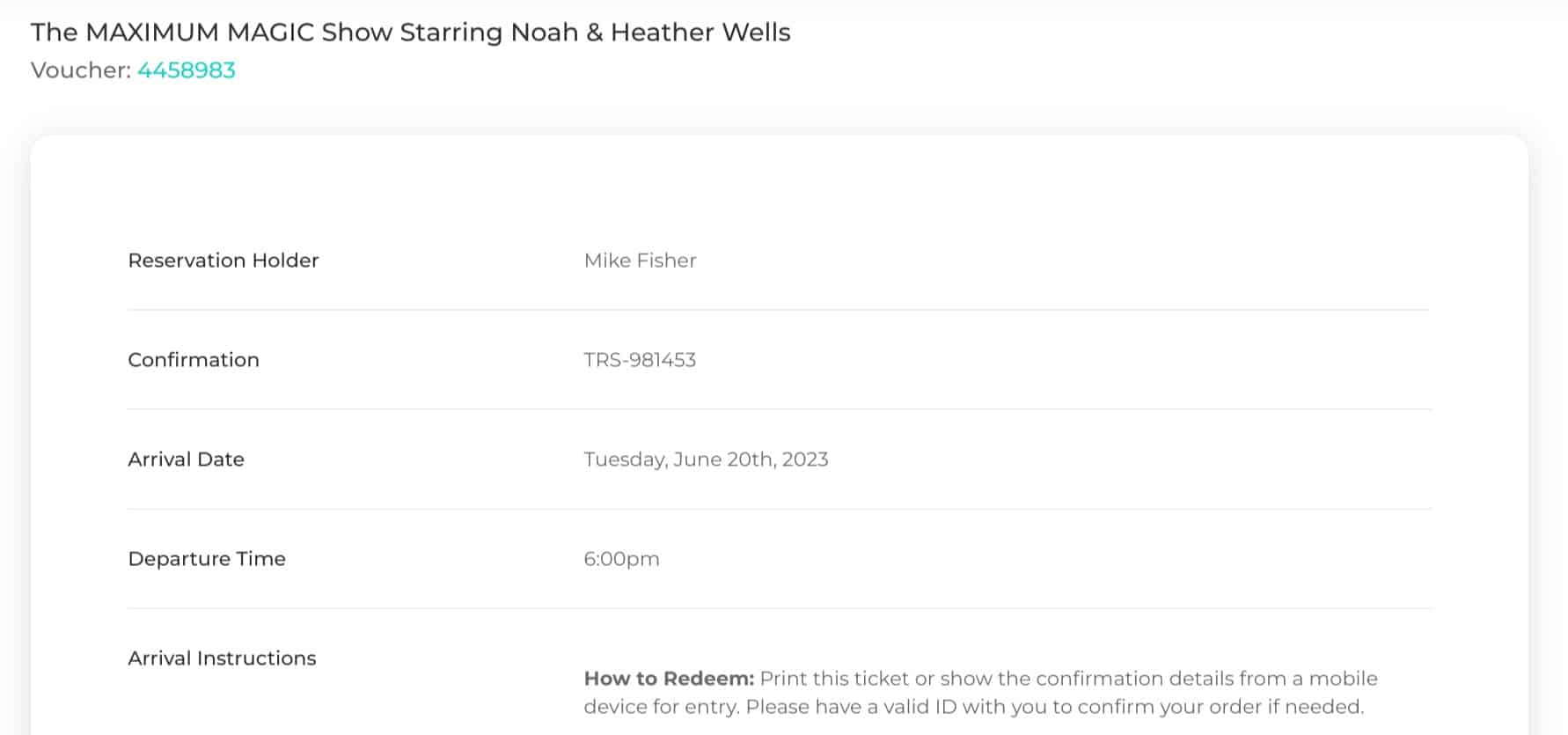 Be sure to scroll down and review all of the information provided in your voucher. This is significant as there are many vendors offering the same product type in the same area, and going to the wrong location could make you late, or even miss your activity entirely. This is the last thing anyone needs on their vacation!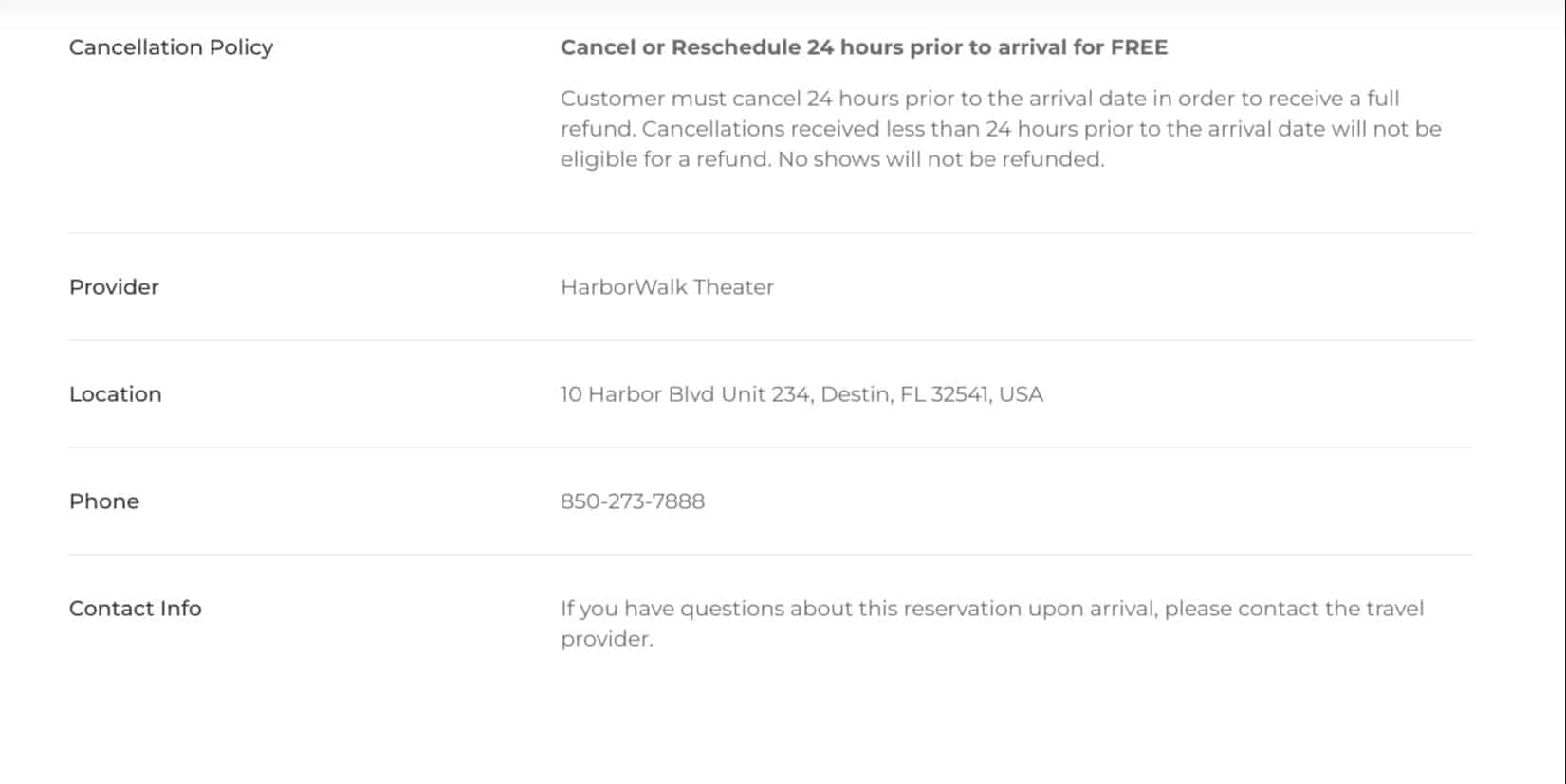 Also, the time on your voucher reflects the departure or start time of the activity you selected. It is imperative to go over your voucher in its entirety, as many vendors suggest arriving earlier than the departure time. This allows yourself time to park, find the check-in booth or entrance, check in, and begin your adventure!
Another important thing to remember is that traffic in any tourist destination can be a nightmare during peak season. Please keep traffic in mind when allocating yourself travel time to your activity location.
It is also recommended to call and confirm your reservation with the vendor 24 hours prior to arrival, to ensure that any pick-up or departure times haven't changed.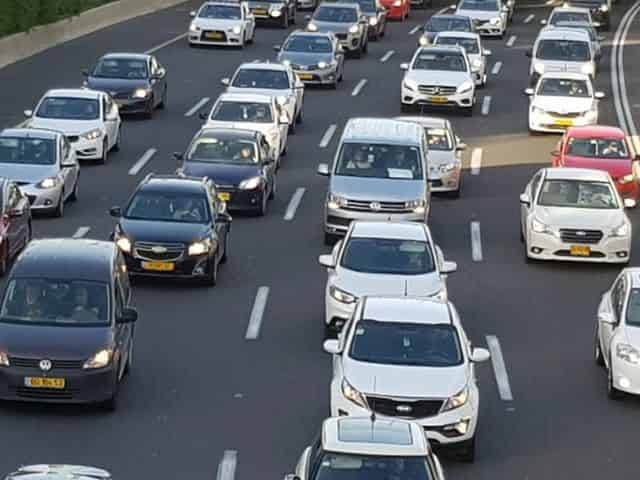 On the day of your activity, remember to factor traffic into your travel time
---
Mobile Vouchers
Being the excellent planner and vacation organizer that you are, you've booked everything in advance and packed everything you might possibly need. You travel to your destination, get to your condo or vacation rental and scream, "I forgot to print my vouchers!"
Even the most organized among us still have their moments, which is why most TripShock activities allow you to just show your voucher from your smart phone or device. All you need is access to your texts or e-mails!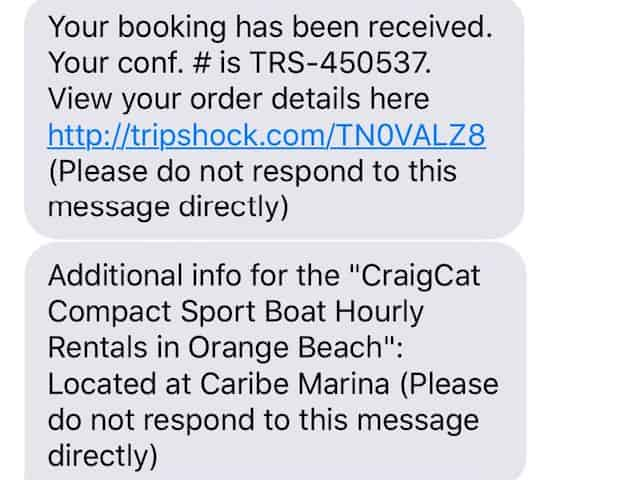 The CraigCat Compact Sport Boat Hourly Rentals in Orange Beach Listing on TripShock
---
Barcodes
Most of the time, it is acceptable to simply present the voucher from your smartphone or device. There are a few vendors, however, who must scan the barcode on your voucher to grant entry. In this instance, it is recommended to have your voucher ready upon arrival and available to scan.
Activities including Big Kahuna's Water & Adventure Park require scanning barcodes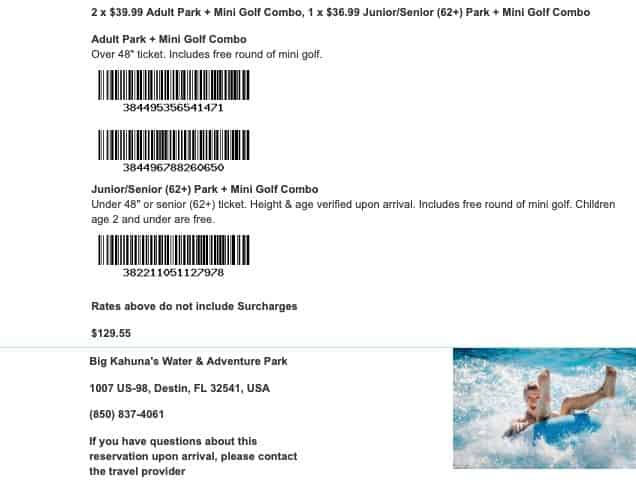 The Big Kahuna's Water and Adventure Park Listing on TripShock
---
Printing Vouchers
As with most things, there are a few exceptions to the golden voucher rules. There are a few vendors, for example, who require printed vouchers. This means that once you receive your voucher via text or e-mail, that voucher must be printed, and the paper copy must be turned in upon arrival.
Activities that require printed vouchers include:
Your voucher will say if it needs to be printed or not, but if you're still unsure, one of TripShock's happy and helpful customer service agents will gladly put your mind at ease!
---
What if You Lose or Can't Find Your Voucher?
After booking, it can take up to 15 minutes to receive your voucher. This varies depending on your location and the cell phone service available to you. If the location you are in is busy for an event, for example, this delay could be longer. If after that time you still didn't receive a text or e-mail, it is recommended to check your e-mail's spam or junk folder.
If your voucher is still missing, please contact TripShock, and a customer service representative will verify your information is correct, and resend the voucher to you.
Having your voucher readily available on your device when checking in is a great way to make the process even easier. This comes in handy if you are unsure about being able to access your voucher due to internet or cell service issues. Many customers simply screenshot the voucher and retrieve it from their photos when ready!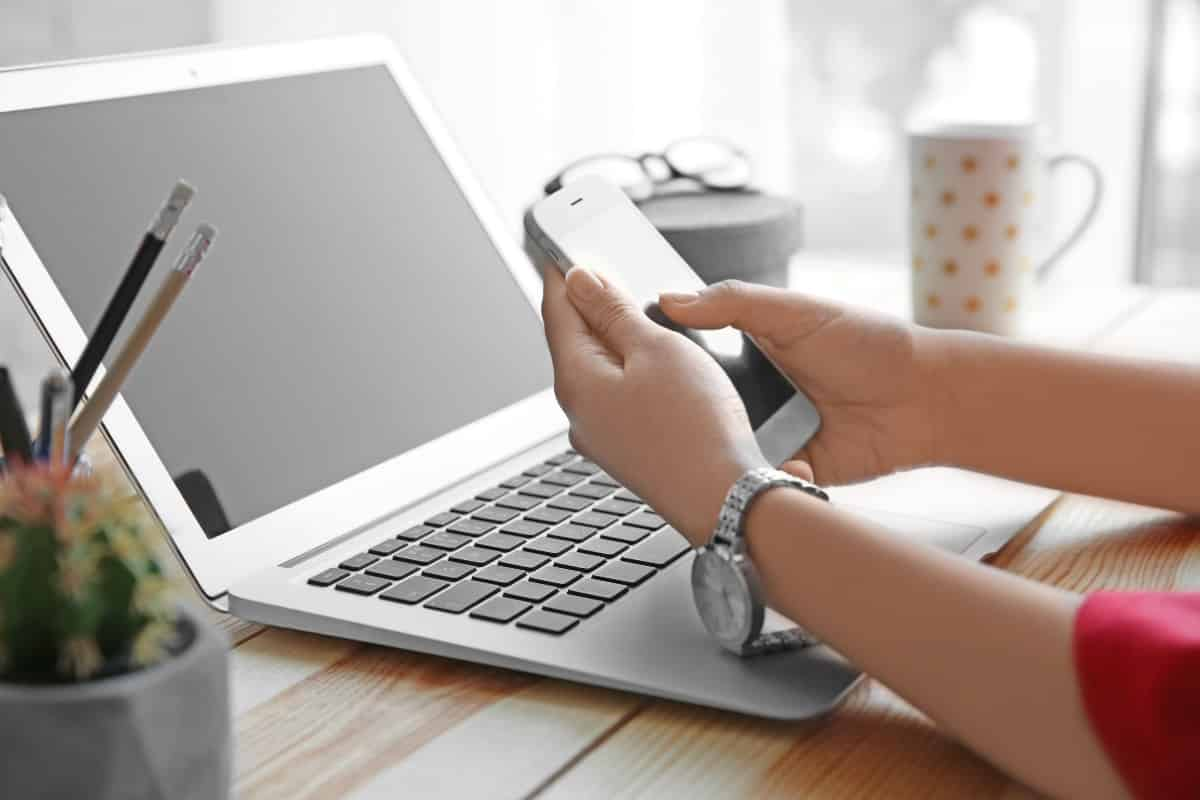 If you've received the text and e-mail and still can't find your voucher, please be aware that the voucher will come through as an e-mail attachment, not in the body.
The text message you receive from us is long, so please be sure to scroll to the bottom of the text to find the link containing your voucher. As always, if you need any assistance regarding your voucher, contact TripShock directly via phone at 850-424-5125 or via live chat at TripShock.com.