5 Celebrities Who Call New Orleans Home
Mike Fisher
September 28th 2020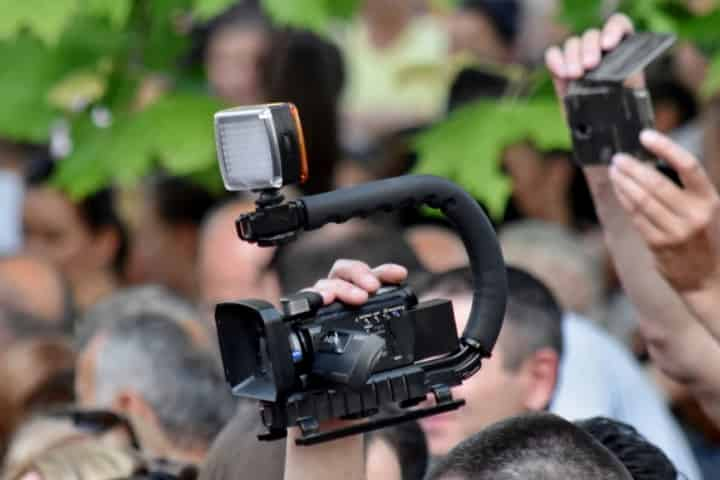 As news breaks of Brad Pitt and Angelina Jolie selling their famous French Quarter mansion, it makes one wonder what other influential celebs call New Orleans home. With the nation's top-ranked dining, world-class nightlife, and plenty of fun New Orleans things to do for the whole family, it's easy to see why the rich and famous would reside in the Crescent City.
Actors, athletes, musicians, politicians, journalists, and celebrity chefs are among New Orleans' most notable homeowners. Read below to find 5 of the most influential people who live in New Orleans, LA!
Table of Contents
Brad Pitt and Angelina Jolie
Archie Manning
Emeril Lagasse
John Goodman
James Carville
---
Brad Pitt and Angelina Jolie (AKA Brangelina)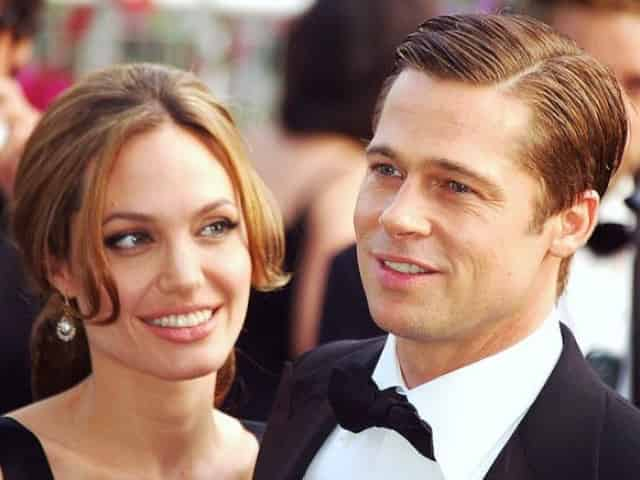 Not only do they call New Orleans home, but many have spotted Brad Pitt at nearby plantations which will serve as the set for the next feature film! Image of Brad Pitt and Angelina Jolie by Nils Sautter via Flickr
As mentioned before, the power couple of Angelina Jolie and Brad Pitt currently own a house in the French Quarter. The pair of Hollywood elites fell in love with New Orleans after visiting in 2007 to view the devastation of Hurricane Katrina. Upon moving to New Orleans, LA, "Brangelina" set up the Make it Right Foundation, raising millions over the years to put towards new housing in the flood-ravished Lower 9th Ward.
According to TMZ, after selling their 6.5-million-dollar mansion, they plan on moving somewhere "off the beaten path." Whether the new residence will be in the Crescent City is yet to be seen, but with all the good they have done so far for New Orleans, let's hope they stick around a little longer!
Archie Manning (and the Manning Family)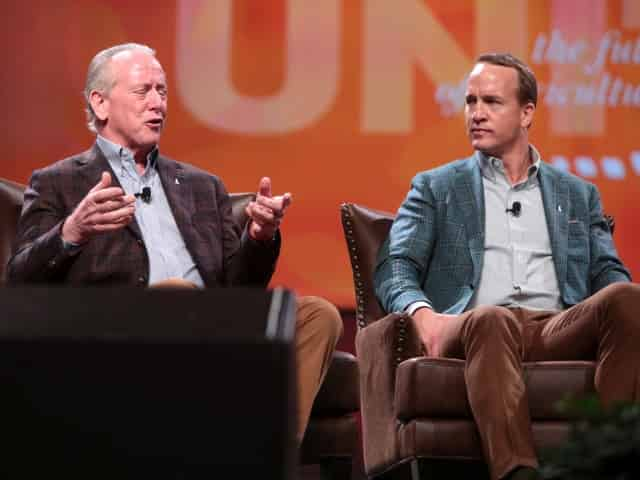 According to a recent Traveler Story, seeing celebrity homes like the one of Archie Manning, pictured above, landmarks, and so much more is easier than ever on a New Orleans bus tour! Image of Archie and Peyton Manning by Gage Skidmore via Flickr
America's favorite football family has an unabashed legacy in New Orleans, LA. The family patriarch, Archie Manning, is a decorated athlete. Two-time pro-bowler, and both college football and pro-football Hall of Famer, Archie Manning spent most of his pro career with the New Orleans Saints, having his number "unofficially" retired after leaving the team in 1982.
Archie and wife Olivia raised two of modern football's most cherished superstars, Payton and Eli Manning, at the couples' Garden District home, making the stunning mansion a museum of football greatness. While the kids have since moved out, it is not uncommon to see Manning family members around the city, with the elder Mannings still holding residence in the city.
Emeril Lagasse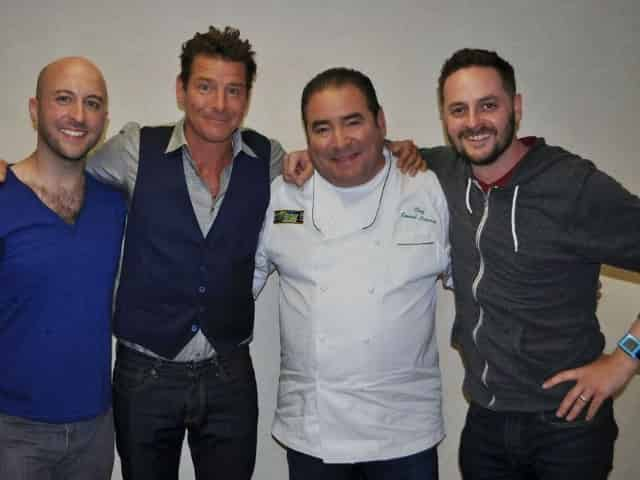 New Orleans is the perfect place to channel your inner Emeril Lagasse by tasting the local cuisine, hopping on a food tour, or learning the ropes for yourself with a cooking class through New Orleans School of Cooking! Image of Emeril Lagasse with Ty Pennington by L.A. Foodie via Flickr
What better place to live for a world-renowned Chef than New Orleans, LA, the City of Chefs?! The New England born Emeril Lagasse specializes in New Orleans' cajun and creole cooking styles, with his famous catchphrase, "BAM!" referring to adding a kick of Cajun-influenced spice to his gourmet goods! Chef Emeril Lagasse has called his style of cooking "New New Orleans," and frequently uses local Louisiana ingredients in prepared meals.
Lagasse first gained fame in New Orleans, LA, as Executive Chef of local restaurant Commander's Palace, moving from Executive Chef to TV personality, cookbook author, and successful restaurant owner! You can find one of Emeril's popular New Orleans restaurants throughout the city, including:
Emeril's New Orleans
NOLA Restaurant
Emeril's Delmonico
John Goodman
Image of John Goodman from Wikipedia
One of New Orleans' most proud and passionate celebrity residents is actor John Goodman. The accomplished thespian got his start as a comedian in such films as "Revenge of the Nerds" and "True Stories," but eventually moved to more dramatic roles and Broadway stage shows later in his career. John Goodman has supported many New Orleans-based causes including Hurricane Katrina relief, Deepwater Horizon Oil Spill relief, and lending his acting skills when filming TV shows and movies in New Orleans to movies that portray the city in a positive light including Disney's "The Princess and the Frog." Goodman even met his wife, Annabeth Hartzog, while filming a movie in New Orleans, LA, forever cementing his affection for the Crescent City.
James Carville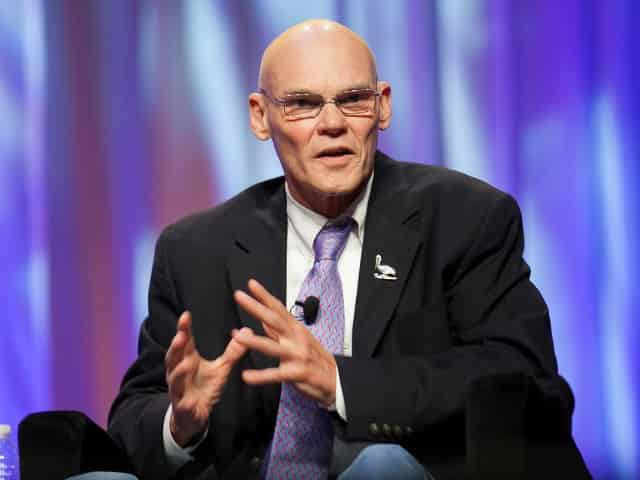 A city tour through the Garden District is a great way to see celebrity homes, like the one of James Carville, pictured above. Image of James Carville by JD Lasica via Flickr
The man they call the "Ragin Cajun" is a lifetime Louisiana resident, being born in Carville, LA, and spending much of his early life in the state. James Carville has taken on many roles in his life, all holding a great amount of respect including U.S. Marine Veteran, litigator, advertising consultant, and at the height of his political career, served as Bill Clinton's campaign manager. Since his political days, Carville has held small roles in many major Hollywood films, contributed to major news networks, and currently teaches Political Science at Tulane University in New Orleans, LA. James Carville and his wife, Mary Matalin, both reside in New Orleans, LA with their two kids Matty and Emma.
---
http://www.nola.com/movies/index.ssf/2015/05/brad_pitt_angelina_jolie_frenc.html#incart_m-rpt-1
College Football Hall of Fame. Collegefootball.org. May 19, 1949.
Kristian Garic, Kristian: Family Matters!
Memories from Pro Football's Greatest Era. The Super '70s. Archived from the original on March 20, 2012.
CNN TV – Anchors/Reporters: James Carville
CNN Political Ticker: All politics, all the time Blog Archive - Carville bumps into BP CEO Blogs from CNN.com. Politicalticker.blogs.cnn.com. 2010-06-02
About Gus Weill. Lpb.org
THE 1992 CAMPAIGN: The Democrats – Clinton and Bush Compete to Be Champion of Change; Democrat Fights Perceptions of Bush Gain; Oct. 31, 1992, New York Times
Emeril Lagasse Biography. biography.com
Be in the know!
be informed about our latest offers
You can unsubscribe at any time