Hop On Hop Off New Orleans Bus Tour Coupons - City Sightseeing 2022
Mike Fisher
April 21st 2022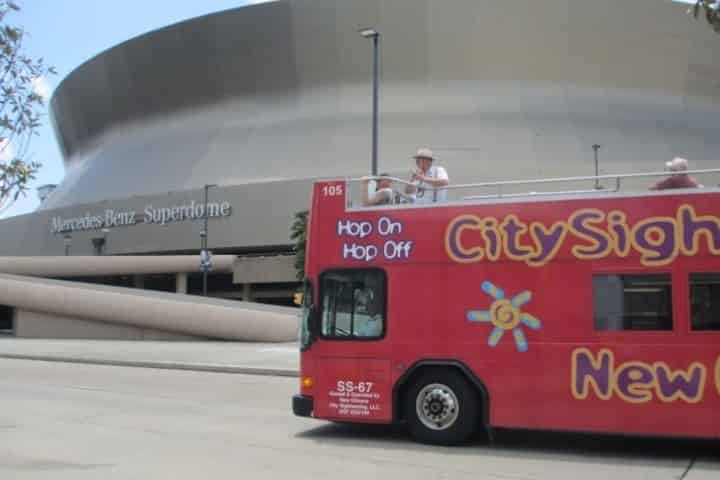 Hop On Hop Off Bus Tours allow visitors to explore New Orleans at their own leisure. Over a dozen steps guide passengers to the hottest spots in New Orleans including Jackson Square, Magazine Street, and the popular Mardi Gras World. Sign up for a full day pass, or extend your ticket for up to 3 days of unlimited hop on hop off. Considered one of the best sightseeing excursions in New Orleans, City Sightseeing offers the most economical tours of the city with the most flexibility.
Bus tours give the chance to sit in the open air while listening to live narration for an experienced courier. FREE tours also come included with a bus ticket like a fun and informative escorted walking tour of the French Quarter! Learn more about this Double Decker Bus Tour, and how you can save on tickets with Hop On Hop Off New Orleans Bus Tour Coupons!
Table of Contents
New Orleans Bus Tour Stops
Hop On Hop Off New Orleans Bus Tour Coupons
Hop On Hop Off Hours & Info
---
New Orleans Bus Tour Stops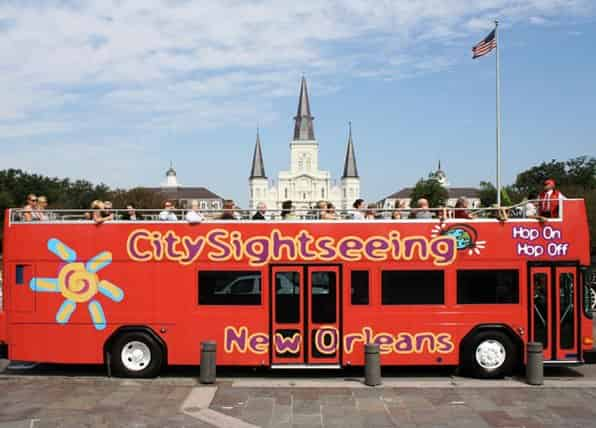 Test your luck at Harrah's Casino, or tour the vintage architecture of Garden District homes. While visiting the Crescent City, historical sights, intriguing art, and world-class dining is found around every corner. By using Hop On Hop Off New Orleans Bus Tour coupons travelers have access to every edge of the city. You won't miss a thing with unlimited hop on and hop off, and 30 minute bus rotations.
There are so many New Orleans things to do, but discounts for area dining and shopping, along with educational and charismatic live narration, gives ticket-holders plenty of ideas on where to go and what to do! All 18 stops offer a unique set of attractions and things to do! From St. Charles Avenue to the French Market, discover all 18 stops below:
Jackson Square
French Market
Esplanade
Treme
Basin St. Station
Canal Street
Harrah's Casino
Central Business District
Louisiana Superdome
National WWII Museum
Garden District
Magazine Street (2 stops)
St. Charles Avenue (2 stops)
Mardi Gras World
Arts District
Harrah's Casino (S. Peters)
Hop On Hop Off New Orleans Bus Tour Coupons
New Orleans Bus Tour coupons are easy to purchase and use when booking online! Printed boarding passes make for easy entry, but are not required. Whether at home or in the hotel, guests can purchase tickets online and gain entry easily using a cell phone or mobile device.
Passengers will be required to email the confirmation from your phone so please have this available upon boarding. Use the following Hop On Hop Off New Orleans Bus Tour coupons for the cheapest New Orleans bus tickets:
Apply the coupon code "NCITY10" during online checkout. Head to our Hop On Hop Off New Orleans Bus Tour Ticket page to get started! (Having trouble using your Hop On Hop Off New Orleans Bus Tour coupons code? Call 850-424-5125 for online assistance.)
Hop On Hop Off Hours & Info
Bus Tour Hours - 7 days a week 9:30am - 5:30pm (year round)
Bus Tour Duration - 2 hours per loop
Bus Tour Parking - Parking available at the Park First Basin Lot - 1205 Saint Louis St. (next to Basin Street Station - 501 Basin St.), for an additional cost.
Featured activities in New Orleans
See All
Be in the know!
be informed about our latest offers
You can unsubscribe at any time