Bowfishing - TripShock's Official Fishing Guide
Official Guide (Home) > Private > Inshore > Bowfishing
If you think your fishing skills are "on point", you should test those skills on a Bowfishing Private Charter! Bowfishing is a style of fishing that uses archery equipment to shoot and retrieve fish. Fish are shot with an arrow that is attached with special line to a retriever that allows the fish to be reeled in. This exciting and unique form of fishing is sure to make memories that will last a lifetime!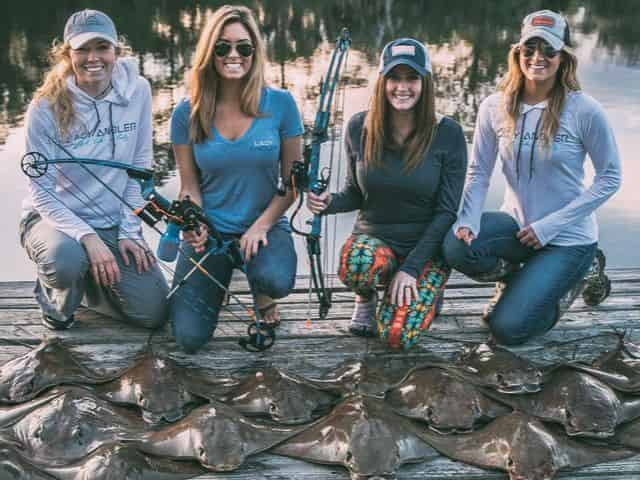 How Long Should I Fish? Bowfishing Duration
Bowfishing is different from other Private Charters in that it will typically be a 3-hour, flat-rate trip, and the price includes up to 4 passengers. There is an additional fee for the 5th and 6th passenger. It will just be you, your party, the captain and his deckhand on board. The fishing license and equipment is included as well.
You may have read in Inshore Fishing - TripShock's Official Fishing Guide, one great thing about Inshore Fishing is the is minimal travel time involved when getting to and from your fishing spot. This is the same for Bowfishing! This adventurous excursion takes place in the same waters as an Inshore Charter (bays, bayous, inlets, harbors, etc.).
It is recommended when booking a Bowfishing Charter to choose a departure time in the late morning/early afternoon. Bowfishing is much easier when the sun is up, shining down on the water, and visibility at its peak.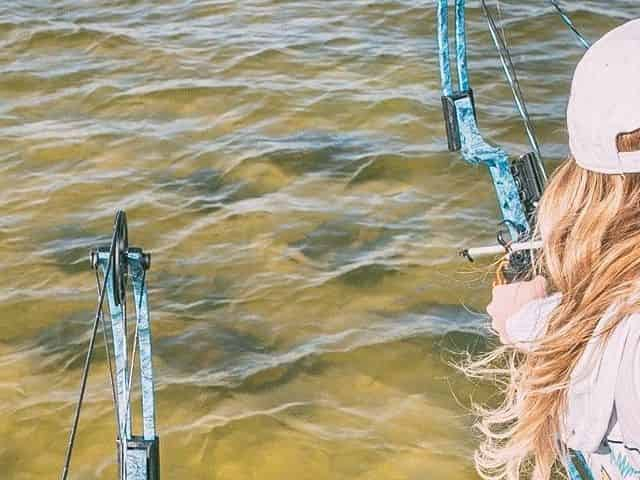 What's Included? Equipment, Amenities, and More
When searching out your target, you will be on a Center Console boat. This is perfect for Bowfishing because these boats can handle most fishing situations. The Center Console is a type of single-decked boat where the console of the boat is in the center. There are no restrooms on board.
Bowfishing equipment includes, but is not limited to, a bow, arrow, retriever, and fishing line. The equipment used may vary from captain to captain, but the experienced and eager to assist crew will help make sure you are using it correctly and to its full potential! Keep in mind the equipment is expensive, and the customer is liable if any equipment is lost or damaged.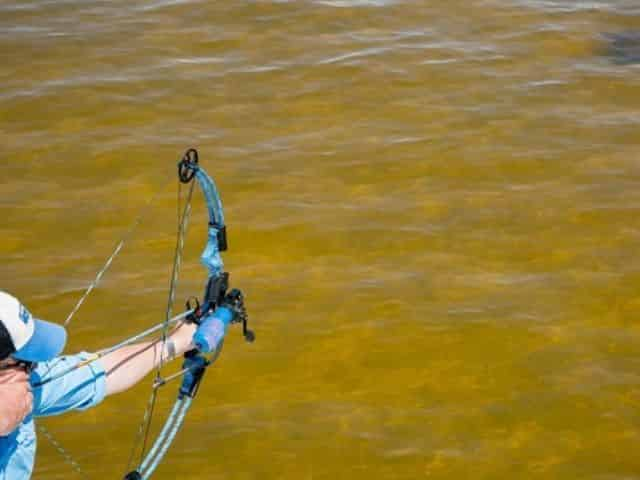 Fishing in Tampa, Florida, is a great way to test your skills behind the reel!
Restrictions and Rules
These trips are typically not recommended for children under 10 and pregnant women, and the customer must be at least 18 to fish without parental consent. Please make your booking agent aware of any special needs so they can be properly accommodated. If there are younger children in your group, you may want to consider a Party Boat Fishing Trip instead.
The reason Bowfishing Charters are limited to children ages 10 and up is that there is a certain amount of strength required to operate the equipment. Most Bowfishing charters will have Child Bows with a 30-pound draw weight, and Adult Bows with a 40-pound draw weight. Draw weight refers to the amount of weight needed to pull the bow back. Please be aware of this when booking your charter!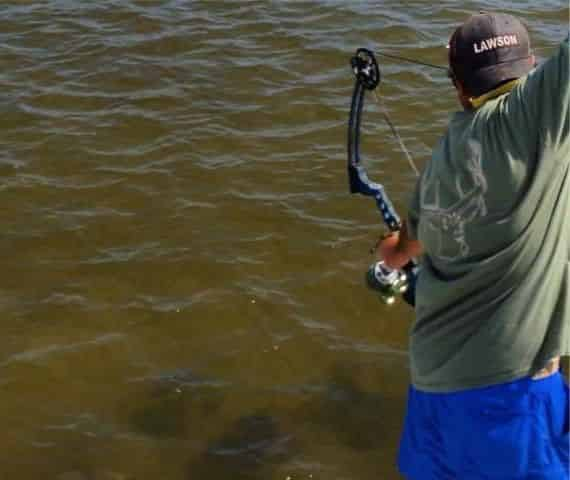 How do I Catch a Fish while Bowfishing?
Bowfishing is not like any other fishing excursion. Instead of casting, trolling, or bottom fishing, you will be using a bow and arrow. There will normally be two people Bowfishing at a time, and passengers will take turns to prevent lines getting crossed and tangled. Basically, the arrow is connected to the line, which is connected to the retriever, connected to the bow. You spot out your target, aim the arrow, pull the bow back, and let it rip. Once you've got your catch, you reel it in!
What Types of Fish can I Catch?
Using this technique inshore you will typically catch:
Stingrays
Mullet
Sheepshead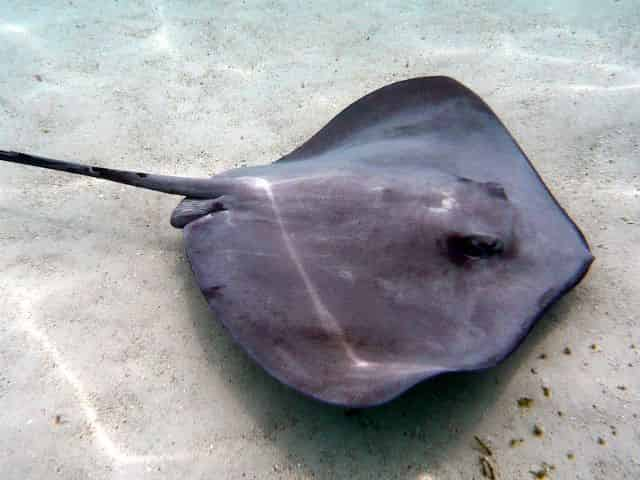 Most other species of fish are protected from being harvested in this manner. To learn more about this, click here
What Should I Bring?
If you are new to Bowfishing, don't be intimidated! This is an excursion for first timers and seasoned fishermen alike. The experienced captain and crew will be with you every step of the way. From instruction, to dehooking, to filleting your catch, they've got you covered! While it is not required to tip your crew, it is greatly appreciated for all of their hard work to make your trip the best it can be.
And don't forget to bring the essentials on your Bowfishing Private Charter! It is recommended to bring a wash rag, hat, sun glasses, suntan lotion, a small cooler with food and drinks (no glass), and of course, a camera!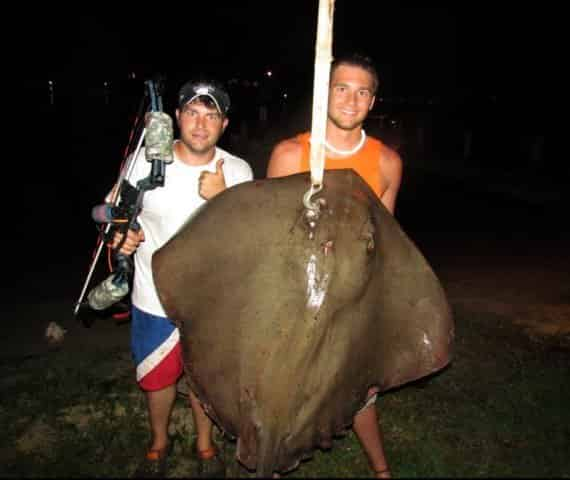 Can't get enough Inshore Fishing? Book an Inshore Fishing trip in Orange Beach, Alabama, at Tripshock.com
One important thing to keep in mind before booking your charter is what's in season. Many times, Bowfishing can take you closer to the shore. This opens up the possibility of running into different species. Check out the links below to see what is in season:
*Some fishing seasons are very short. If there is a specific species you are wanting to target, it is recommended to book ahead of time.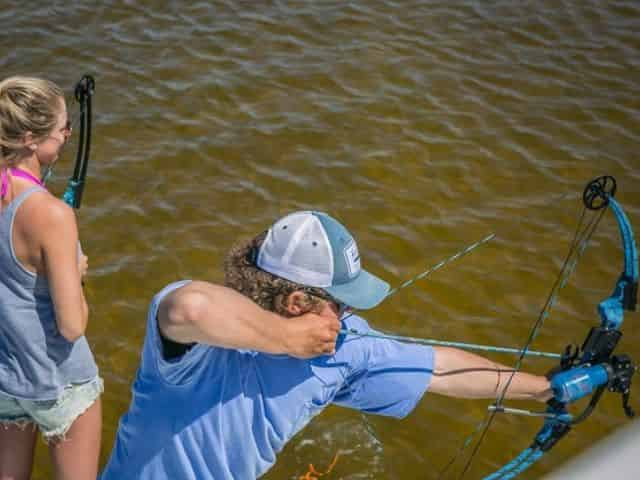 Don't be snappy! Click here for more information about Red Snapper season in Florida
Fishing Permits
A Bowfishing Private Charter will typically have a State Fishing Permit. This will directly impact which species you are allowed to keep. Please use the links below as a resource:
---
If you are looking for an experience like no other to make your family vacation unforgettable, look no further than an exciting Bowfishing Private Charter! With an experienced captain and crew, state-of-the-art equipment, and some good luck, you will transform into the Robin Hood of the Sea! To find bowfishing near you, check out TripShock, the USA's #1 booking website for activities, tours, and things to do.