Customer Experience
Customer Service Guide (Home) > Customer Experience
At TripShock, we strive to provide our customers with the best experience possible. From browsing the site, to booking an activity, to experiencing the fun of a TripShock tour or attraction, our goal is to make customers happy. If a customer has something to say about their experience with TripShock or one of our tour operators, we want to hear it!
Learn more about feedback, issue resolution, and the TripShock Customer Experience below:
Avoid potential issues by reviewing the Things to Know Before You Book section of the Customer Service Guide.
TripShock Feedback
Every TripShock customer has the ability to rate their exprience with the TripShock website, customer service department, and sales department. We take pride in maintaining the highest marks from such organizations as the Better Business Bureau, Shopper Approved, and Trustpilot.
If you are a TripShock customer and would like to write a review, or are curious what past customers have to say about us, please do so at one of the following:
---
TripShock Supplier Feedback
Every TripShock customer has the ability to rate their tour, activity, or attraction. Our verified review process allows customers to rate their experience with both a star rating (1 to 5), and written review.
Star ratings appear on every TripShock search page AND every listing. Written reviews appear only on the listing for the activity.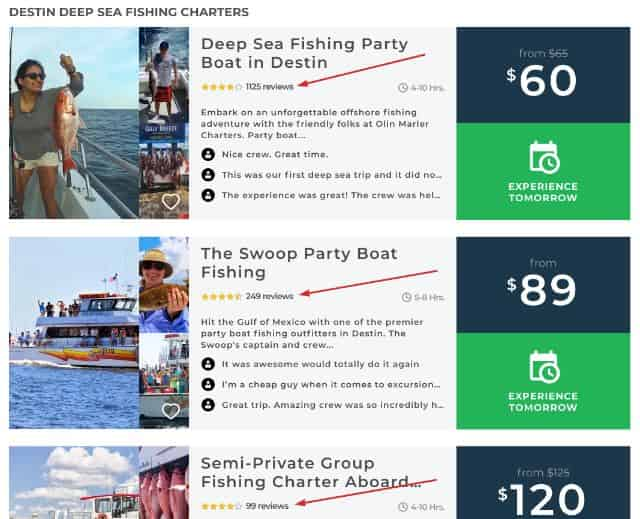 Every TripShock search page, like the one above for Destin Fishing Charters, displays the star rating for each activity
After each tour is complete, the customer who booked the activity on TripShock will be sent a review request via text and/or e-mail. Every review, good or bad, will appear on the respective TripShock listing for future travelers to read and consider when browsing our website.
Here are a few more things to consider regarding TripShock supplier feedback:
If you booked an activity direct through a tour provider, or with another 3rd party booking site like Groupon, you WILL NOT be permitted to leave a review on TripShock.
If you would like to leave a review for TripShock that is independent of your activity experience, please refer to the section above.
---
Issue Resolution & Escalation
Our customer service department is happy to help with issue resolution. Before speaking with a TripShock representative, be sure to do following:
Confirm that you DID NOT book your activity direct through a tour provider, or with another 3rd party booking site like Groupon. Only reservations made through TripShock or a TripShock agent will be addressed.
Please review your voucher, confirmation e-mails, and the TripShock listing for the activity you booked.
If your issue involves changes to your booking or reservation cancellation, please thoroughly review your activity's cancellation policy. This is visible on the bottom of every TripShock listing, as well as on your TripShock voucher. For more info on changes and cancellations, CLICK HERE.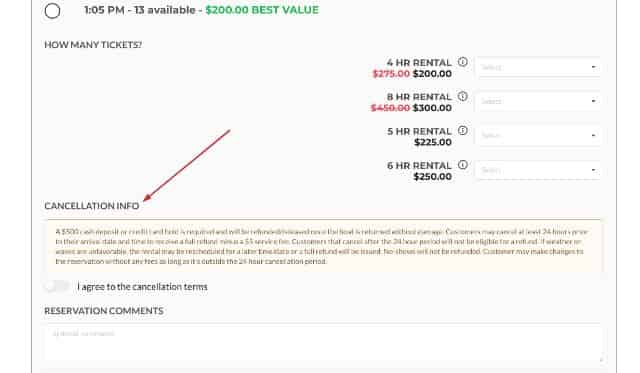 Cancellation policy listed on the Destin, FL, Pontoon Boat Rental with Gilligan's Watersports on TripShock
How to Report an Issue
Issue resolution depends greatly on the situation. Complaints are handled case by case by our Customer Service Department.
Please have your booking information available upon contacting Customer Service. This includes the name of the person who made the reservation, date of activity, and confirmation number.
You can contact the Reservtions Department at 850-424-5125, or e-mail at [email protected] (all calls are recorded for training and quality assurance). For more details on contacting TripShock, CLICK HERE.
Resolving Issues as a Third Party
If the issue you are experiencing is related to the activity itself, we may have limited ability to help. This may include situations like:
Safety concerns regarding your tour
Unsatisfactory treatment by the tour staff
Special requests not fullfilled through TripShock
Unfulfilled expectations
In these situations, TripShock will act as a middleman seeking the best-case resolution for both the vendor and traveler.
---
Who to Contact for After-Hours Emergencies
For after-hours emergencies regarding your reservation, we recommend contacting the provider directly. Tour provider contact information is listed on your TripShock voucher.