10 Fall Break Activities for Family Fun in Destin, FL
Mike Fisher
September 4th 2020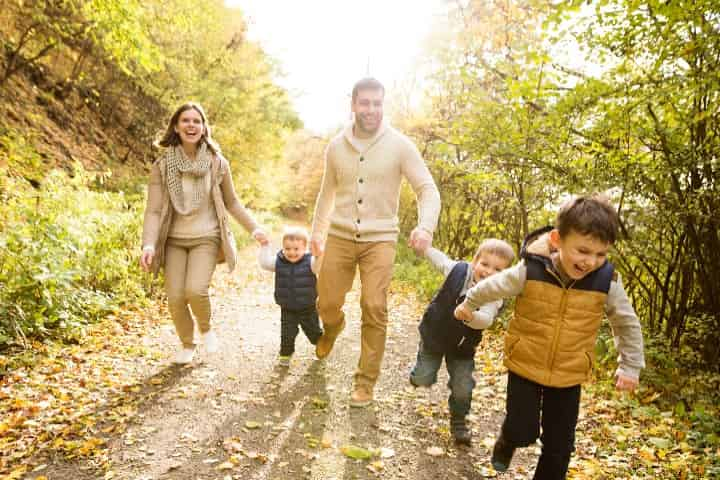 Fall Break is the perfect time for family fun in Destin FL! In a recent blog covering the best month to go to Destin, we deem late september the best time of year to travel to Destin. Why? Because visiting Destin in the fall guarantees less traffic, cooler temperatures, and almost all the same activities, food, and outdoor fun as you'd get over summer break.
It's easy to think there can't be much for families to do outside of spring and summer, but Destin has become an incredible vacation destination year round, even during winter!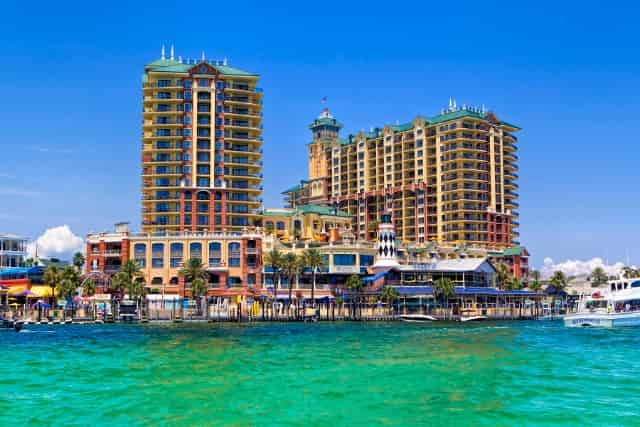 The Destin Harbor is one of Destin's most popular places to see year-round
Forget trick or treating and turkey, with awesome activities like dolphin sightseeing and fishing rodeos your kids will want to make a Destin vacation the new family tradition! Here are 10 fall break activities that will give your family a reason to head to the coast this season.
Table of Contents
Fishing Trips for the Whole Family

What Kind of Fishing Trip is Right for My Family?

Parasailing for 1, 2, and 3
Dolphin Sightseeing Adventures

Dolphin Sightseeing Cruise
Dolphin Sightseeing Waverunner Tour
From the Shore

Rent a Boat and Have Fun on the Water

Pontoon Boat
Jet Ski/Waverunner
Other Watercraft

Dolphins, Sea Lions, and More at the Aquarium
Feel the Magic at a Vegas-Style Show
Annual Events Show Destin's Traditions

Destin Fishing Rodeo
Destin Seafood Festival

Ride, Learn, and Play at a Local Attraction

Which Attractions are Open During Fall Break?

A Beach Photography Session to Capture the Joy
Beach Fun 24/7

The Destin Beach at Night

Even More Family Fun in Destin
---
1. Fishing Trips for the Whole Family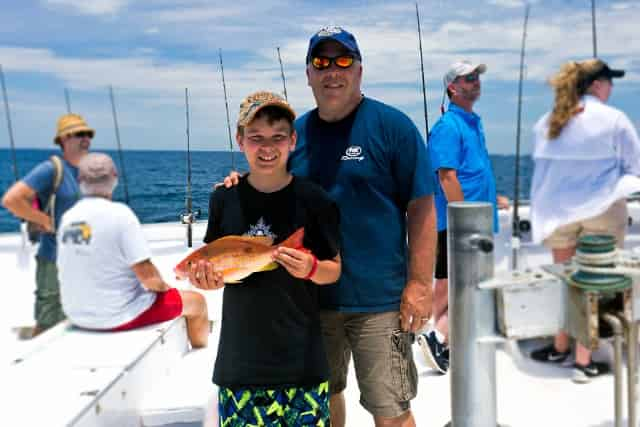 Father and son shows off a fresh-caught snapper aboard the Destin Vera Marie
Destin isn't called the "World's Luckiest Fishing Village" for nothing. This beach town has a serious reputation when it comes to fishing. Whether shoreline fishing, bay fishing, or out in the Gulf of Mexico, the whole family can enjoy casting a line.
What Kind of Fishing Trip is Right for My Family?
Lots of parents take their kids to Destin, FL, for some bonding time with a rod and reel. There are plenty of fishing spots in the area for a DIY fishing trip including the Destin beach, jetties, bridge, and Okaloosa Island Pier. If you aren't going on a paid charter, be sure to learn the proper rules and regulations for fishing in Florida using the Florida Fish and Wildlife Conservation Commission website.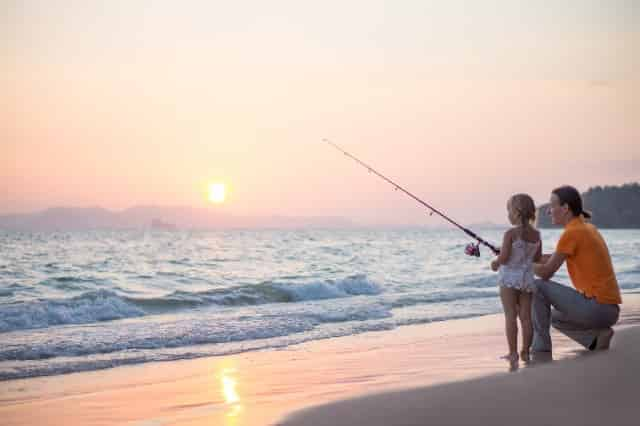 The most popular and affordable type of fishing for the whole family is known as Party Boat Fishing.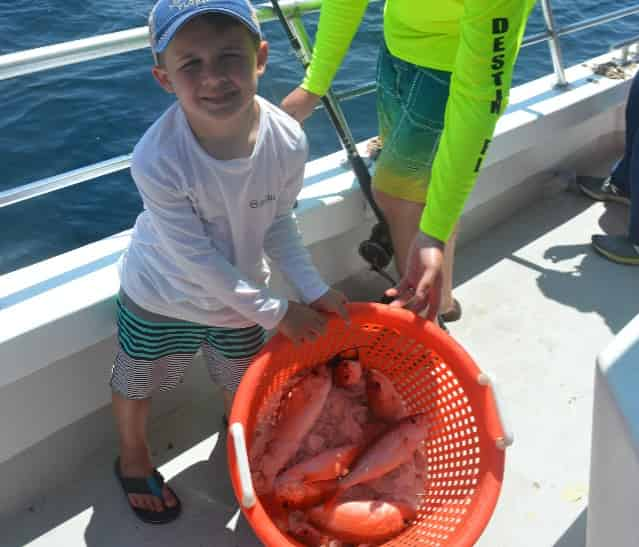 Young angler looks happy with his haul of snapper on an Olin Marler party boat fishing charter
Party Boat fishing charters run on large vessels and carry multiple groups at once on a deep sea fishing adventure. Captain and crew will provide rod, reel, bait, license, and expert help; all you gotta do is reel in the fish!
Party boats are meant for slightly older families as most have age minimums around 5-7 years old. If you're looking for a fishing trip for younger children, there are special kid-friendly fishing trips offered by select charter companies.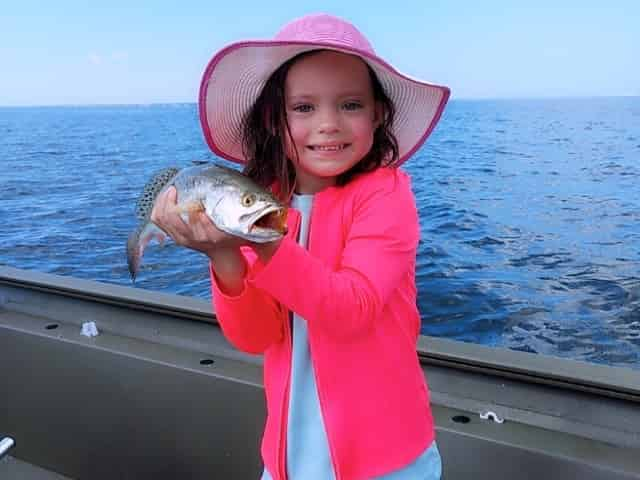 Some fishing charters like Boggy Bayou Inshore Charters are kid-friendly, planning trips that focus on first-time anglers
Kid-friendly fishing trips create incredible memories of family fun in Destin, FL. They target inshore species that are easy enough to reel in, but awesome enough to show off including...
Speckled trout
Redfish
Flounder
Catfish
Ladyfish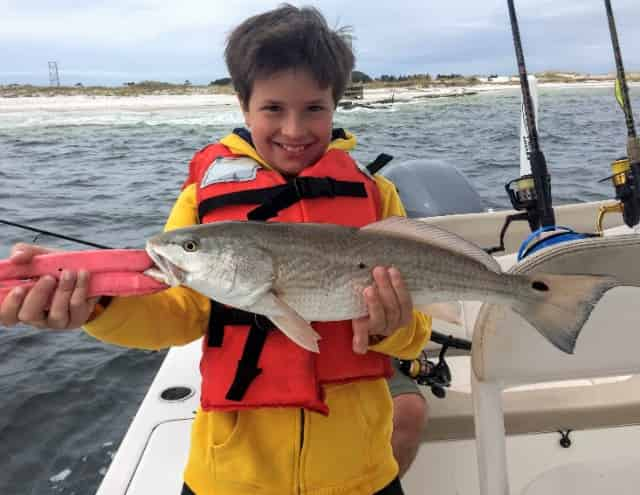 Redfish caught on a Destin Inshore Charter with Coastal Life Charters
If you are interested in learning more about fishing charters in Destin. Visit our Official Fishing Guide.
2. Parasailing for 1, 2, and 3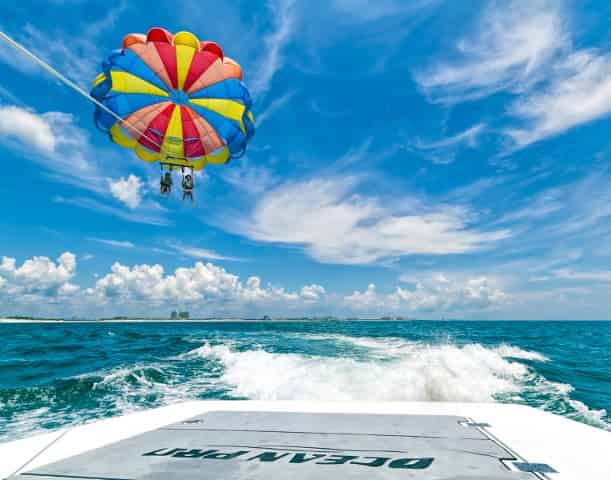 Parasailing in Destin Florida is a vacation right-of-passage. You haven't seen the city until you've seen it from the sky! Fly at heights of up 300ft and get a birds-eye-view of the beaches, marine life, and emerald waters that made Destin famous.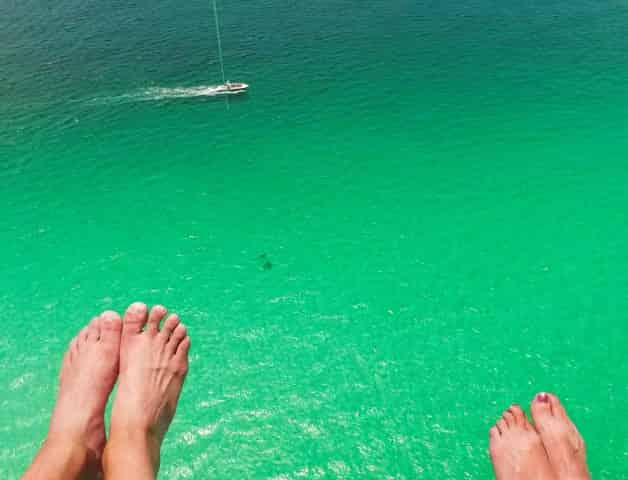 Parasailing can take you up to heights of 300ft
Ride solo, or with one or two of your loved ones. That's right, depending on the parasail company, 3 people can fly side-by-side at the same time. This makes parasailing a top choice for creating new memories with the fam.
In a recent Traveler Story, a family tells about how kids, parents, and grandparents all went parasailing! They even saw sharks and dolphins in the water.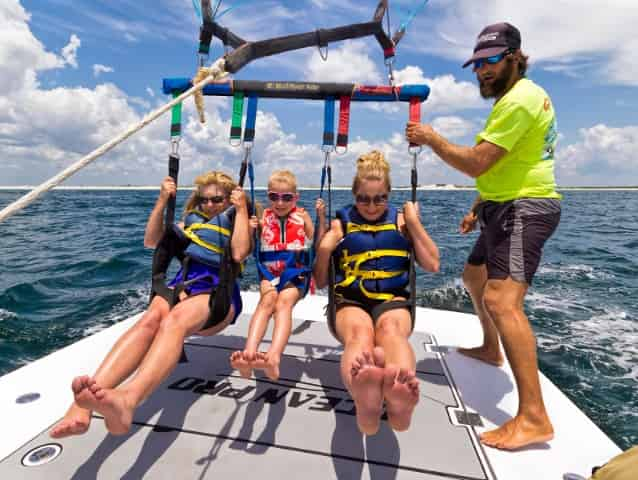 Triple parasailing in Destin with Gilligan's Watersports
You'd also be surprised to know that parasailing is actually quite affordable. The average trip starts at $40 in the Destin area, but can vary based on factors like the company, duration of the trip, time of year, and time of day.
If you're unsure about price, check out a recent TripShock blog covering the cost of parasailing in Destin. If you're ready to try parasailing in Destin, click the "Book Now" button below.
3. Dolphin Sightseeing Adventures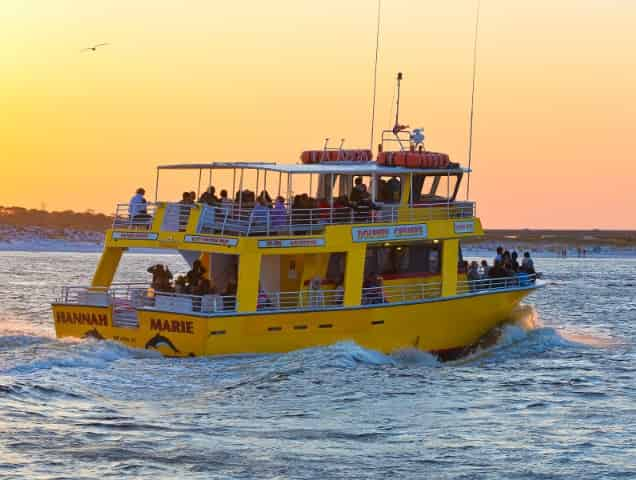 The Hannah Marie is a popular dolphin cruise vessel in Destin
Hangin out with the local dolphins is a no-brainer for family fun in Destin, FL. There are lots of options for seeing wild dolphins while in Destin.
Dolphin Sightseeing Cruise
Lots of family-oriented cruises take place daily in Destin with one purpose... to find dolphins! Pods of wild bottlenose dolphin and porpoises roam the harbor, bay, and Gulf.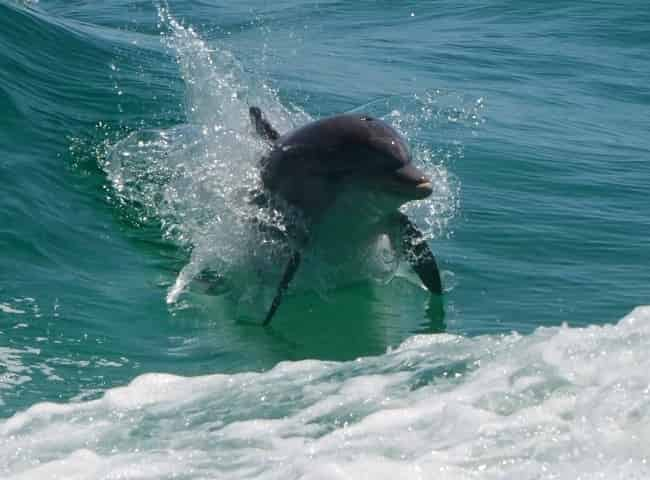 Dolphins sighted on the Screaming Eagle Dolphin Cruise in Destin
You may not get face-to-face, but even the largest dolphin cruise vessels are able to get close enough for a clear view, or even a selfie!
Dolphin Sightseeing Cruises are one of the most affordable family fun activities in Destin. Reserve your seats in advance for the lowest rates and best availability.
Dolphin Sightseeing Waverunner Tour
If you want to see wild dolphins up-close and personal, a Waverunner Dolphin Tour is right for you. An expert guide will take you on an adventure through the bay and Gulf in search of flippered friends.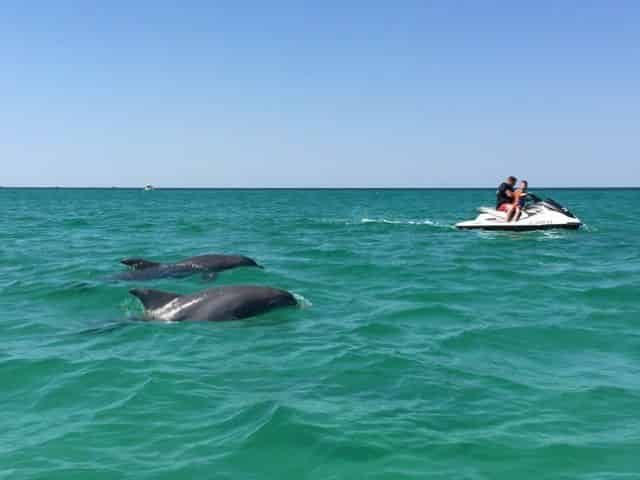 Friendly dolphins swimming past a Waverunner Dolphin Tour with Xtreme H2o
This is a one-of-a-kind experience that is great for families of almost all ages. Most waverunners can hold 2 or more people, allowing parents and grandparents to steer while the little ones enjoy the sights!
From the Shore
It may not be predictable, but it is possible to spot dolphins from the shore. Some of the best spots for catching a glimpse of wild dolphin pods are:
Destin Harbor
On the beach
Destin Jetties
Marler Bridge
It's impossible to predict when and where the dolphins will be, but it's said that dolphin families are more active in the morning.
4. Rent a Boat and Have Fun on the Water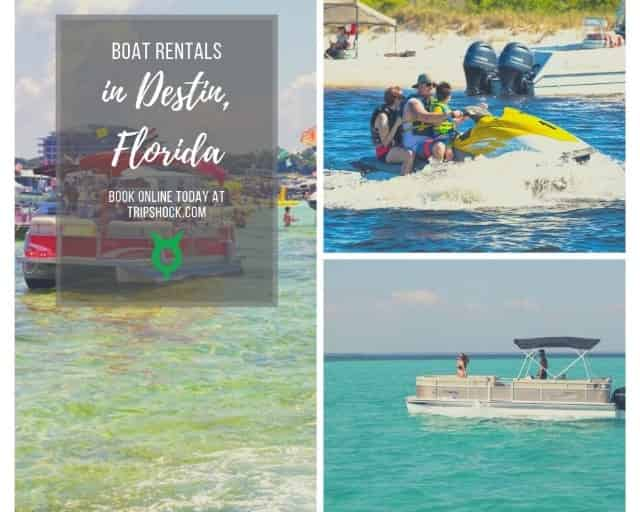 Destin FL boat rentals are a great way to experience the fun of coastal living! Chart your own adventure aboard a rental vessel for fun activities including:
Boating
Fishing
Tubing
Swimming
Wakeboarding
When speaking rentals, there are a few types of watercraft that stand out. Here are some of the most popular family-friendly boat rentals available to Destin travelers.
Pontoon Boat
Pontoons are easy to maneuver, hold large groups of people (typically up to 12 passengers), and don't require a special boating license to drive for anyone over 30.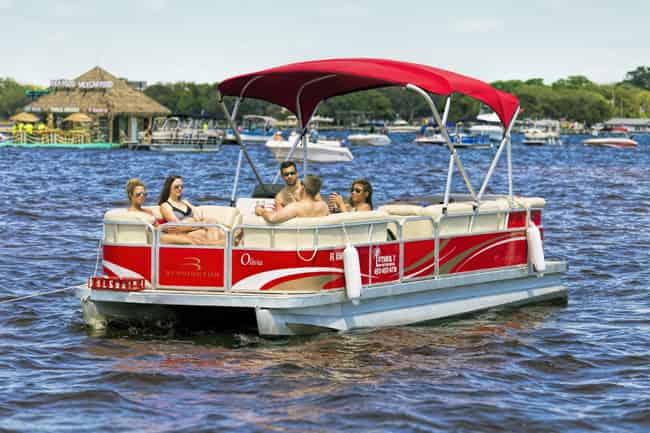 Save $10 on a Luther's Pontoon Rental with Promo PONT86 ($250 min) - Book Now
A pontoon is good for just about any type of water adventure including fishing, tubing, and swimming at Crab Island. Reserve your pontoon for this fall online at TripShock for the best deals and lowest rates.
Jet Ski/Waverunner
Explore the waters surrounding Destin on an extreme adventure aboard Jet Ski. These sporty, personal vessels zoom through the water at high speeds with a powerful roooarrrr.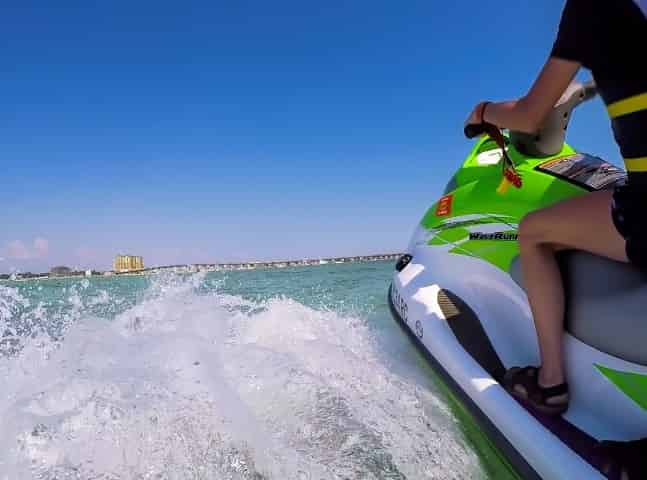 Jet Skis can hold between 1 and 3 passengers, and are easy to steer, even with two other kids sharing a seat. Travelers rent jet skis to do things like...
Visit secluded beaches across the bay
Anchor down at Crab Island
Cruise the open water at high speeds
Explore Destin's many inlets and bayous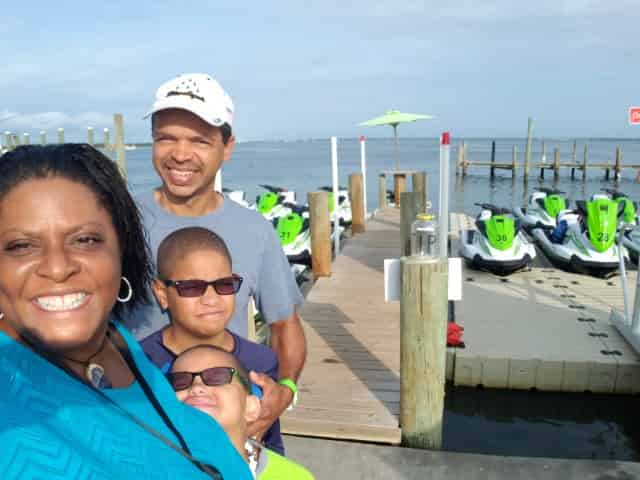 Rentals of waverunners are available year-round, and almost always include life jackets, instruction, and a tank of fuel.
Many waverunner companies restrict children under 5 and pregnant mothers from riding jet skis at all. That's why this activity is recommended for families with elementary school-age children and older. Also keep in mind that all potential jet ski drivers must be 16 years old or older.
With smaller crowds in fall, Destin waverunner rental companies typically offer deals to fall travelers. Be sure to click the "Book Now" button for discounts, promo codes, and the lowest jet ski rental rates from the top providers in Destin.
Other Watercraft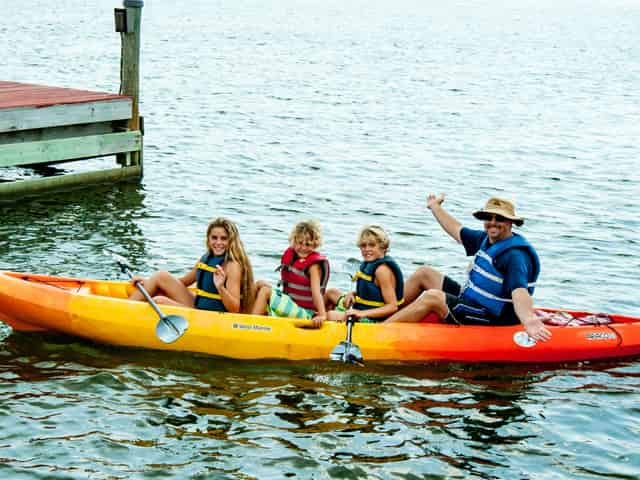 Other fun vehicles to try out while in Destin are kayaks and stand up paddleboards. The whole crew can exercise while experiencing the awesome views of the Destin Harbor, beaches, marine life, and the famous Destin sunsets!
5. Dolphins, Sea Lions, and More at the Aquarium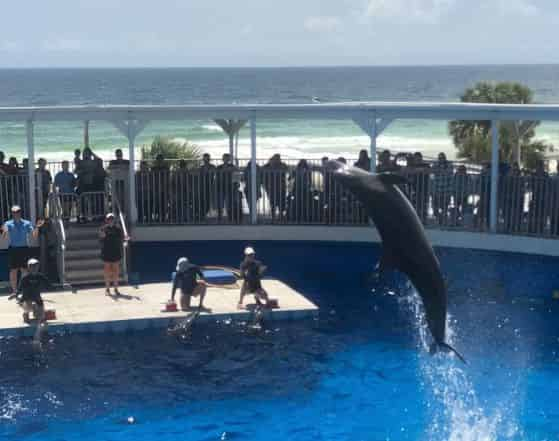 This awe-inspiring dolphin jump was taken from a TripShock Traveler Story about a visit to the Gulfarium
The Gulfarium is a long-running Marine Park on Okaloosa Island. Their conservation efforts are legendary, helping injured and abandoned marine life for decades now. The only thing more famous than Gulfarium's contribution to mother nature, is the jaw-dropping live dolphin and sea lion shows that take place daily.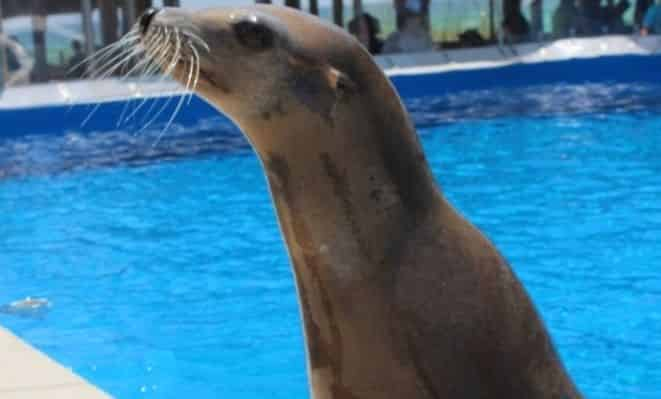 Along with incredible live shows, the Gulfarium also features marine exhibits, trainer chats, and one-on-one encounters with the animals that call the park "home".
This Fort Walton Beach aquarium and adventure park is perfect for all ages. Because most of the park is covered, a visit to the Gulfarium is an easy choice be it hot, cold, rainy or sunny.
Like most attractions, it's easier and cheaper to book tickets online. Automatically SAVE $2 on General Admission tickets to the Gulfarium when booking online with TripShock.
6. Feel the Magic at a Vegas-Style Show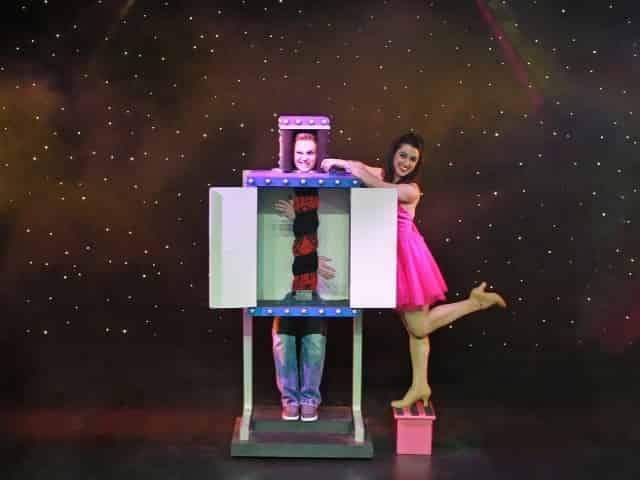 Noah and Heather Wells performing MAXIMUM Magic, a family-friendly magic show in Destin, FL
Family fun in Destin, FL, just got more magical! Destin is now home to some of the most exciting kid-friendly magic shows in the country.
Mindreading, illusions, special effects, and comedy come together in a Destin magic show that every member of the family will love.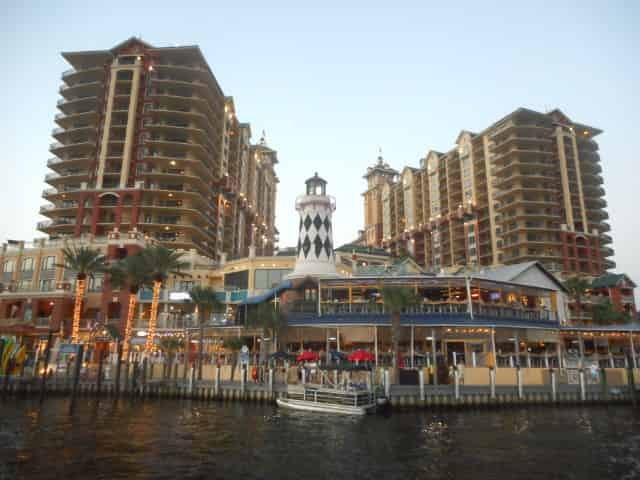 Magic shows and MORE family-friendly entertainment take place in the Destin Harbor
With low prices and shows taking place in the heart of Harborwalk Village, a magic show can easily be fit into any schedule or budget along with concerts, shows, and entertainment in Destin.
7. Annual Events With Destin Traditions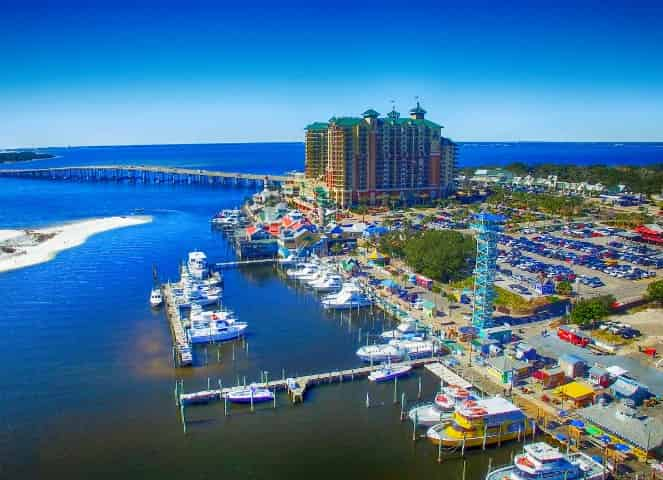 Destin's biggest events like the Mardi Gras Parade, 4th of July Celebration, and Fishing Rodeo take place in the Destin Harbor
The locals here love doing two things... fishing and partying with family and friends! Discover which awesome events may be taking place during your Fall Break.
Destin Fishing Rodeo
The most notable of the events that takes place in October in Destin is the Destin Fishing Rodeo. Over 30,000 Anglers flock from across the globe to participate in this month-long fishing tournament.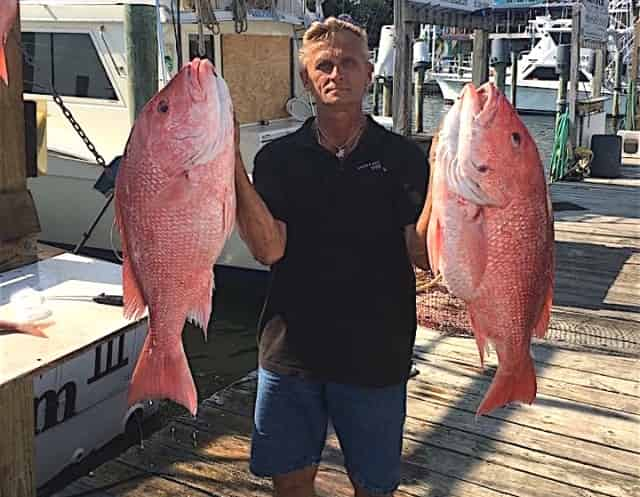 A fishing rodeo contestant catches two massive Red Snapper aboard the Sweet William III Fishing Charter in Destin
There are all sorts of prizes up for grabs spanning several angler categories including:
Adult
Child
Teen
Kayak Fishing
Deep Sea Fishing
Pier Fishing
If you're considering participating in this year's rodeo, check out our list of bookable registered fishing rodeo charters, or head to destinfishingrodeo.org for more details on the tournament.
Destin Seafood Festival
*Destin Seafood Fest kicks off the month-long Destin Fishing Rodeo. Photo from Destin Seafood Festival Facebook, originally by Darris Hartman Photography
The Destin Seafood Festival is the annual celebration that kicks off the Fishing Rodeo. The Seafood Festival takes place the first weekend of October, and features live music, games, fresh seafood, and plenty of Fishing Rodeo fun! This FREE event is a can't miss for families that love good food and good music with a hint of southern charm.
8. Ride, Learn, and Play at a Local Attraction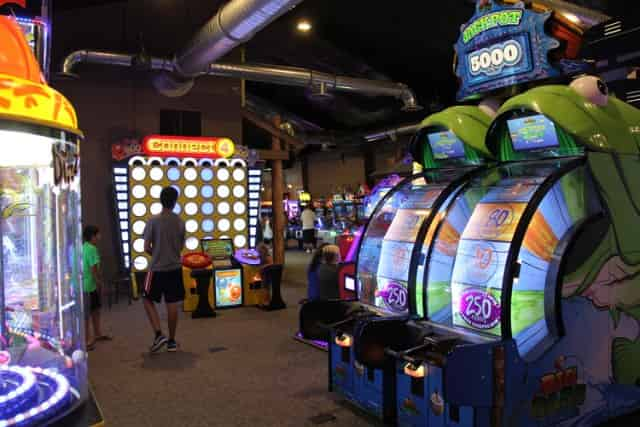 Wild Willys is a kid-friendly adventure park on Okaloosa Island
Some things may shut down in Destin when the summer ends, but some awesome Destin tourist attractions like Wild Willys on Okaloosa Island are open in the fall and winter as well.
Local Destin amusement parks and attractions offer thrill rides, go karts, arcades, and putt putt golf. Considering all or some of the attractions are inside or covered, Destin tourist attractions particularly come in handy on rainy days.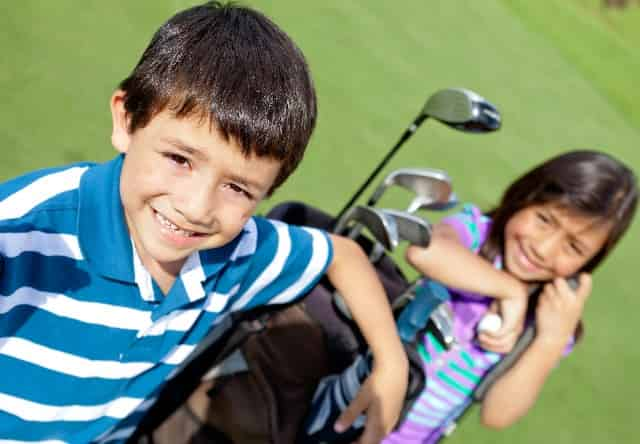 If your family loves to golf, take them over to Golf Gardens in Destin
Which Attractions are Open During Fall Break?
As you may have guessed, Destin amusement parks and tourist attractions are very family-friendly. Here are several attractions that are typically open during Fall Break:
Click on each attraction for more info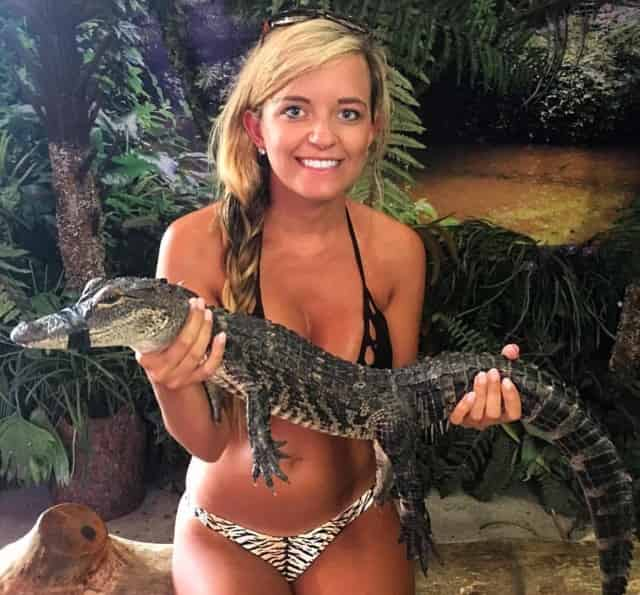 You and your kids can actually HOLD A GATOR at Gator Beach in Destin
Another great place for family-fun games and shinanigans is Destin's HarborWalk Village. With carnival-style games, caricaturists, a zipline course, and out-of-this-world interactive experiences, you should devote at least one full day to exploring HarborWalk Village with your family.
Because there is no fee for entrance to HarborWalk Village, we added it to our article highlighting 5 FREE Activities in Destin, FL.
9. A Beach Photography Session to Capture the Joy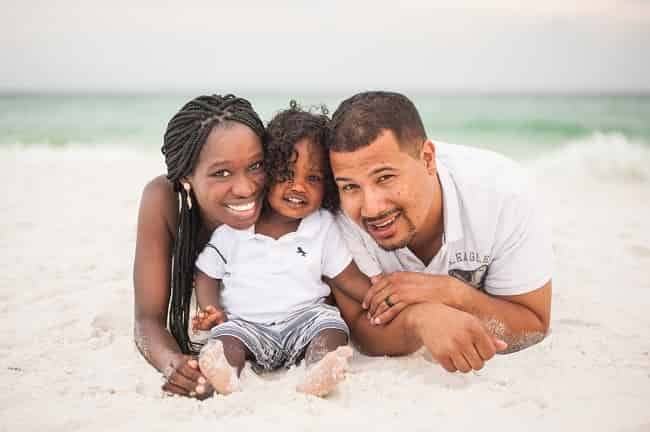 Beach photography is the perfect way to commemorate your Fall Break vacation to Destin. Photo by Gulf Coast Beach Portraits
You'll want to remember your family's Fall Break for the rest of your life. There are some great photo ops in Destin, but no photos taken by an iphone or android can beat a professional shoot. Luckily, you can capture all of the family fun in Destin, FL, with a professional photo session.
Beach Photography Sessions are a great way to capture the hapiness we all experience while vacationing in Destin with the ones we love.
Photographers in the area are highly skilled at beach portraits, and will be able to set up a stunning shoot against the backdrop of the sunrise or sunset.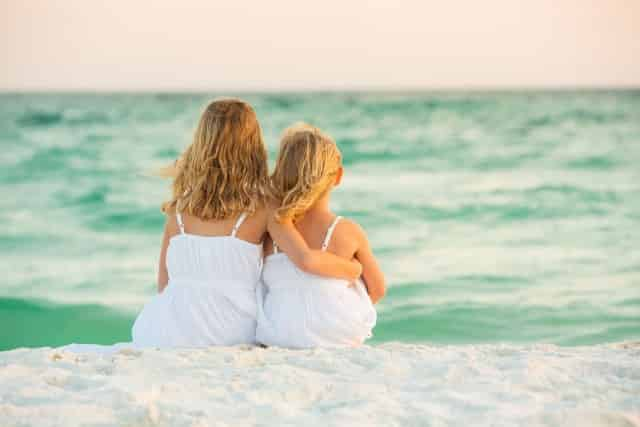 Sunset beach photography session with V and V Photography Sunset Portrait Packages
If you're interested in booking a beach photographer for your Destin vacation, first check TripShock.com for the lowest rates on photography packages.
10. Beach Fun 24/7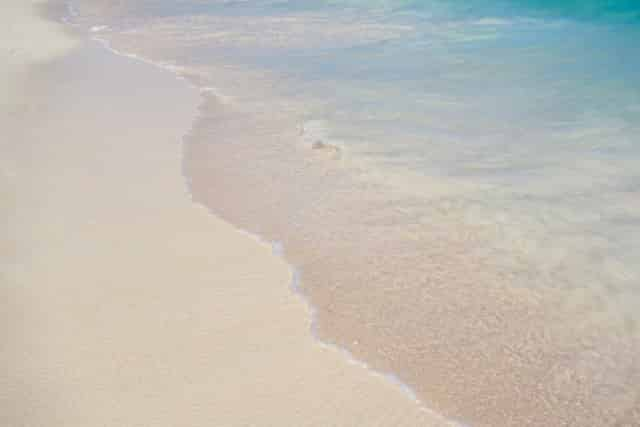 Destin is famous for white sand and emerald waters
With less visitors and more moderate temperatures, Destin's beaches in October are as good as they get. Miles of white sand beaches run along the Gulf of Mexico, Harbor, and Choctawhatchee Bay.
As we all know, during the day it's fun to hit the beach with chairs, towels, cold drinks and floaties. There are several public accesses throughout Destin including ones located at The Crab Trap and The Back Porch. Or if you are staying at a beachfront condo, you likely have exclusive beach access through your rental.
The Destin Beach at Night
What most people don't know is that when the night comes, the beach gets a whole lot funner! From fishing, to ghost crab hunting, to simply relaxing to the sound of the waves, your family will love visiting the beach after dark.
Some beach activities like beach bonfires are only available in select locations under supervision of a permited tour operator.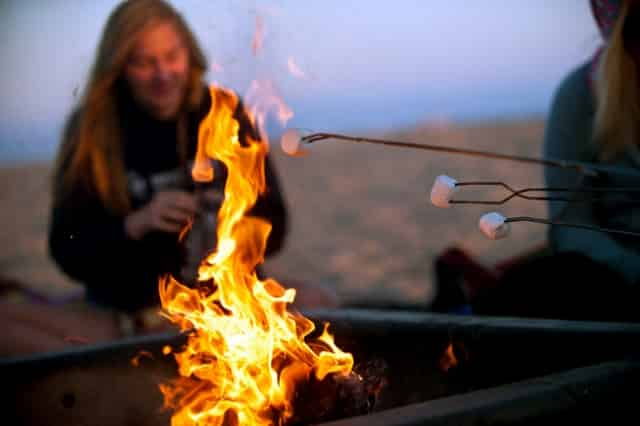 We all love the beach in Destin for different reasons. It doesn't matter if you're here to relax, exercise, play, swim, or party, you'll find that magical beach experience here on the Emerald Coast.
---
Even More Family Fun in Destin!
Family fun in Destin, FL, is guaranteed with any one of these 10 fall break activities. With such exciting kid activities in Destin FL, this fall break could be the best one yet for your family.
Start planning your fall break vacation today with tours, attractions, and things to do in Destin found on TripShock.com.
Be in the know!
be informed about our latest offers
You can unsubscribe at any time